Parish News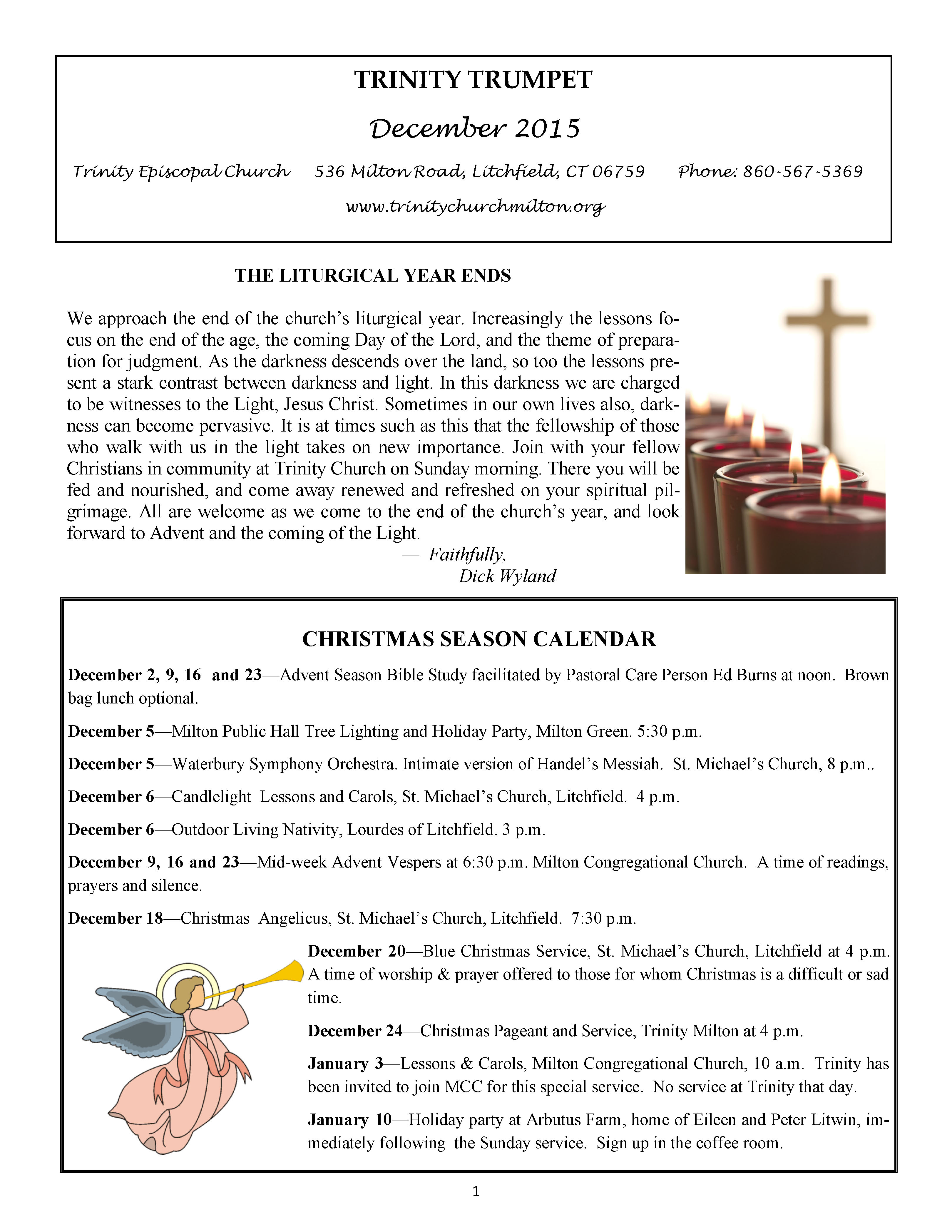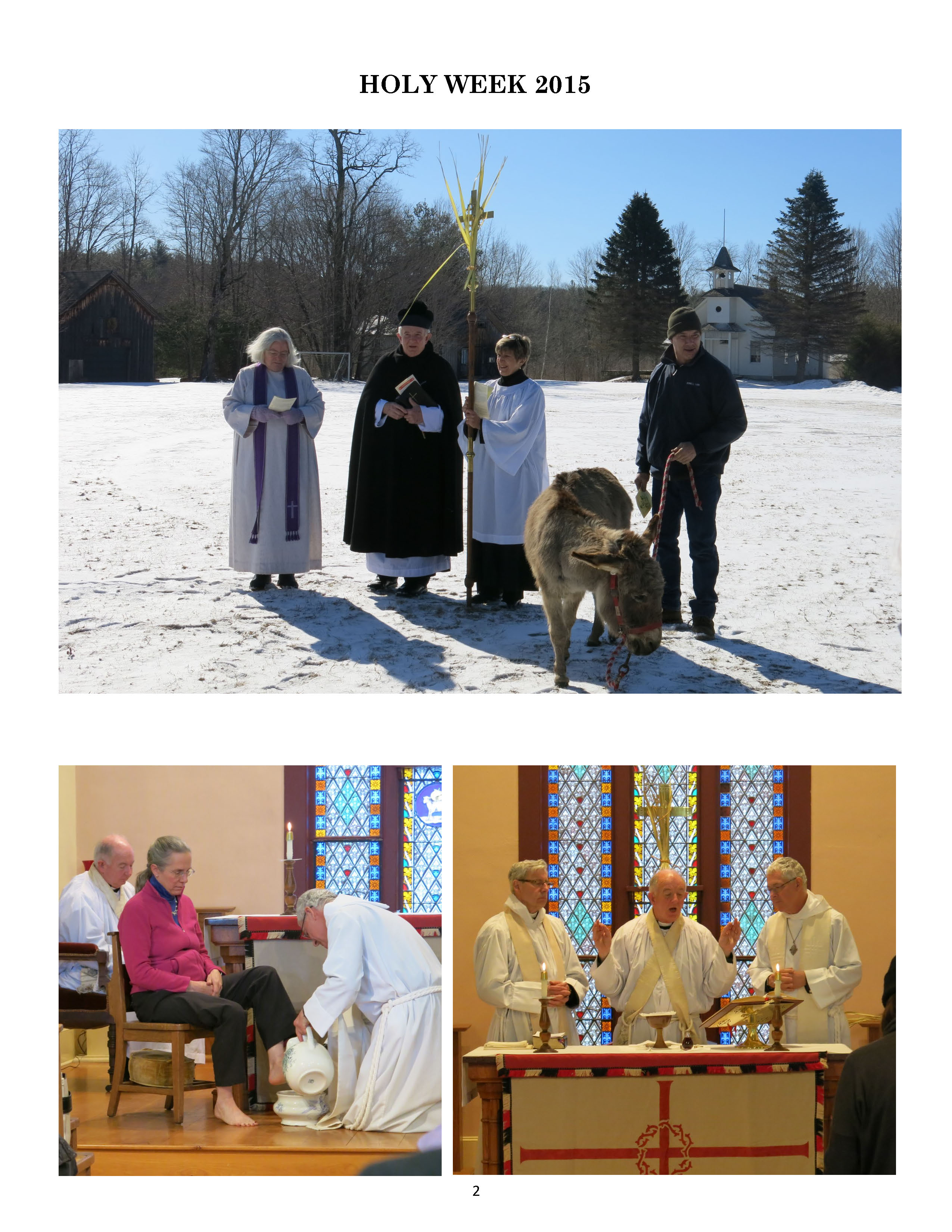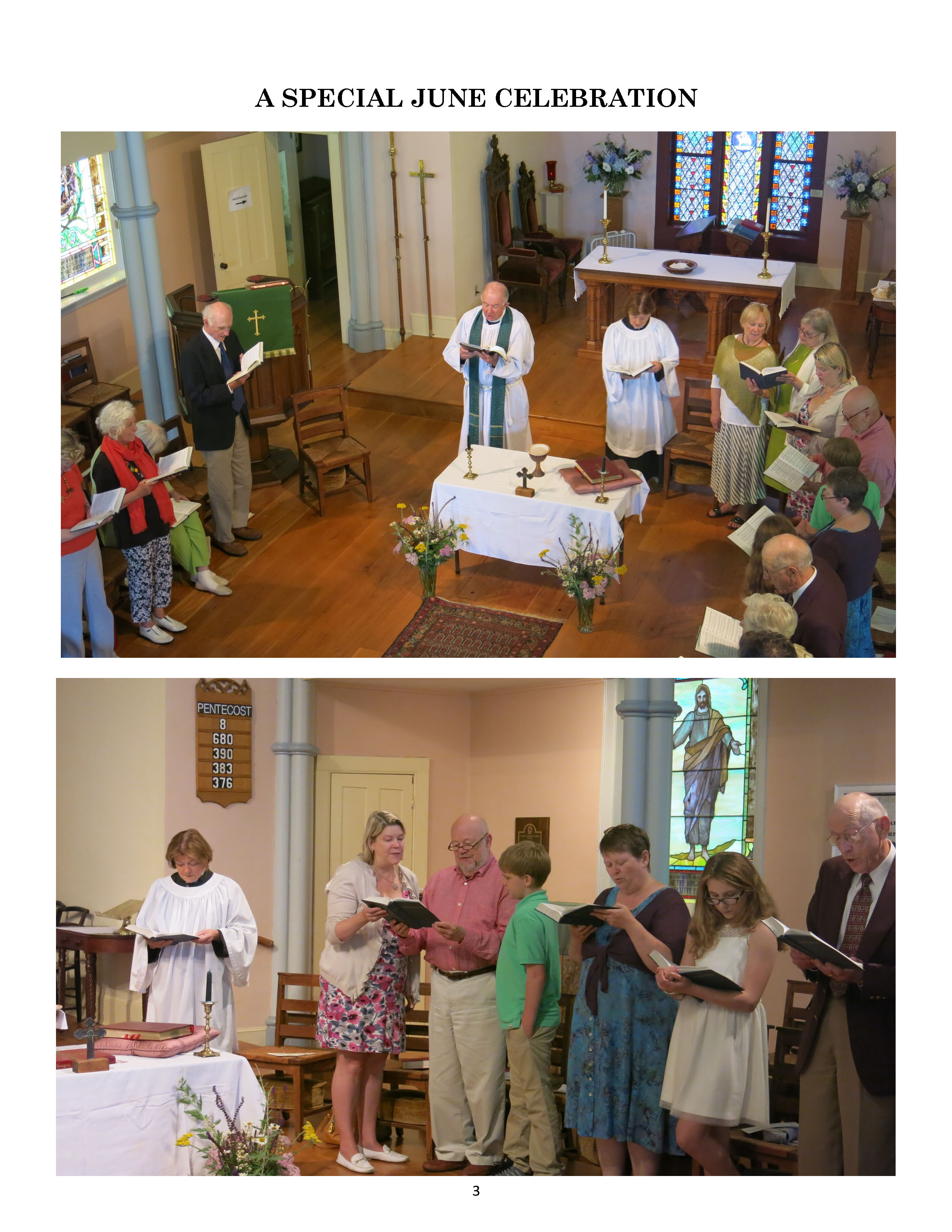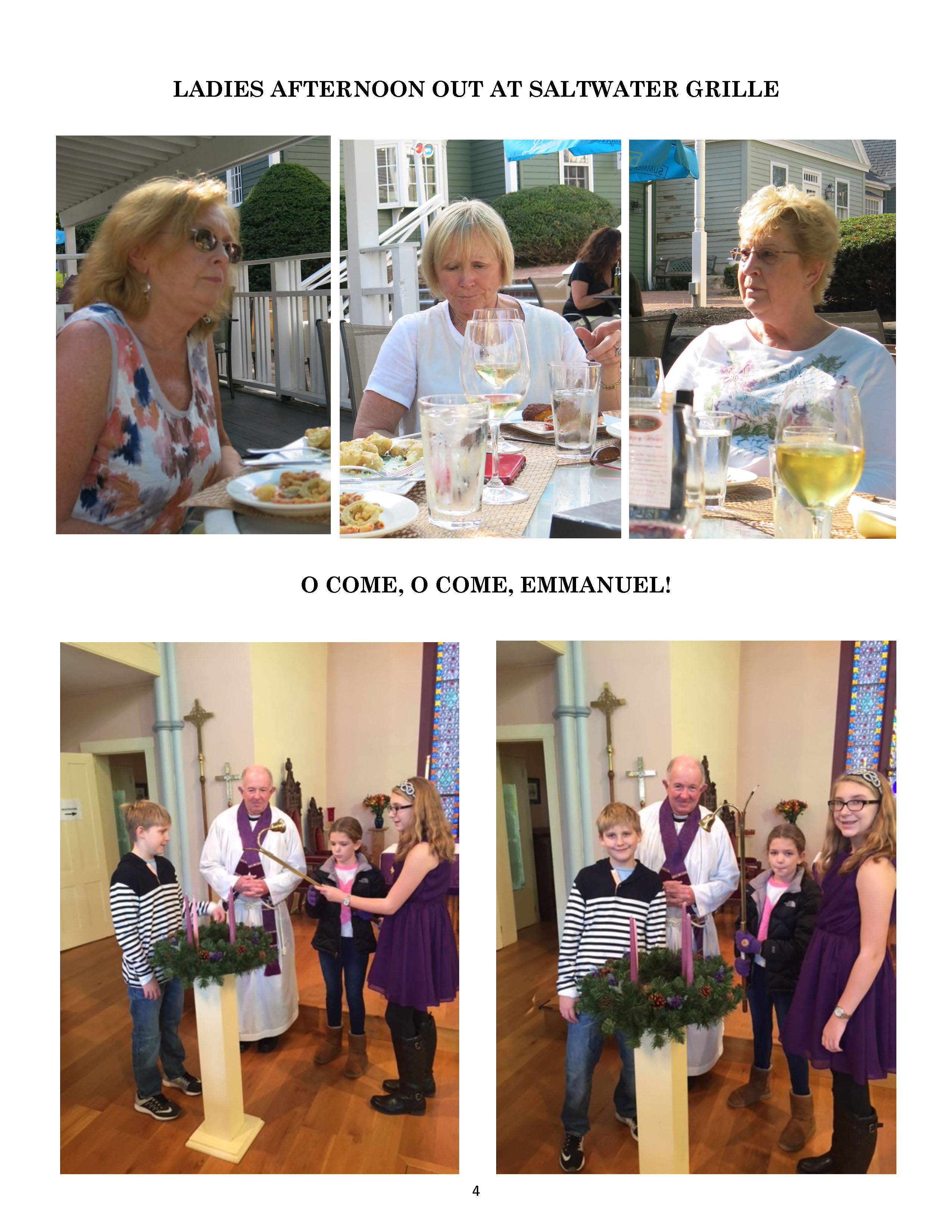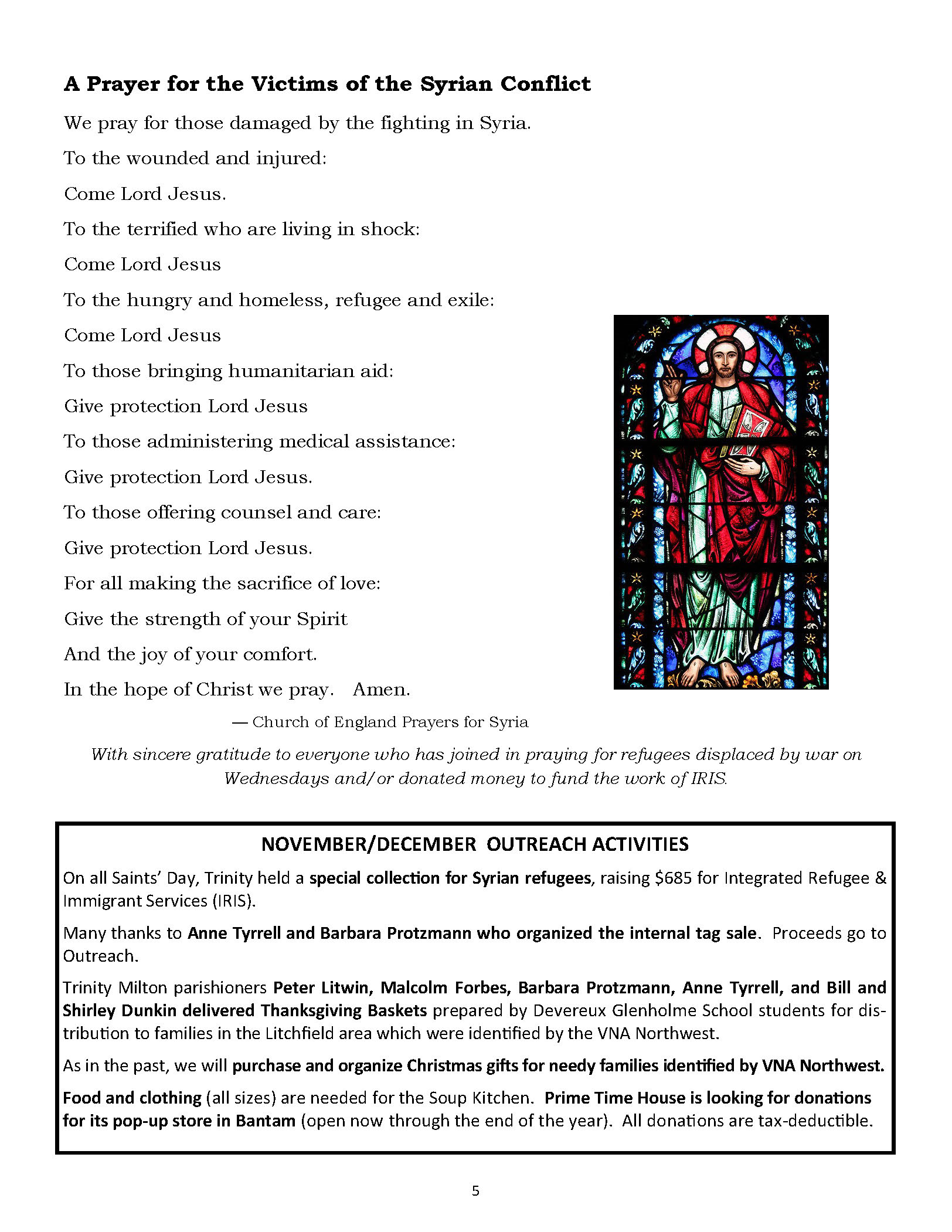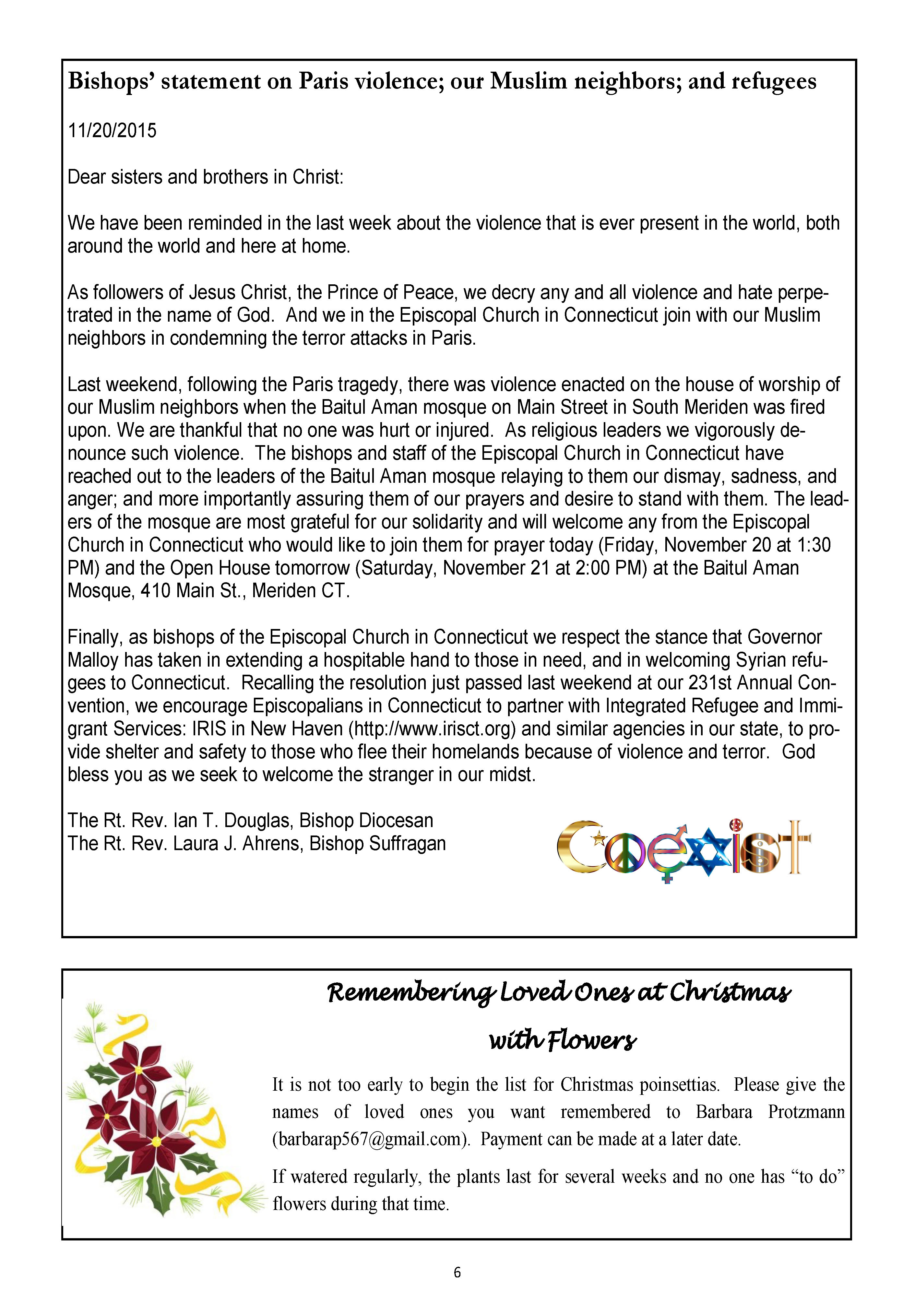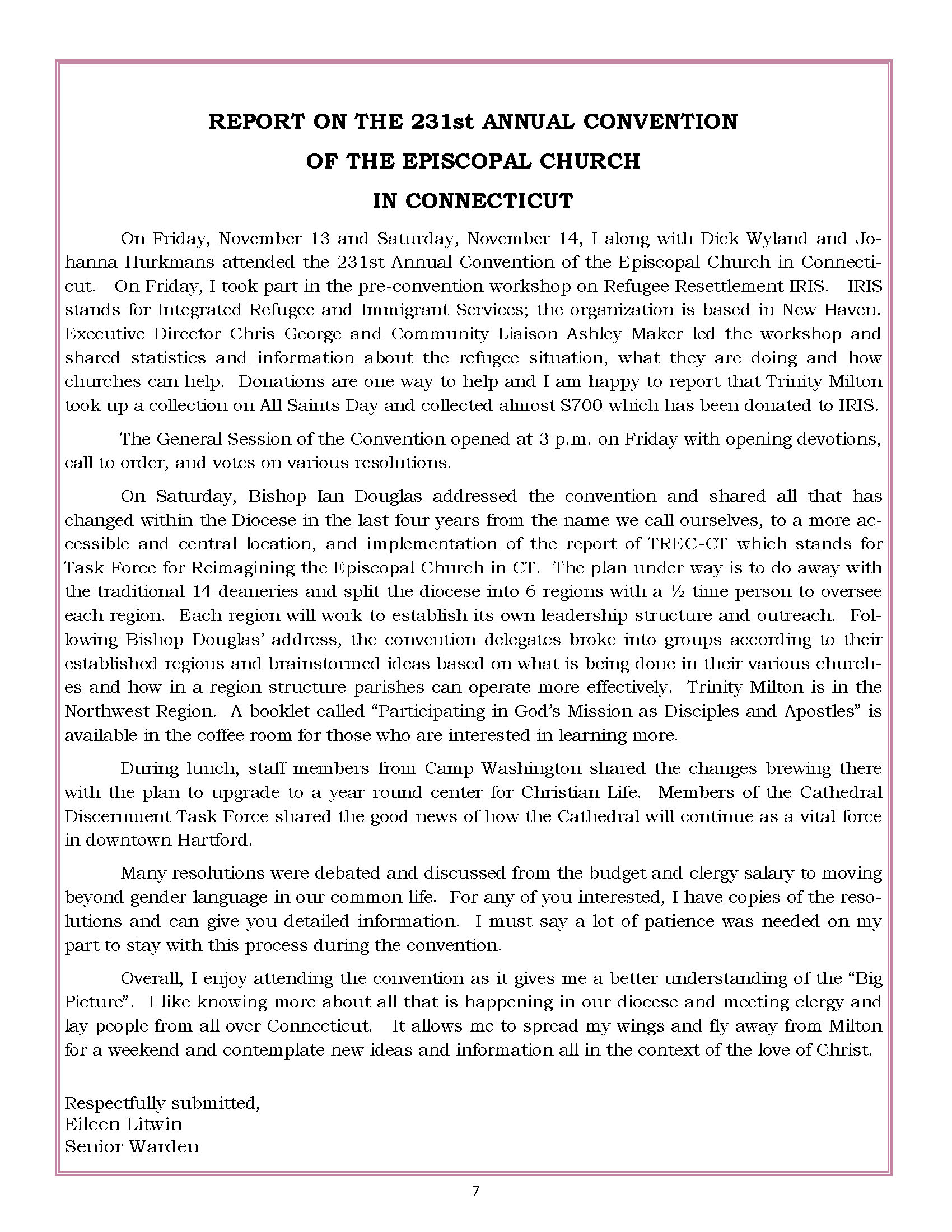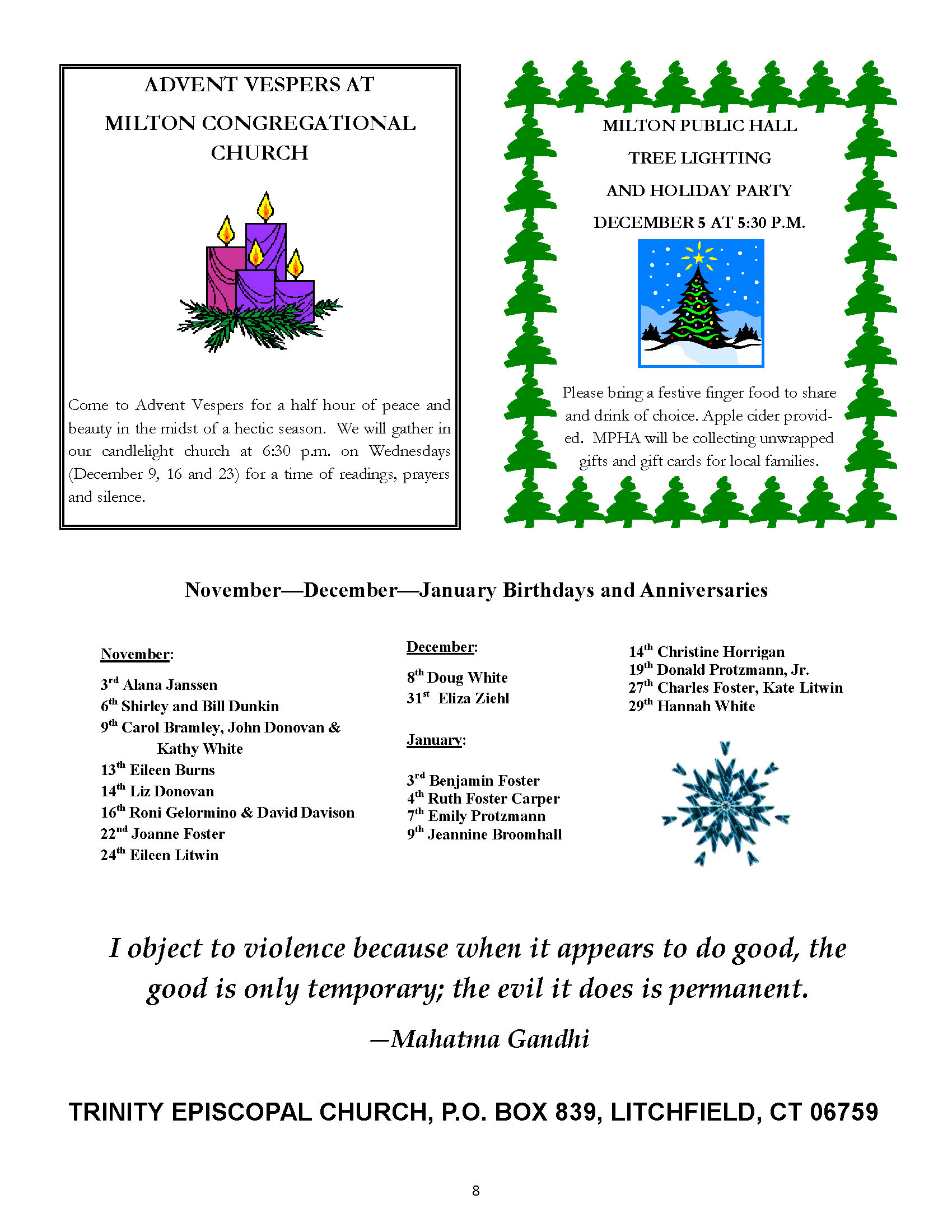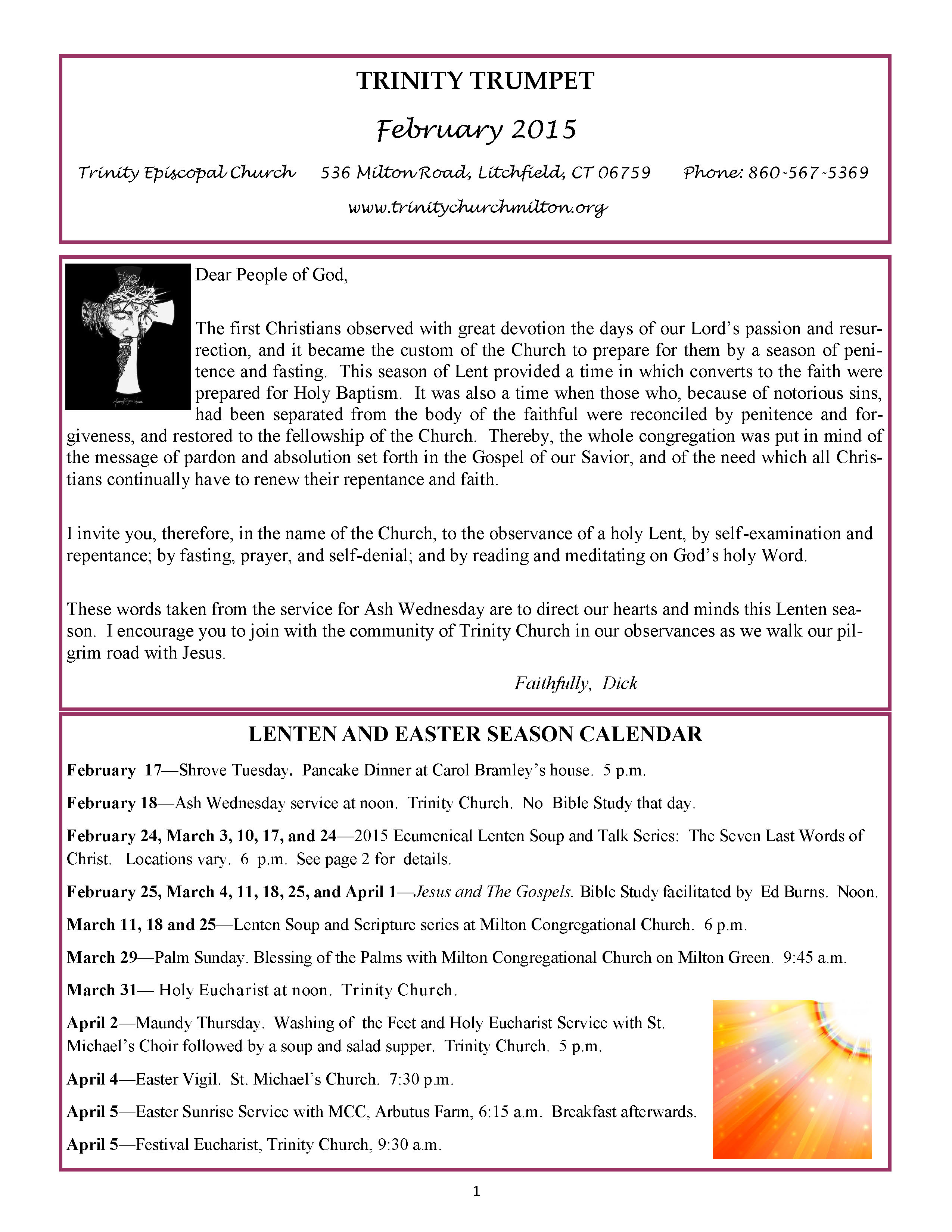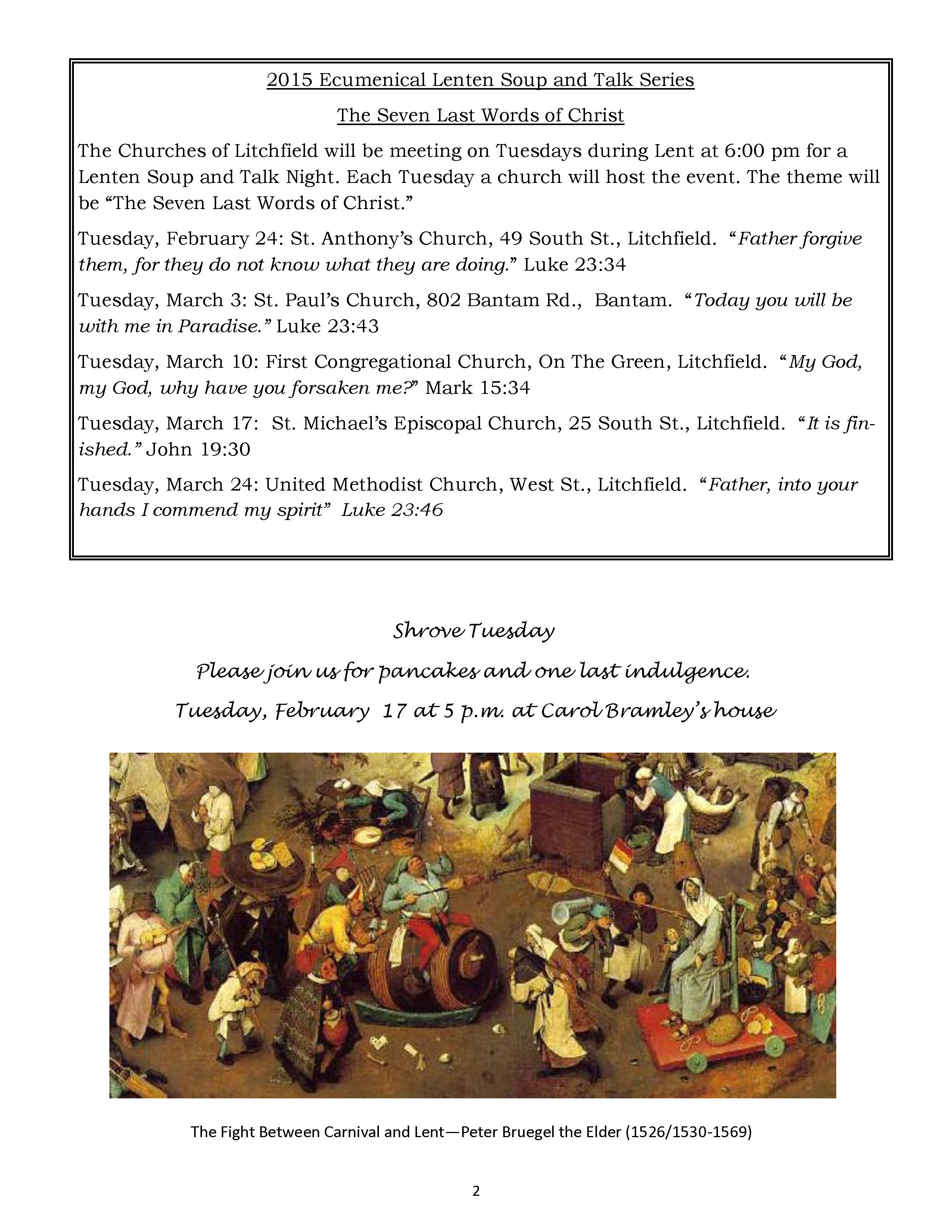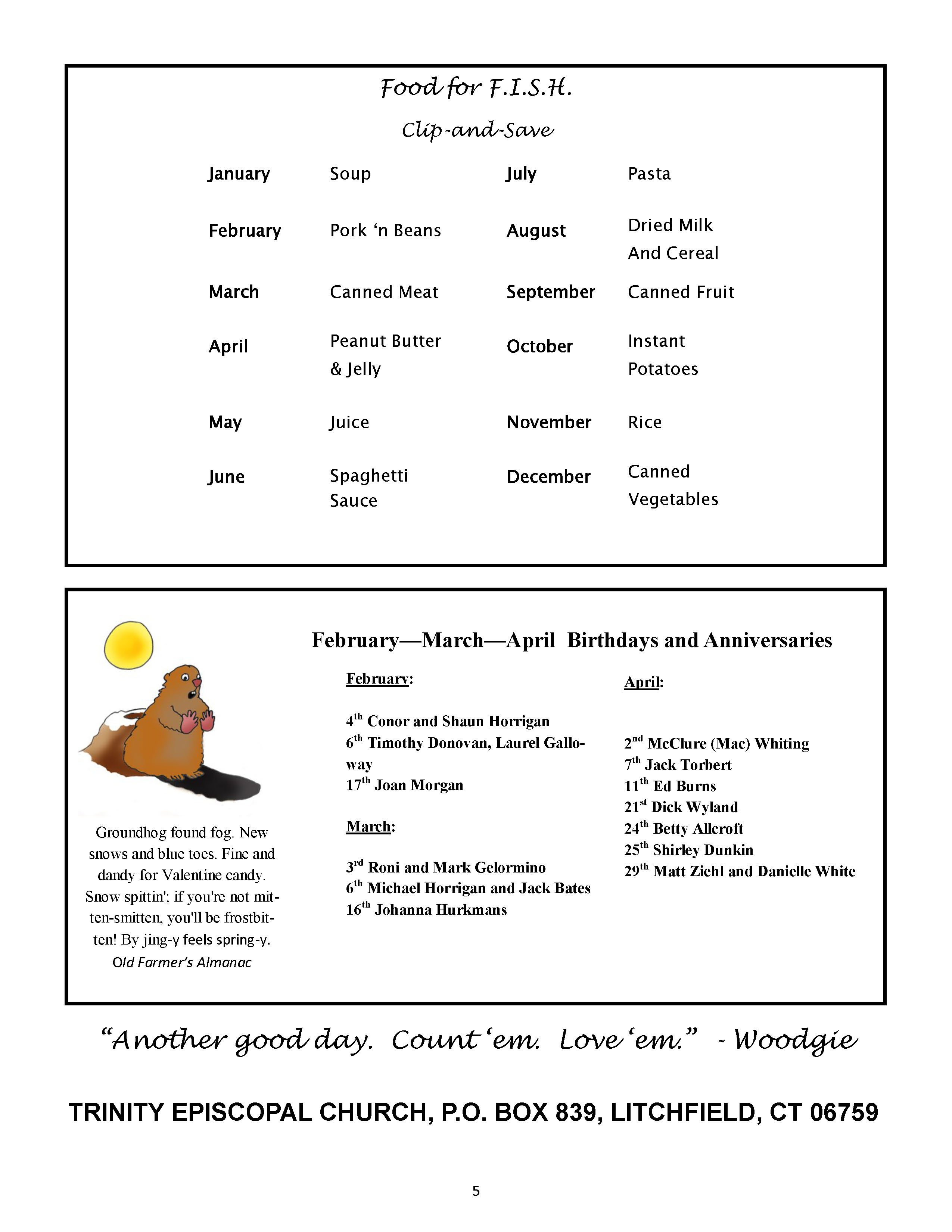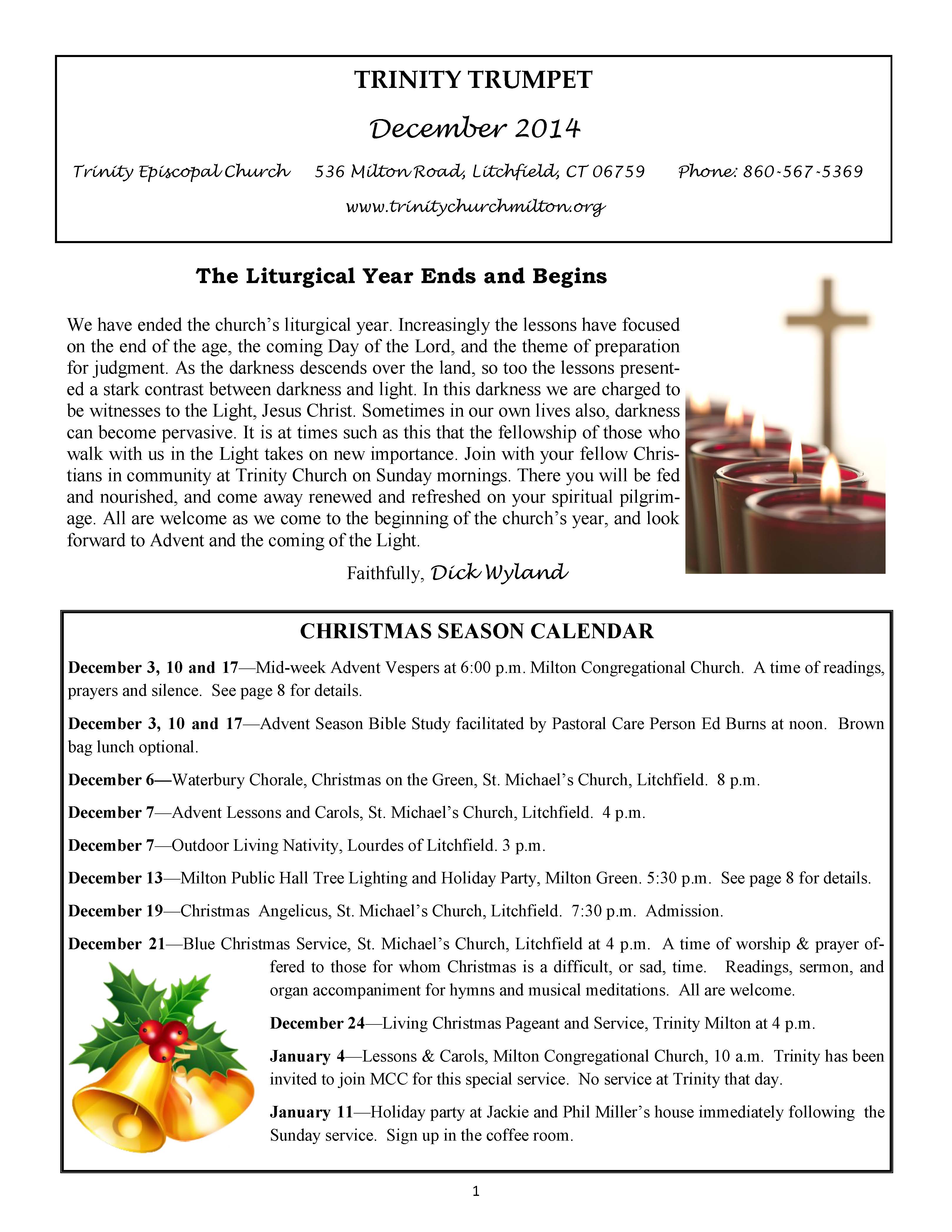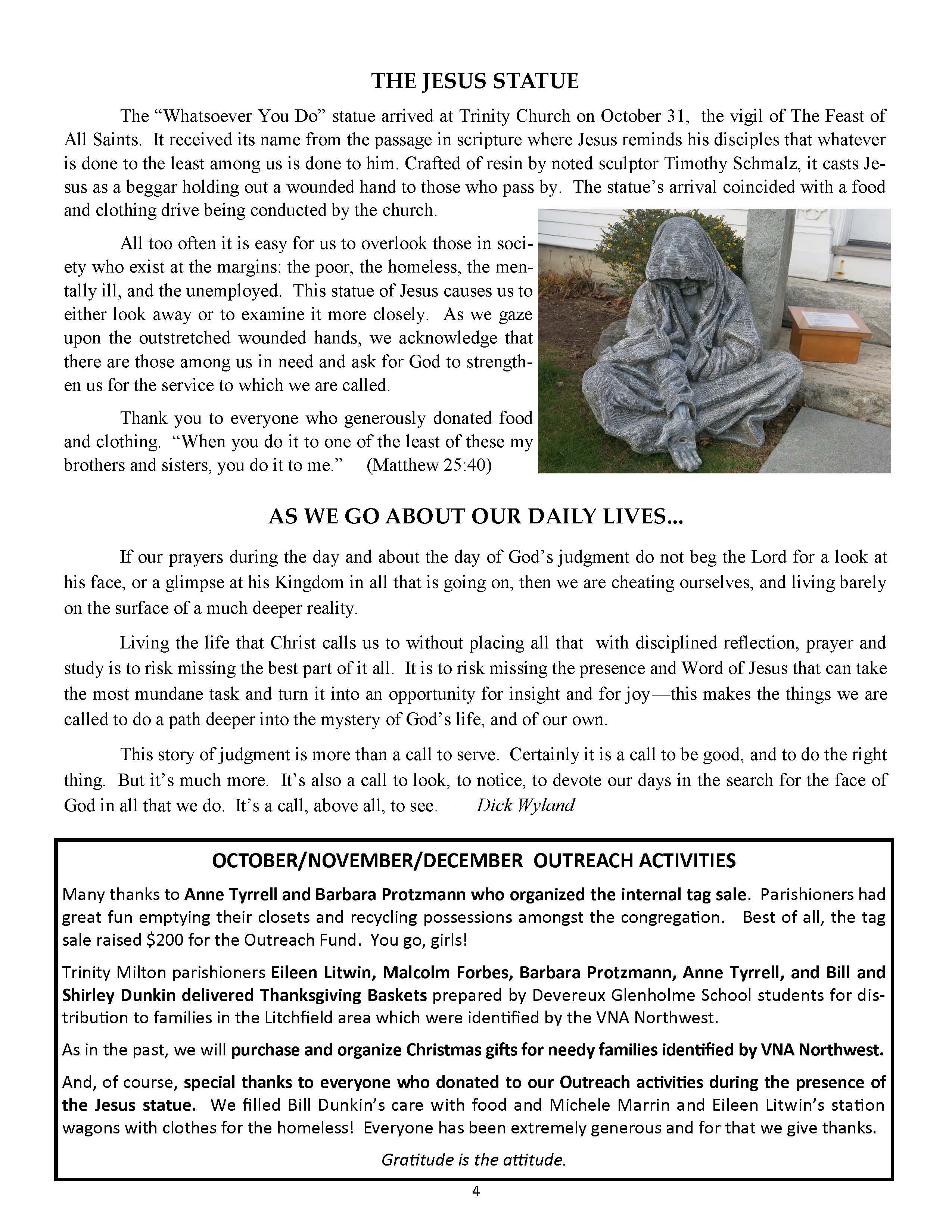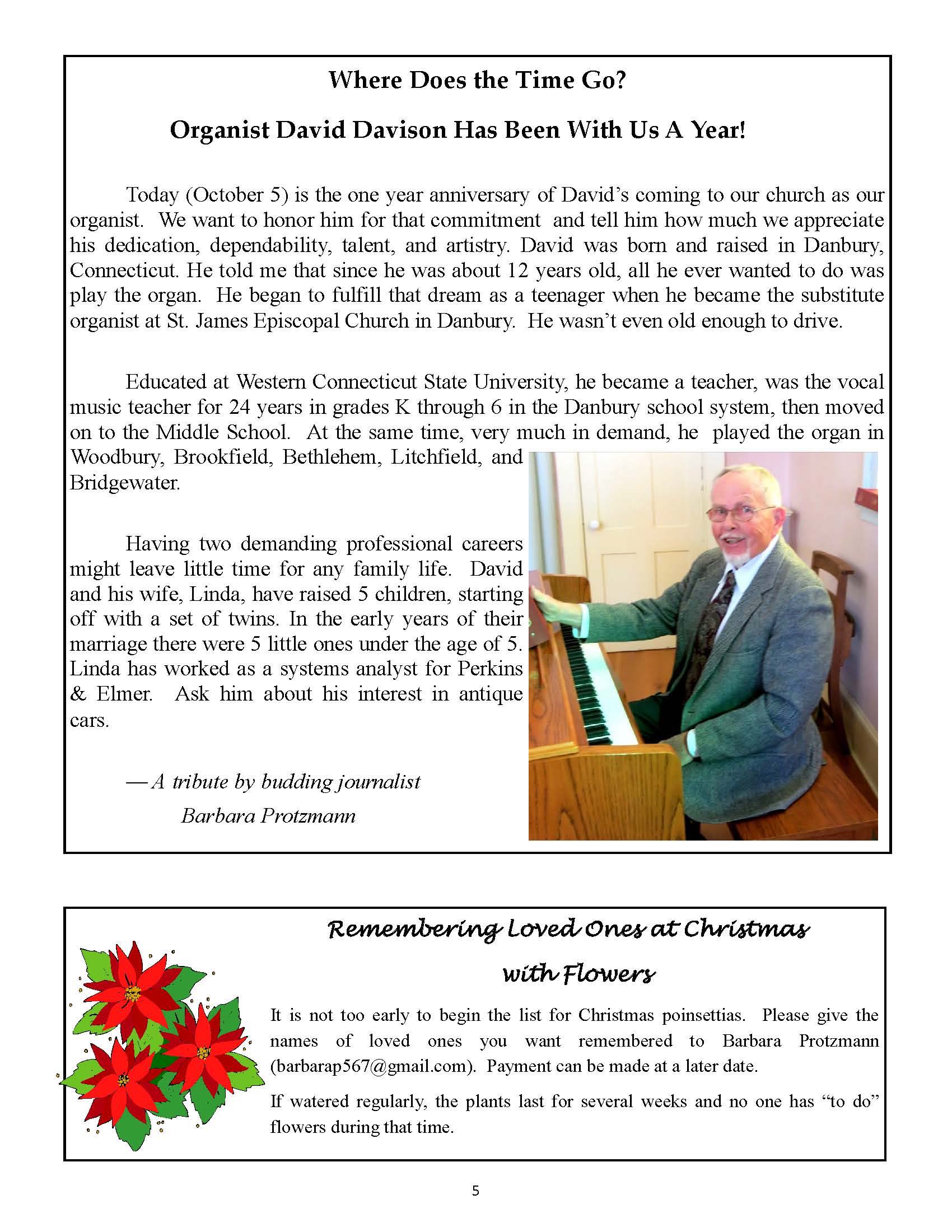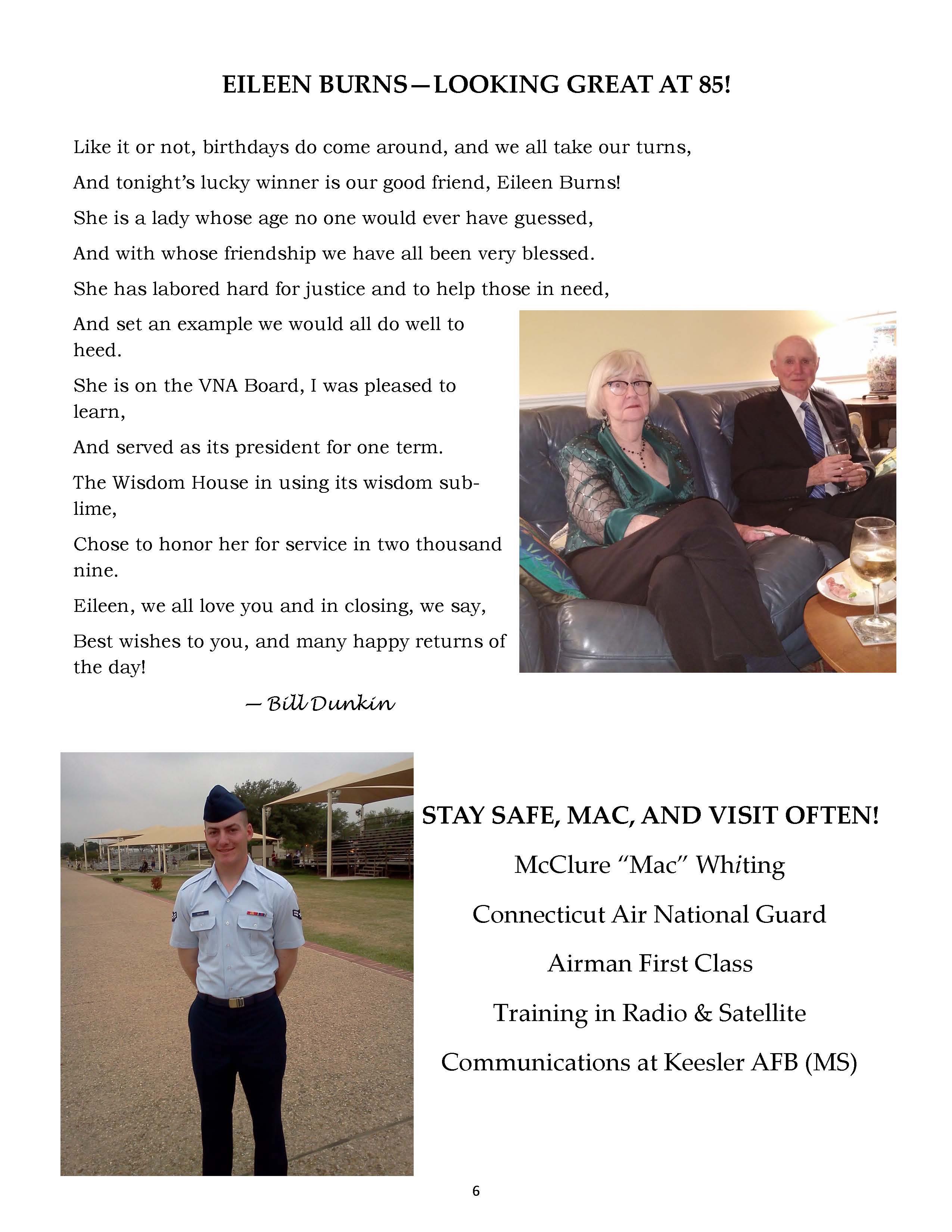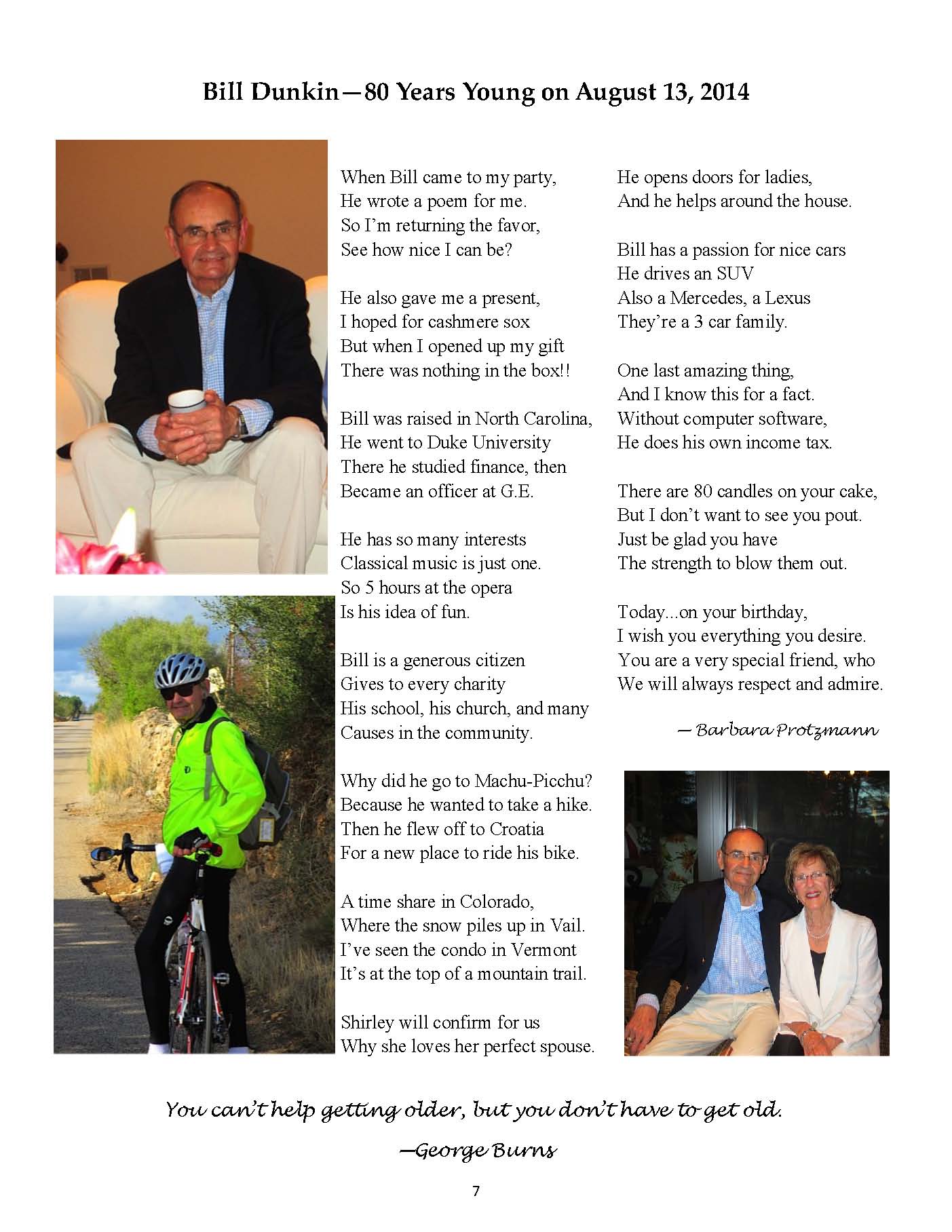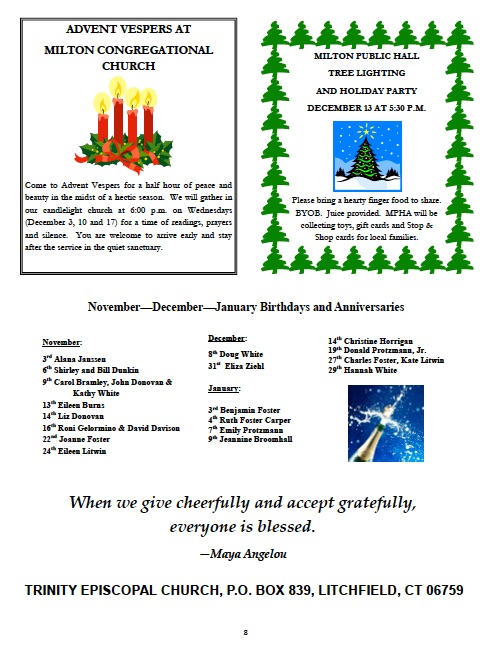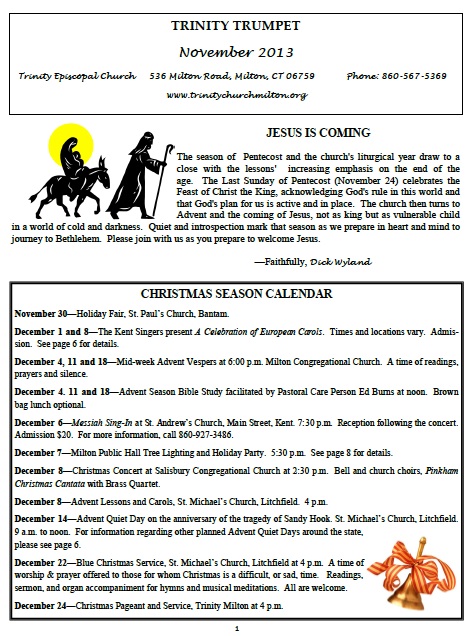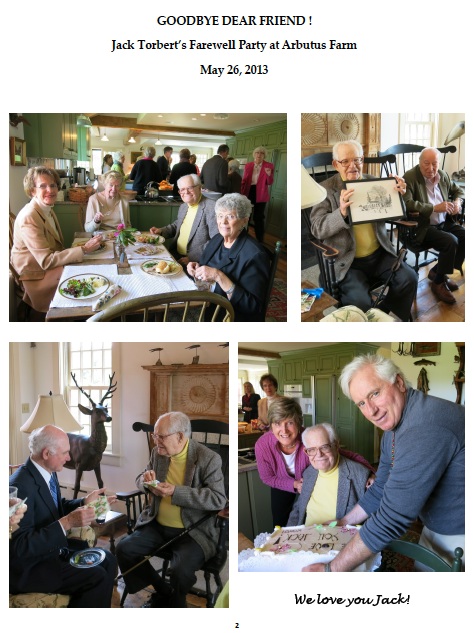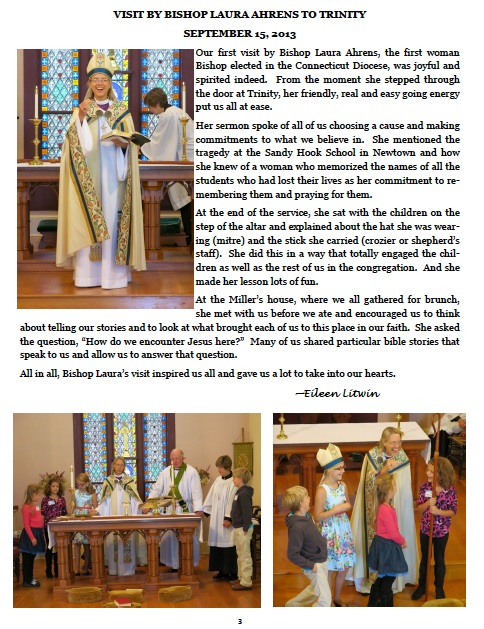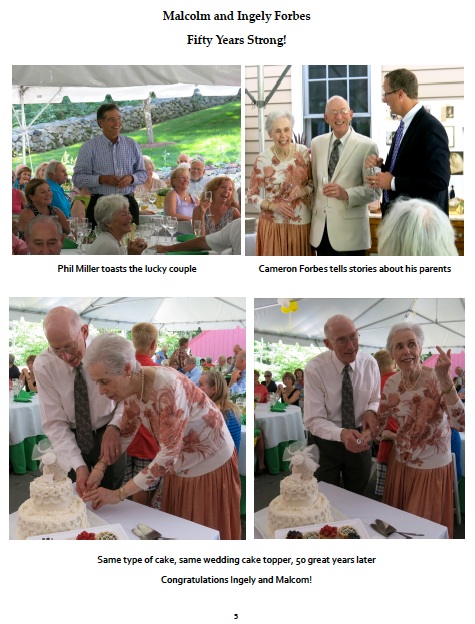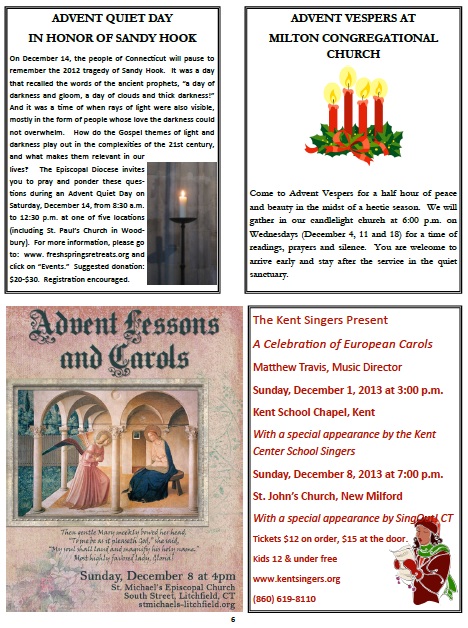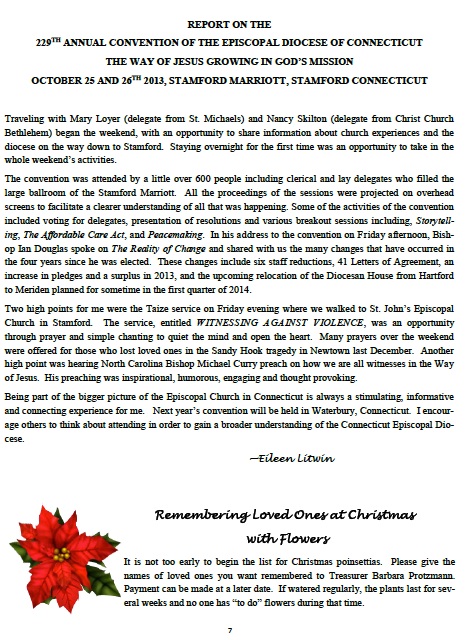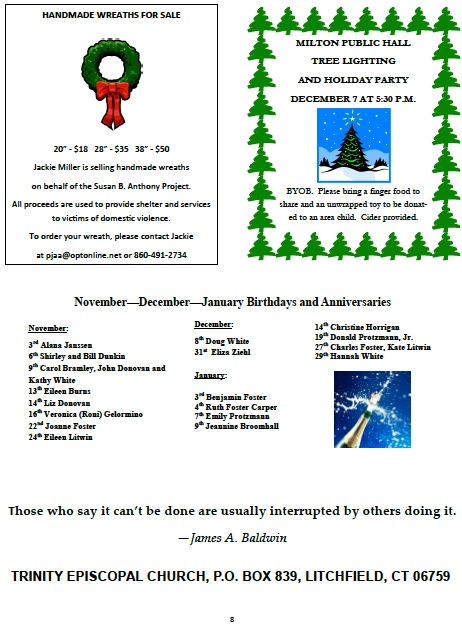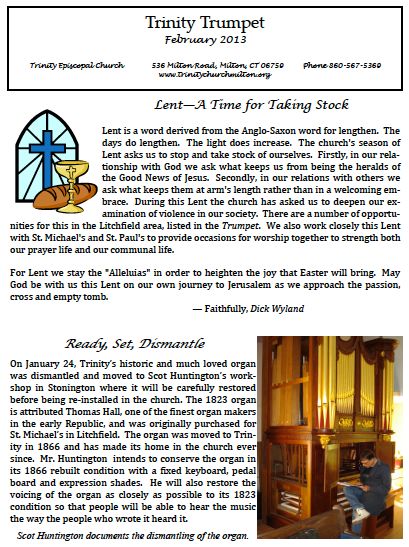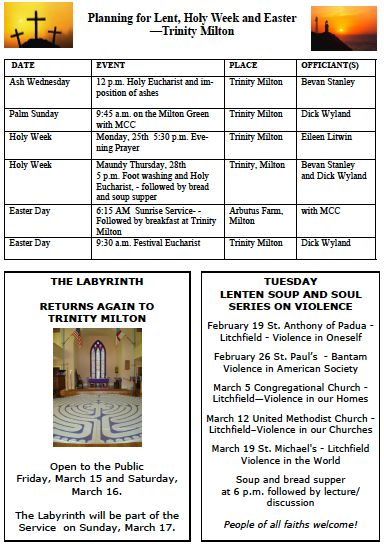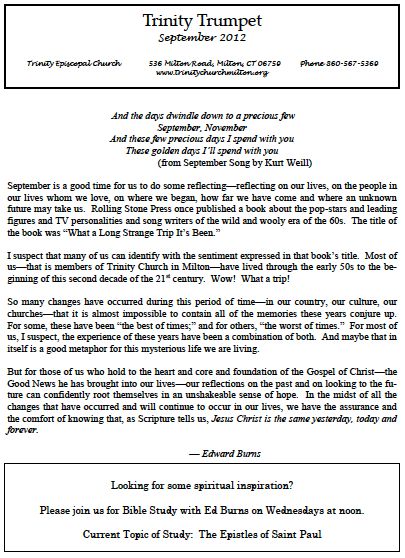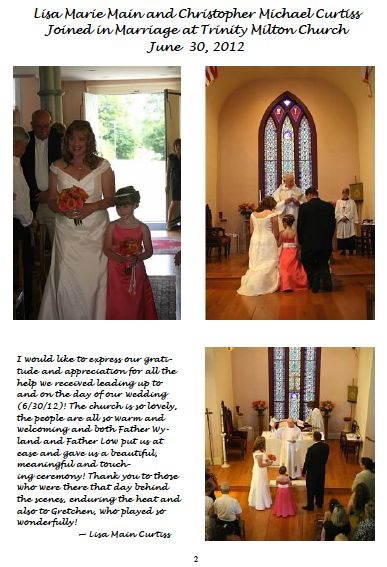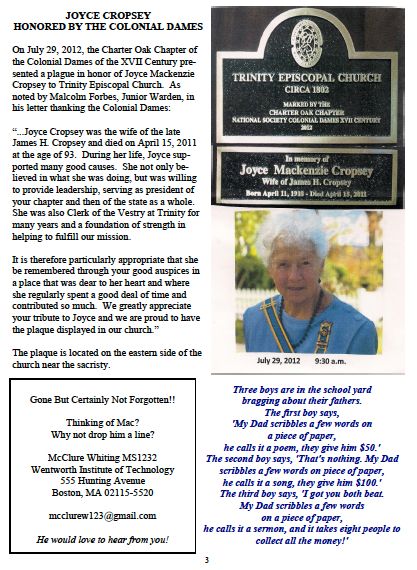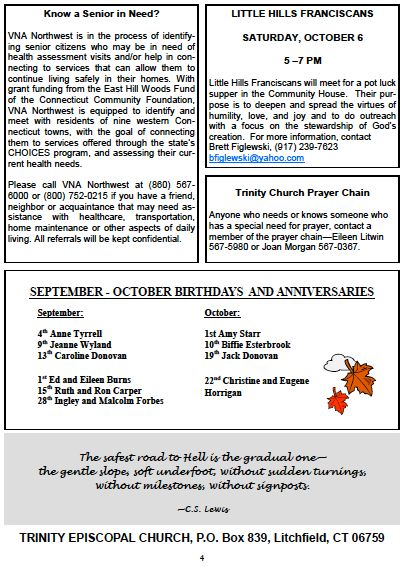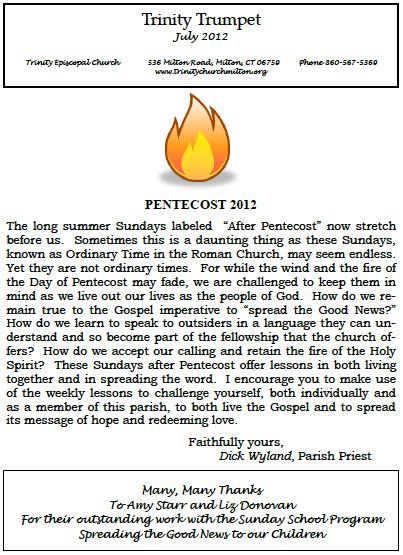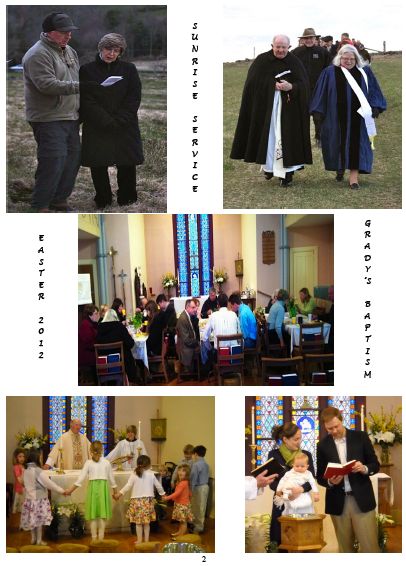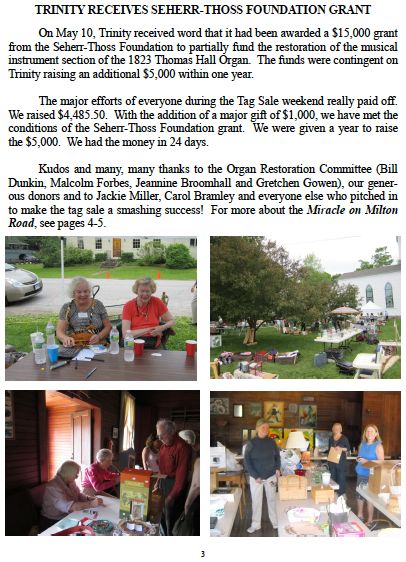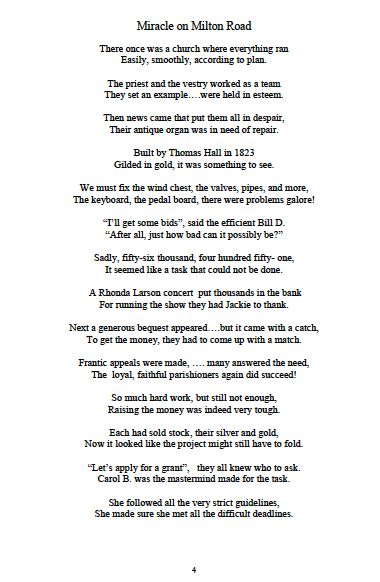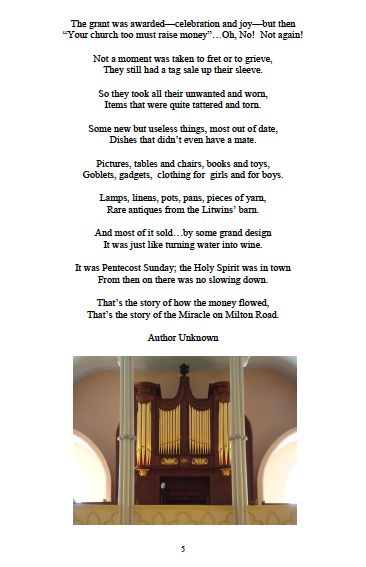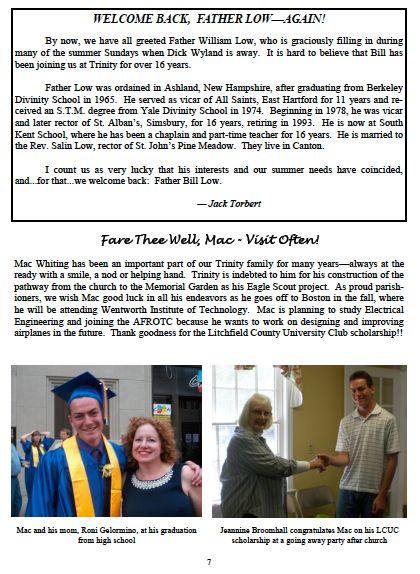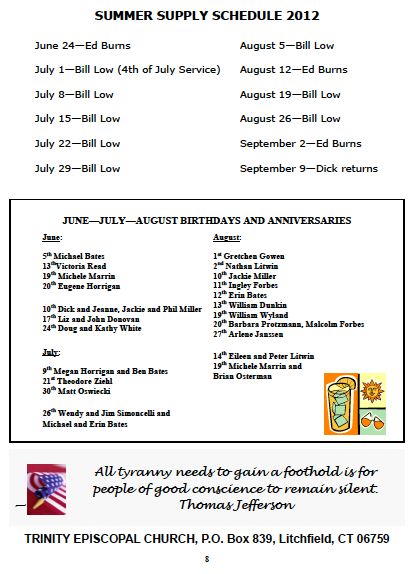 ————————————————————————————-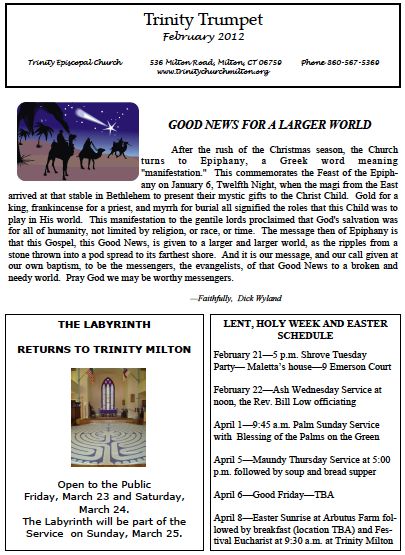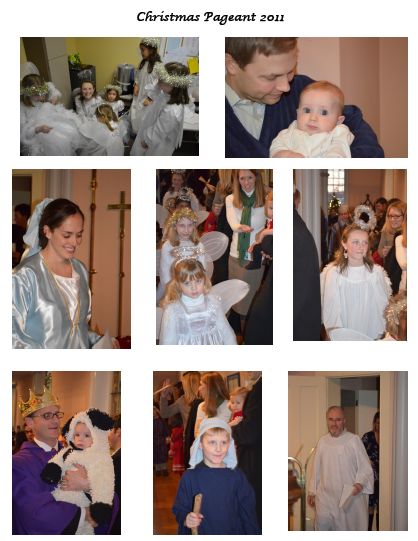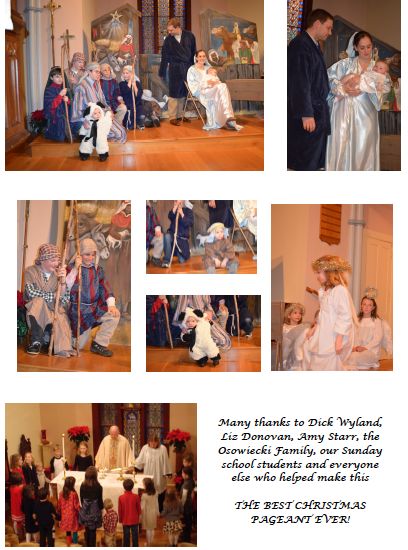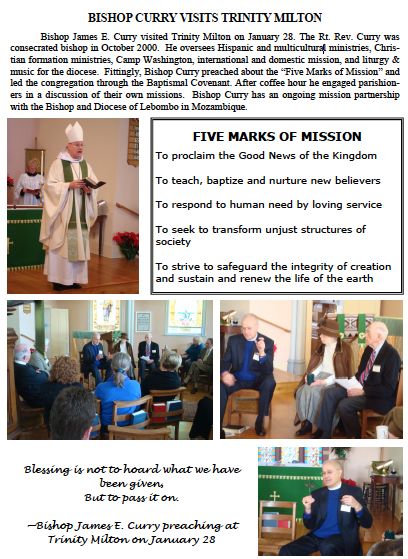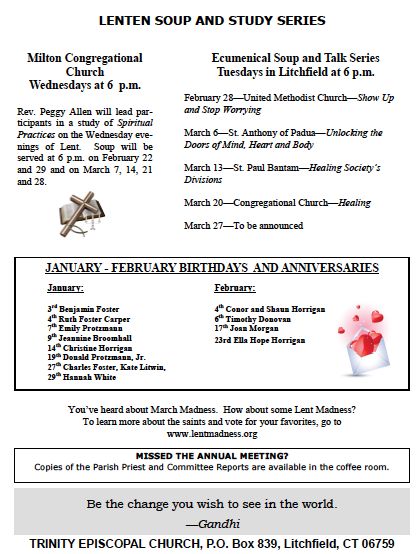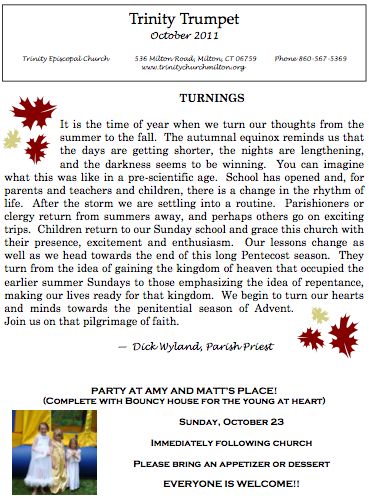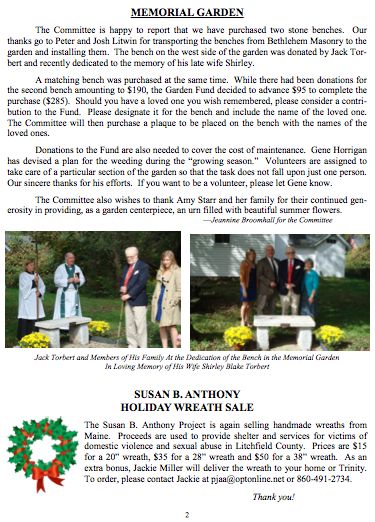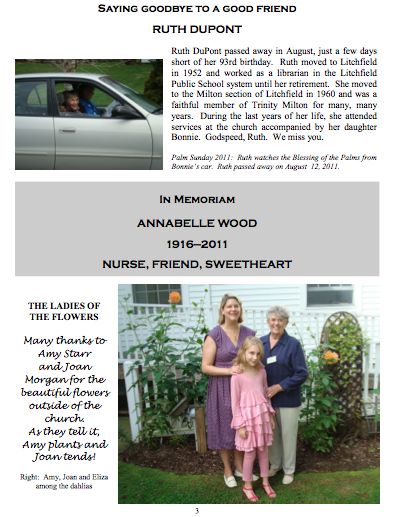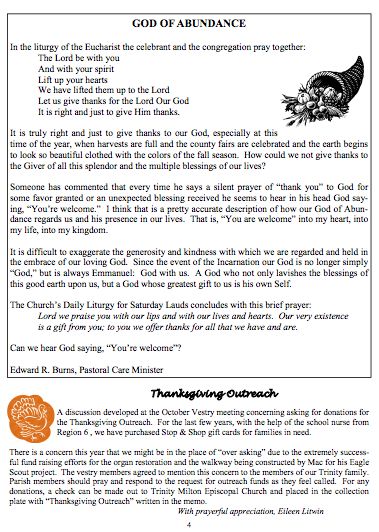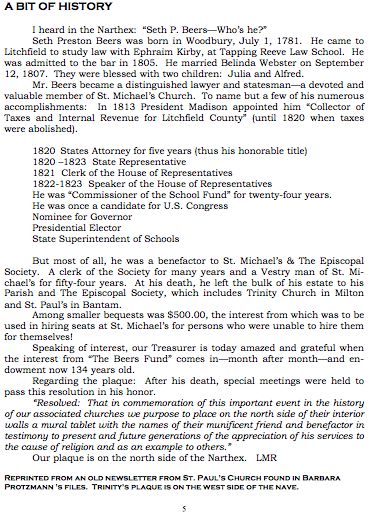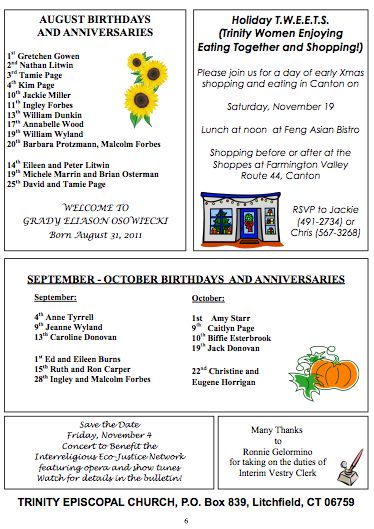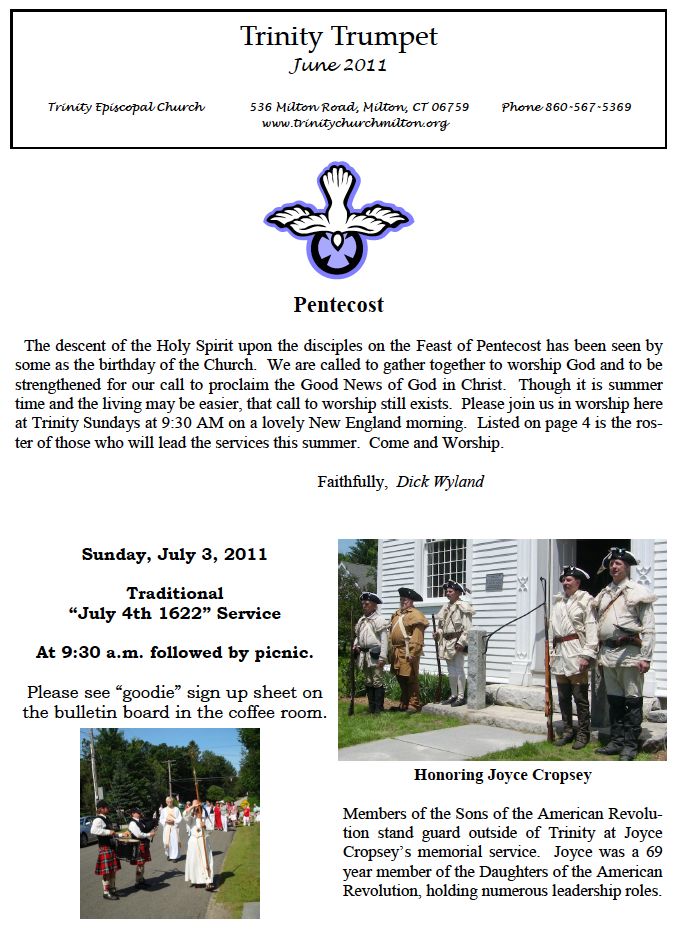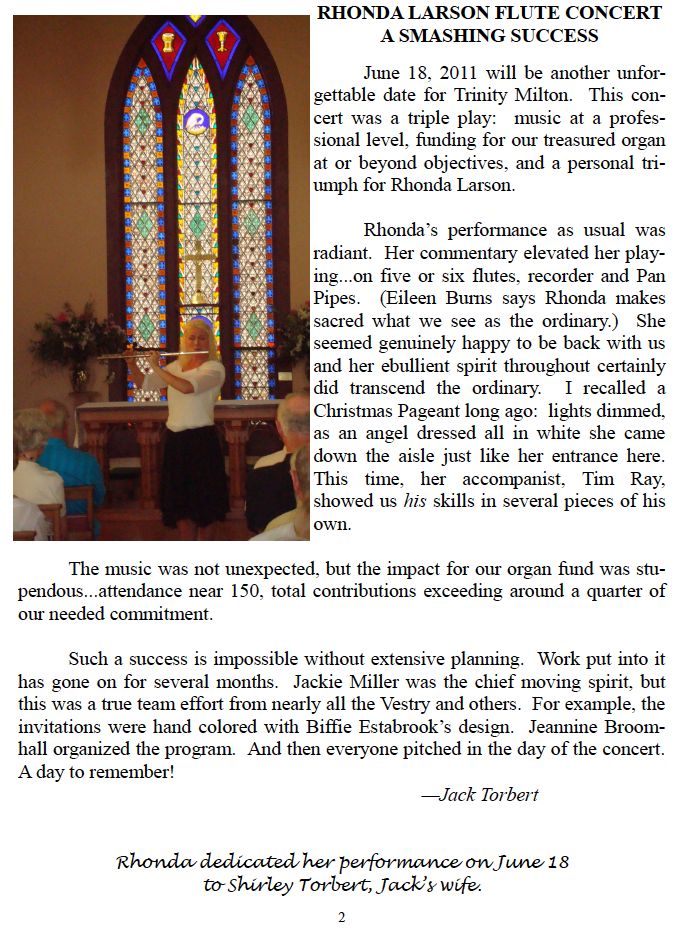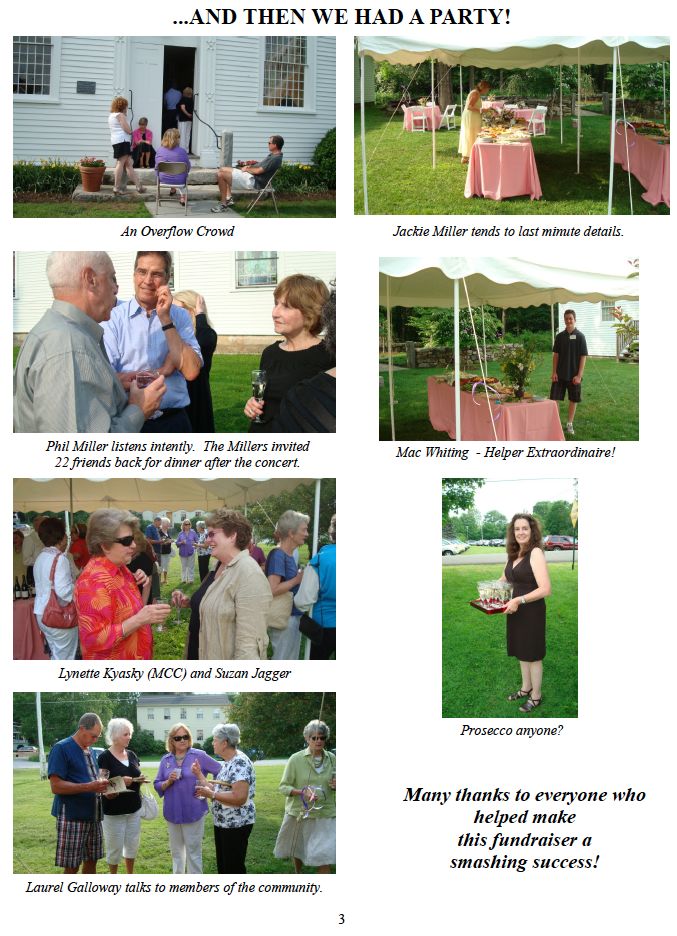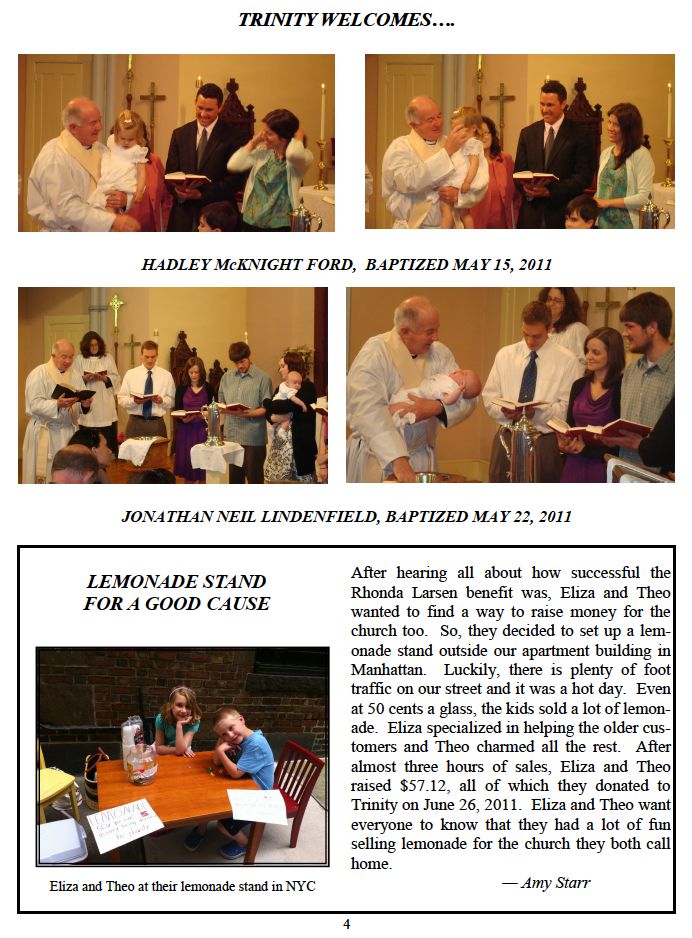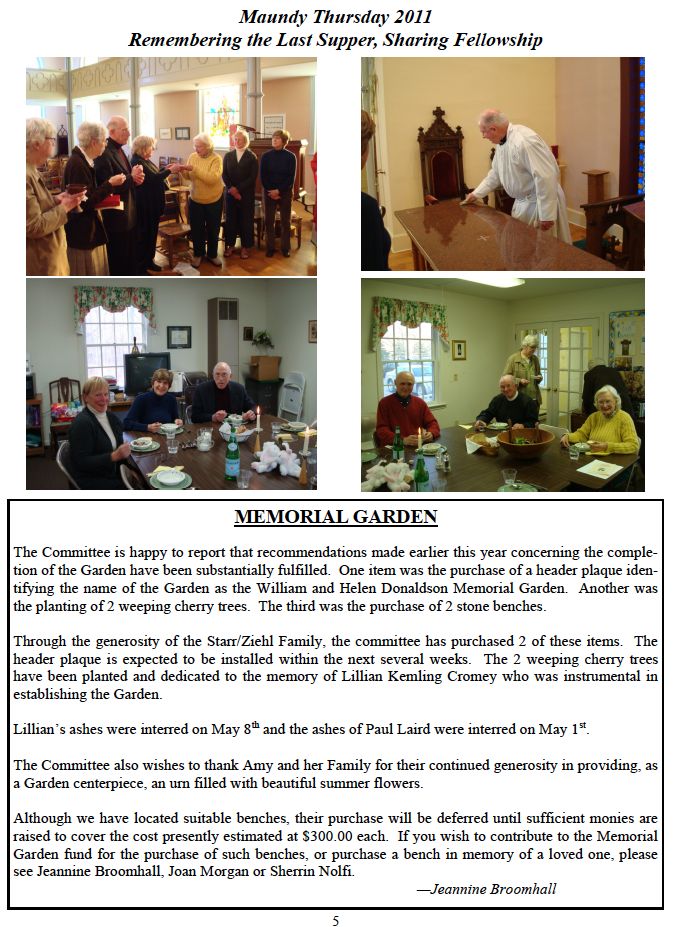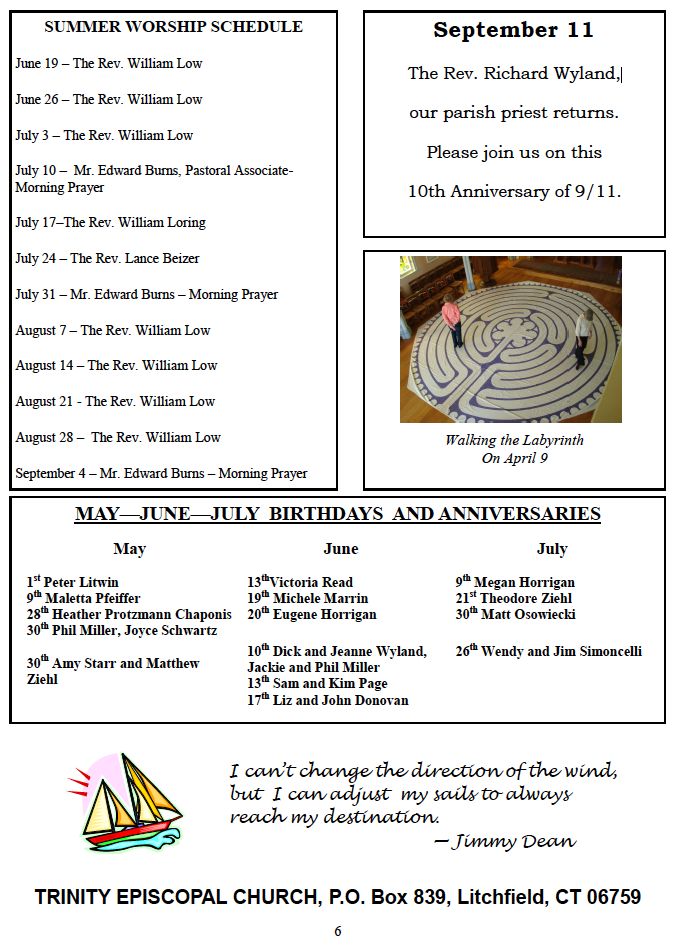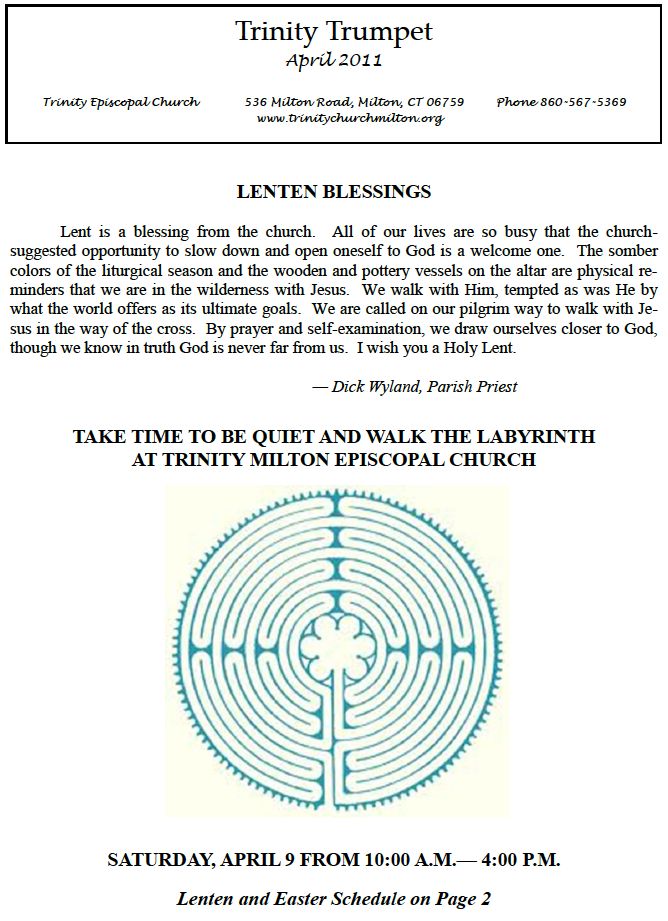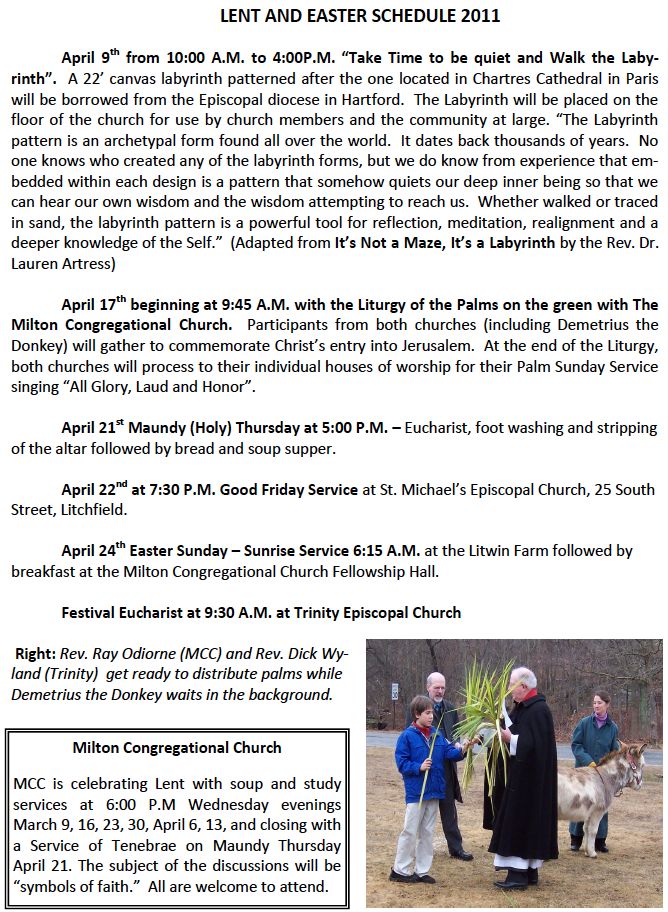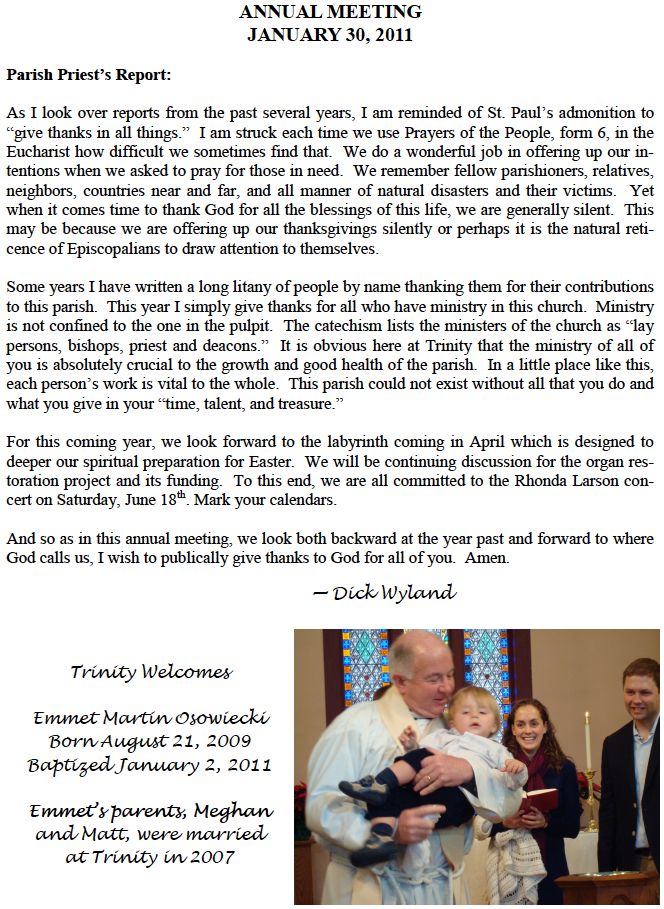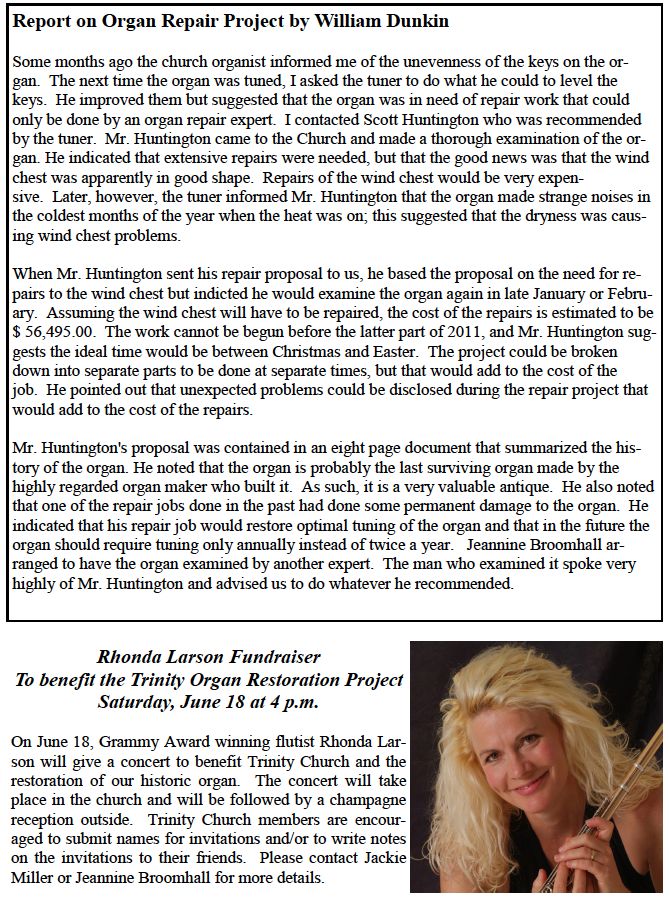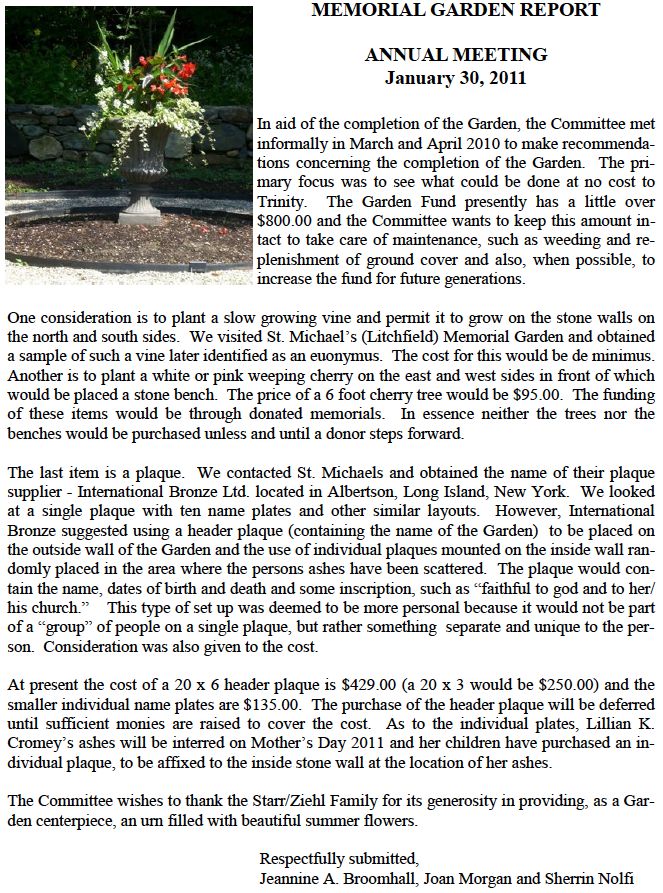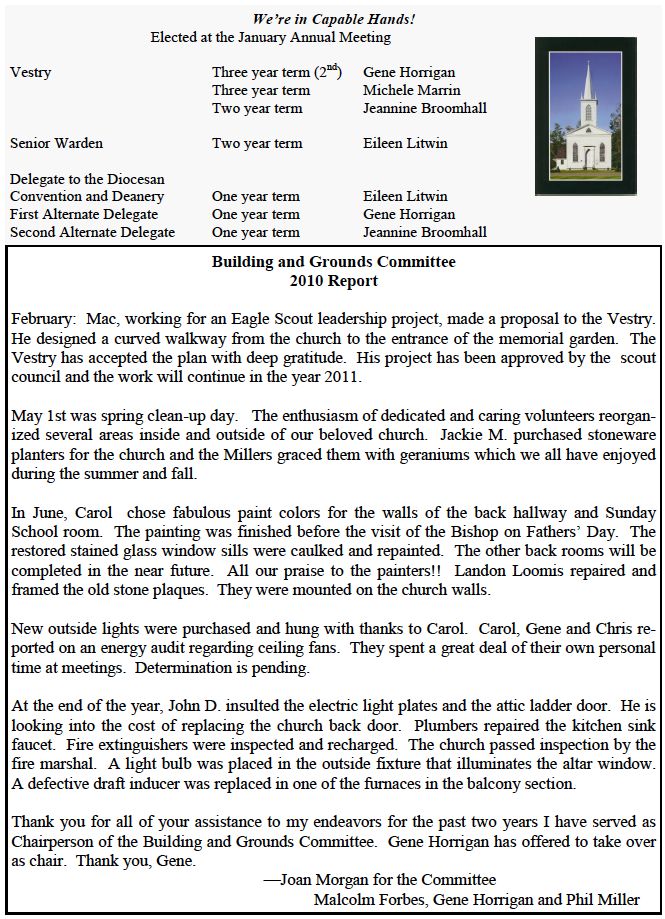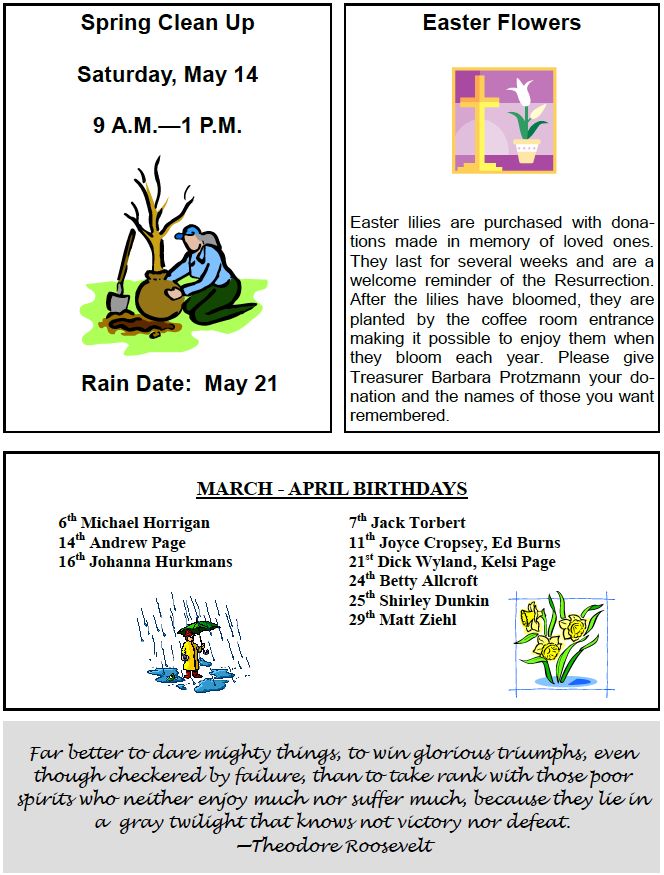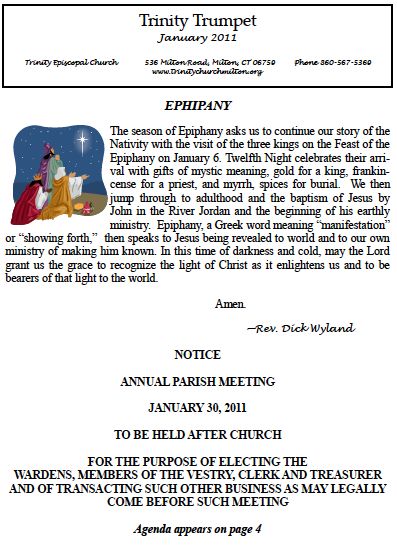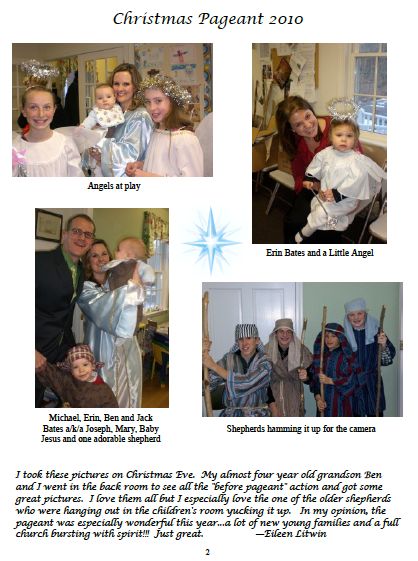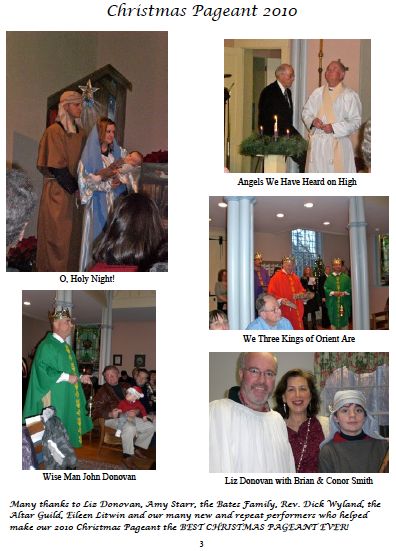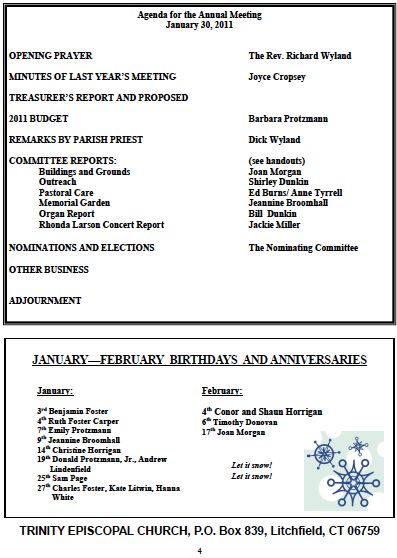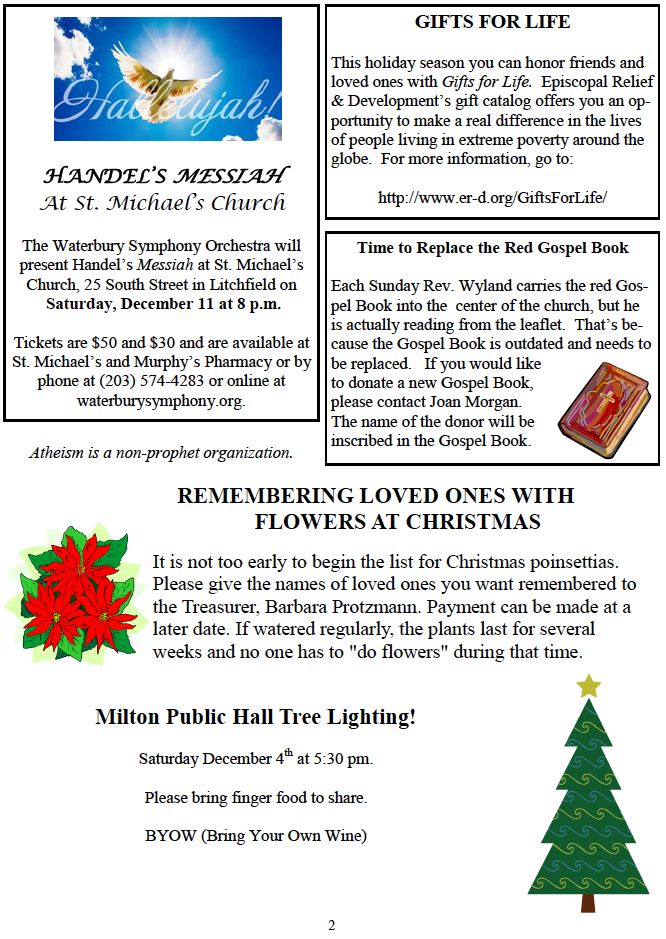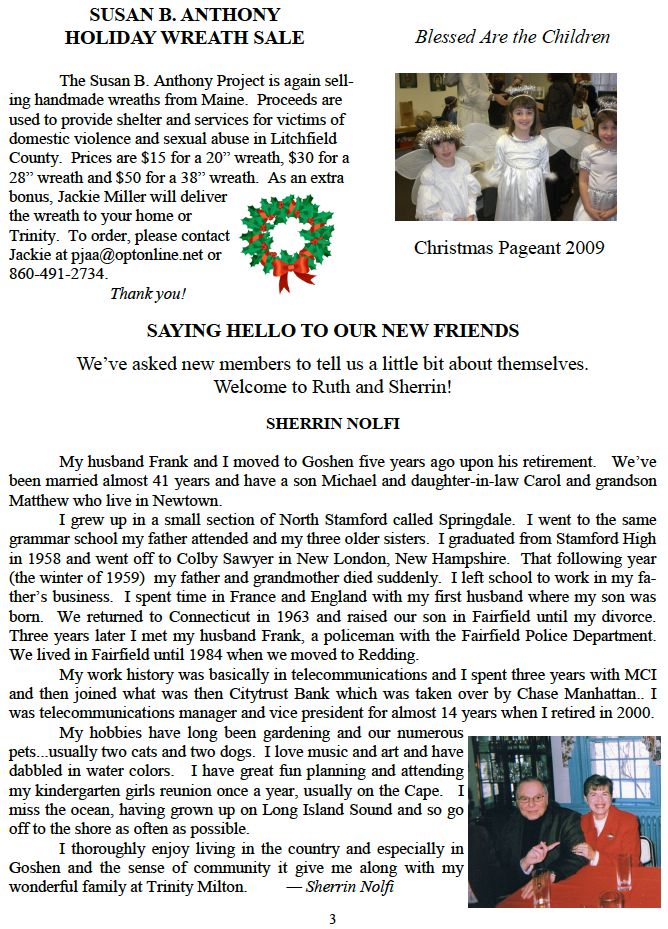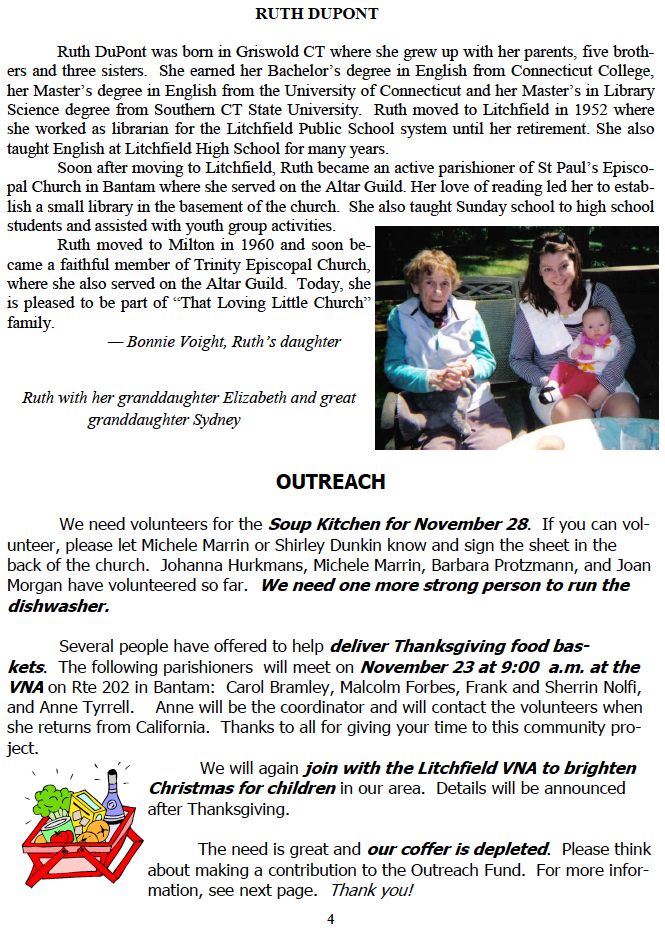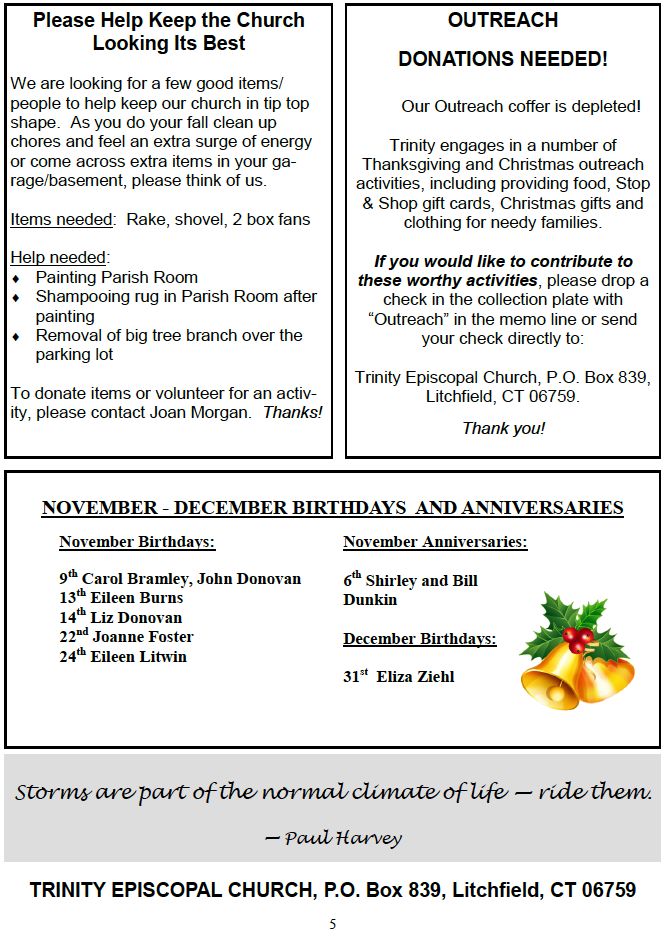 ——————————————————————–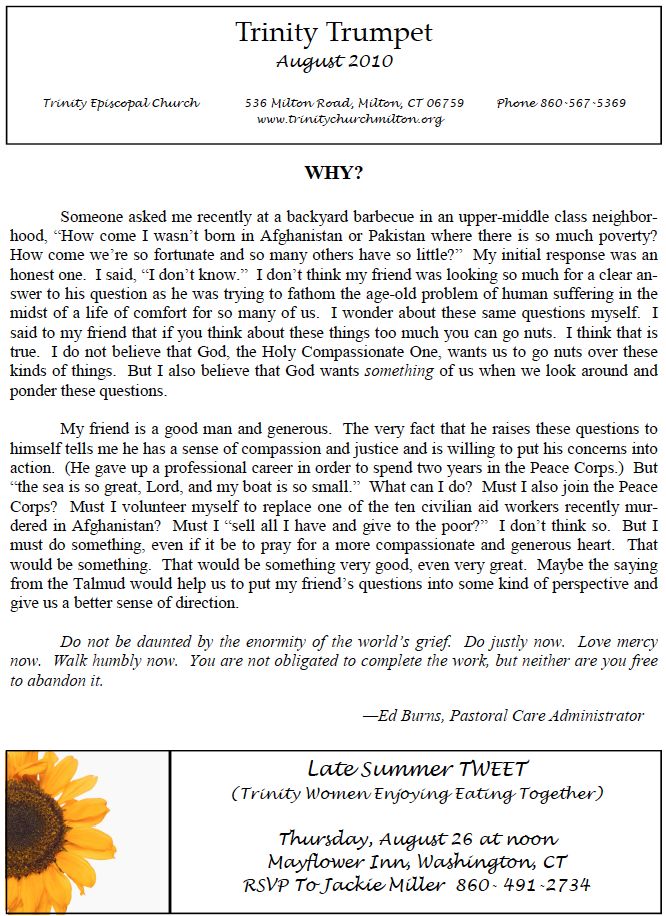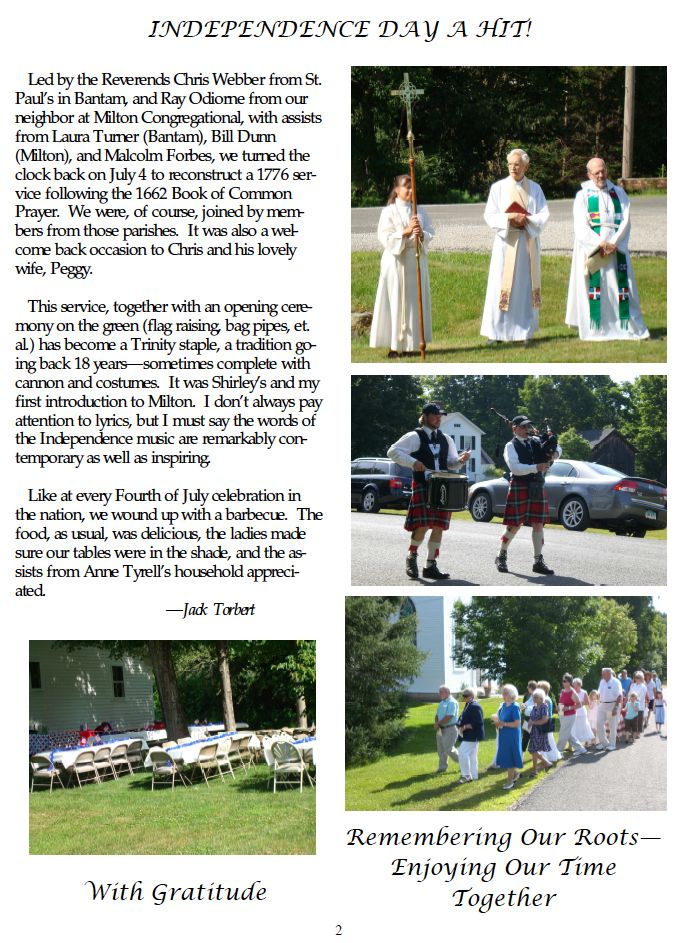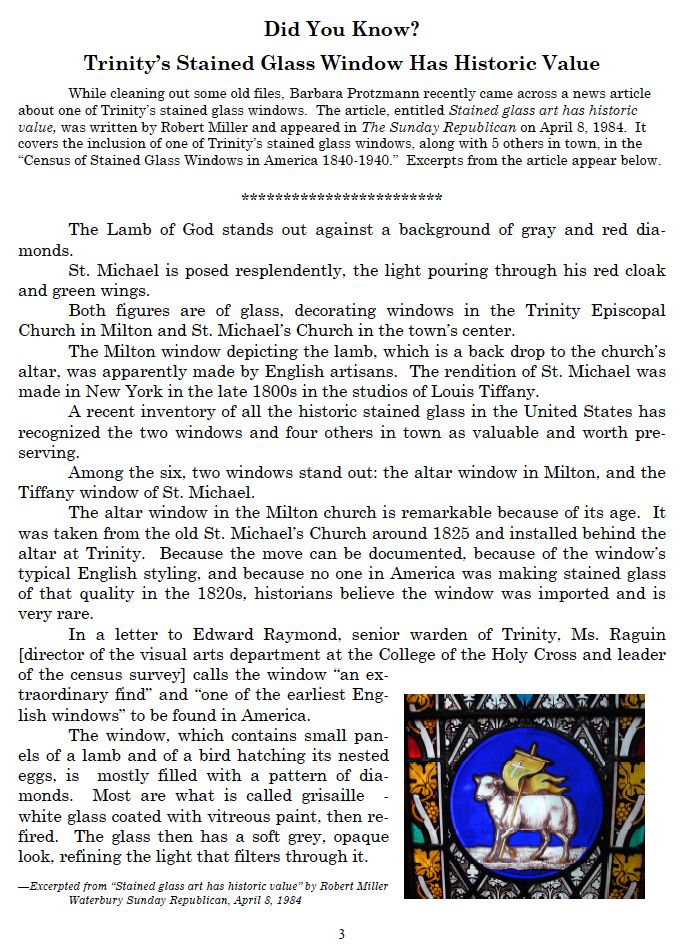 ——————————————————————–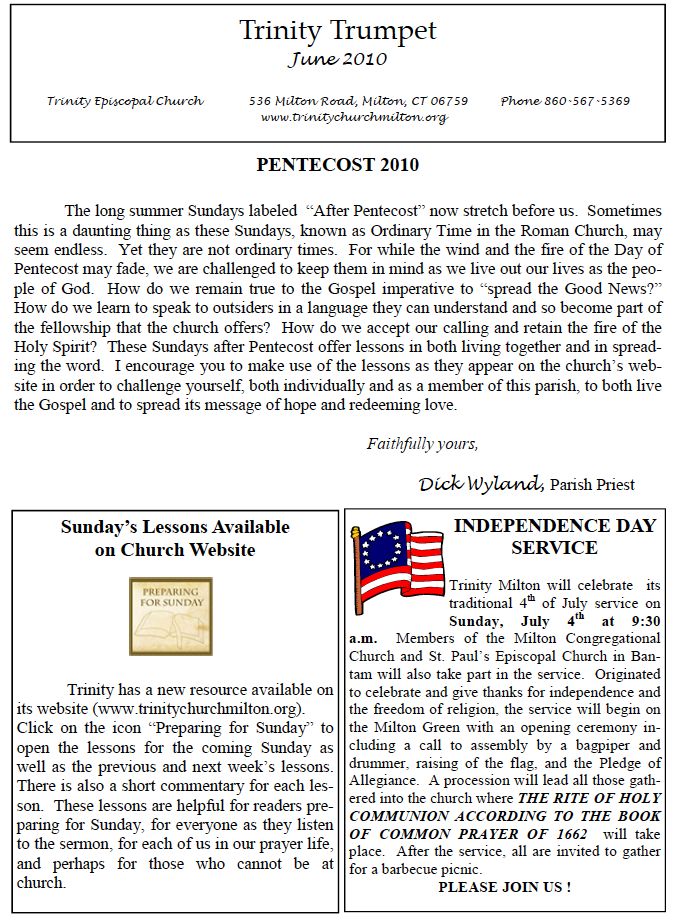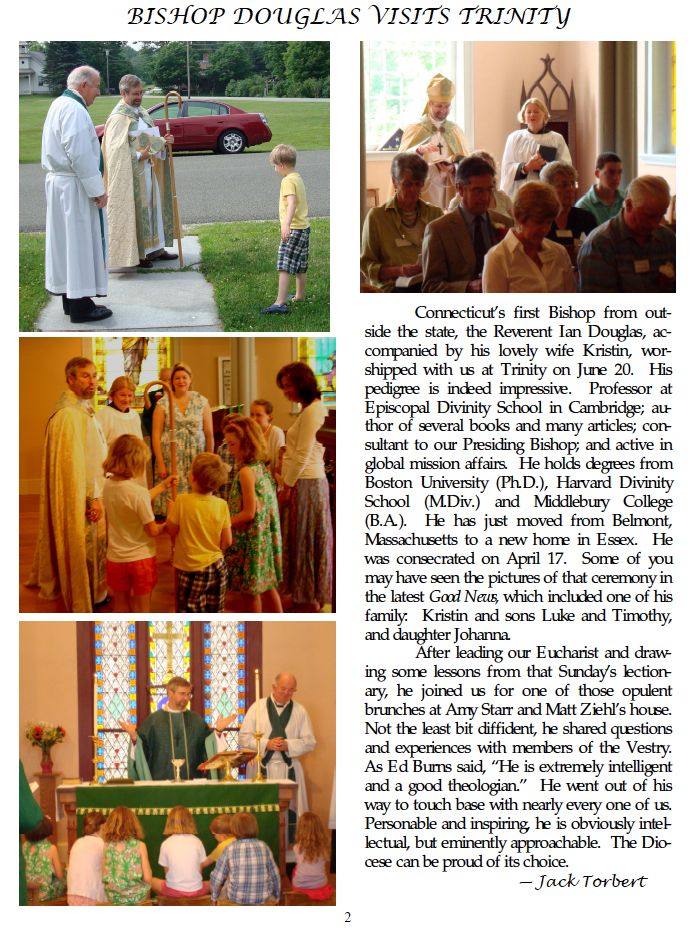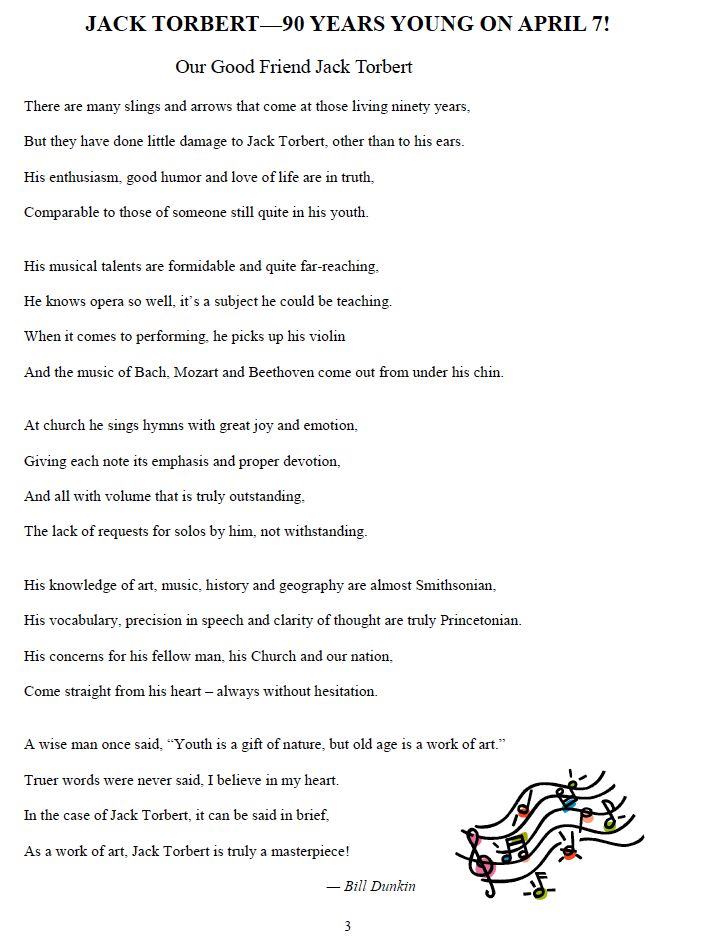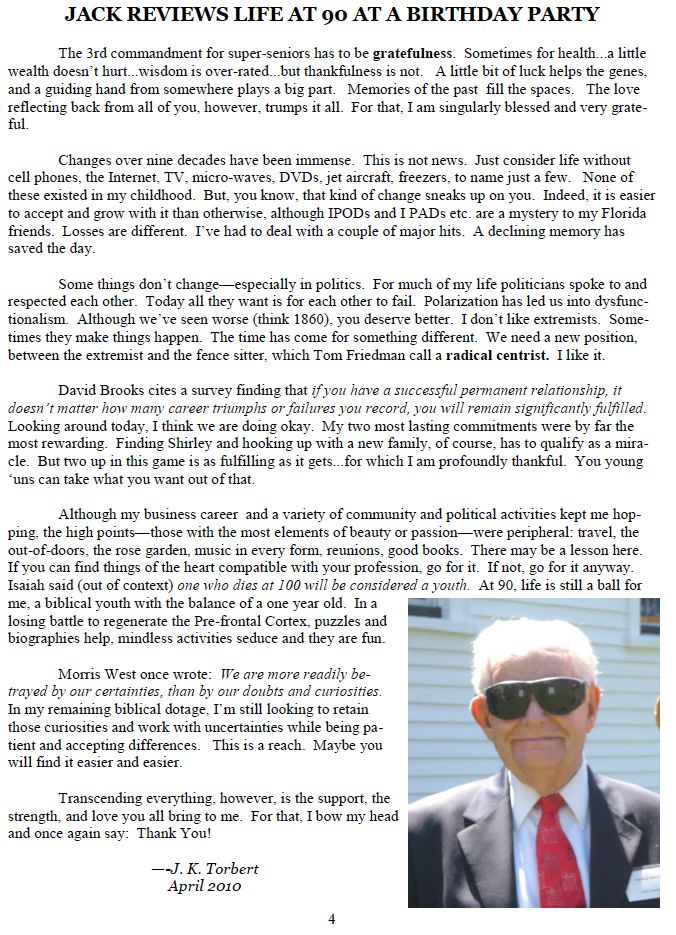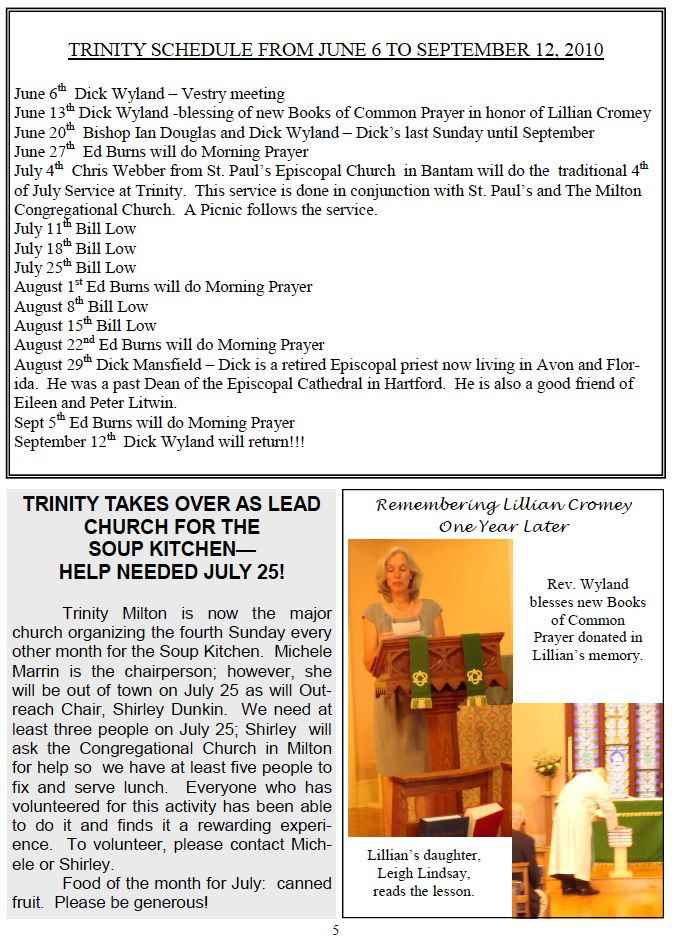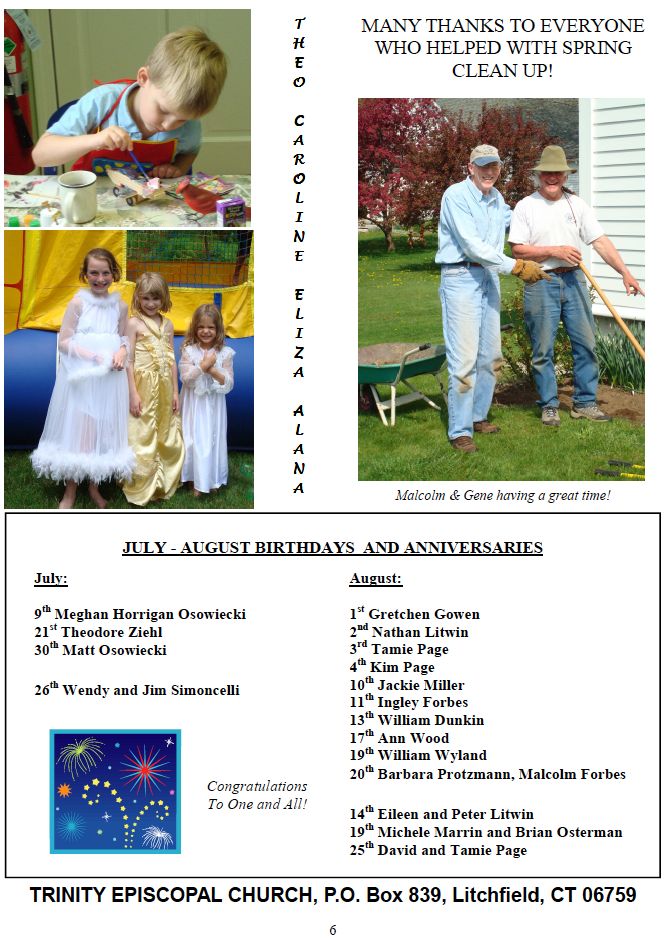 ——————————————————————–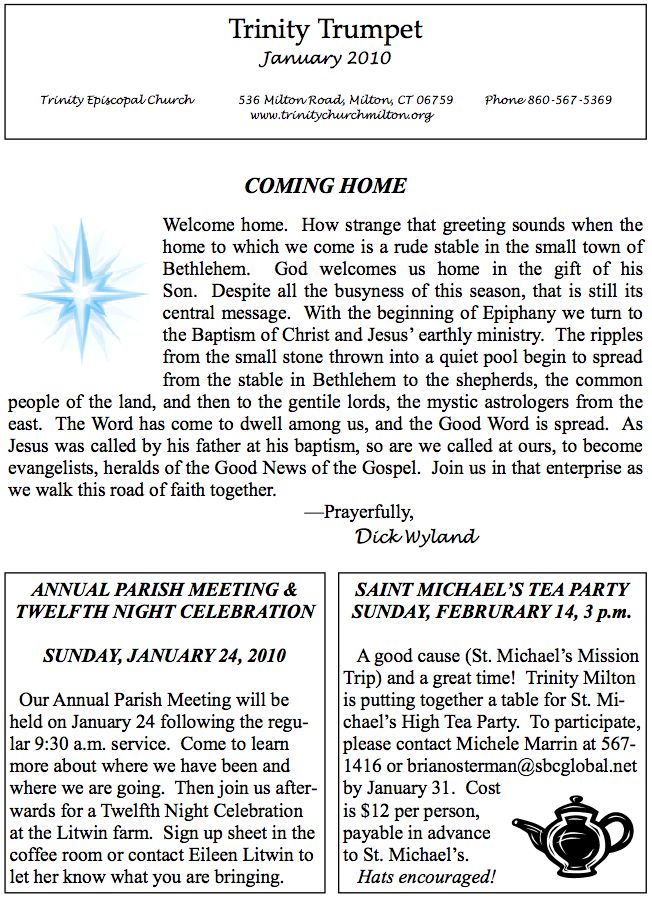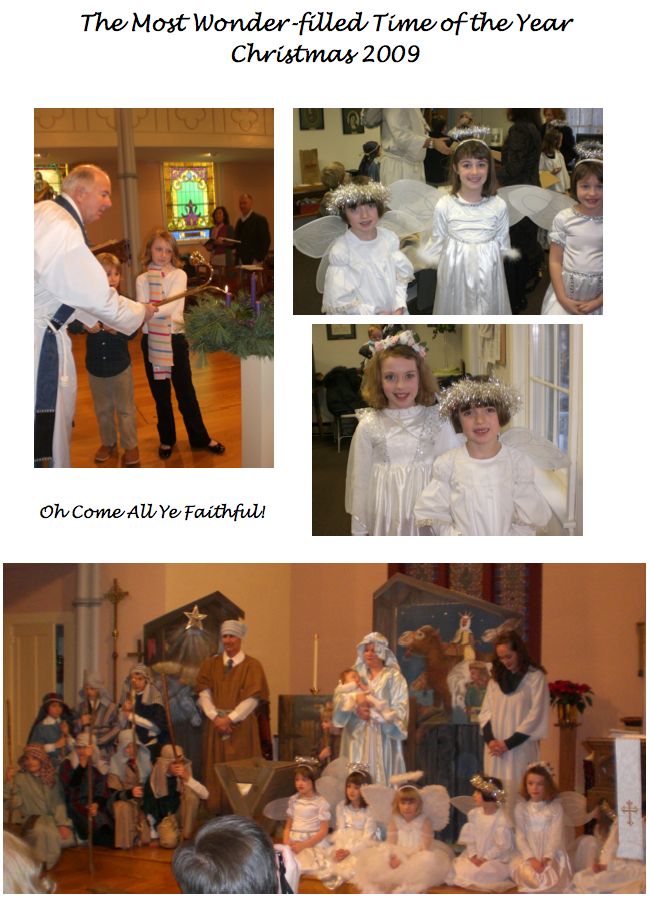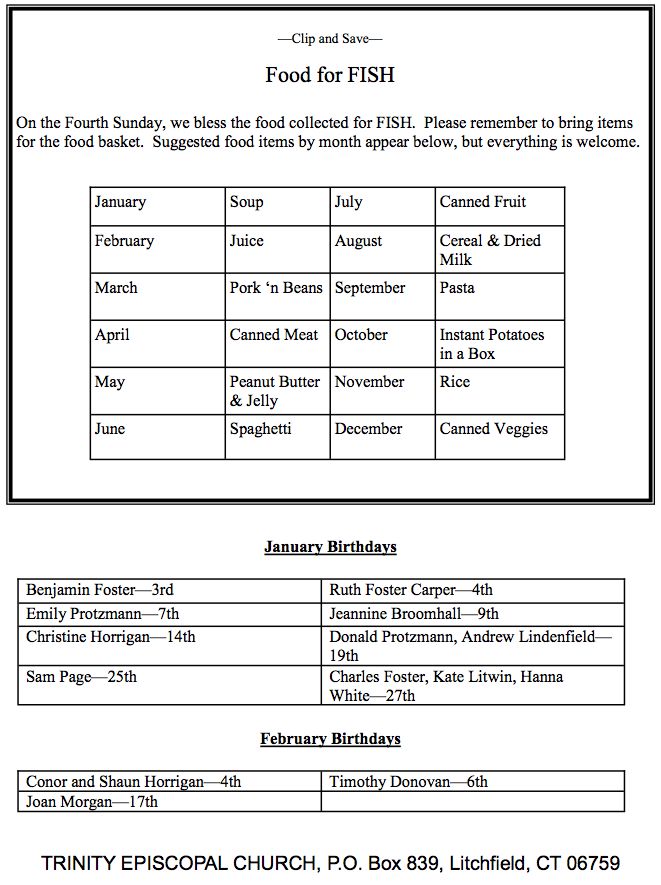 The Christmas Pageant, Christmas Eve 2009
The Angel Gabriel announces to Mary that she will bear a son.
The three Kings arrive with their gifts of mystic meaning; gold for a king, frankincense for a priest, and myrrh to signify burial.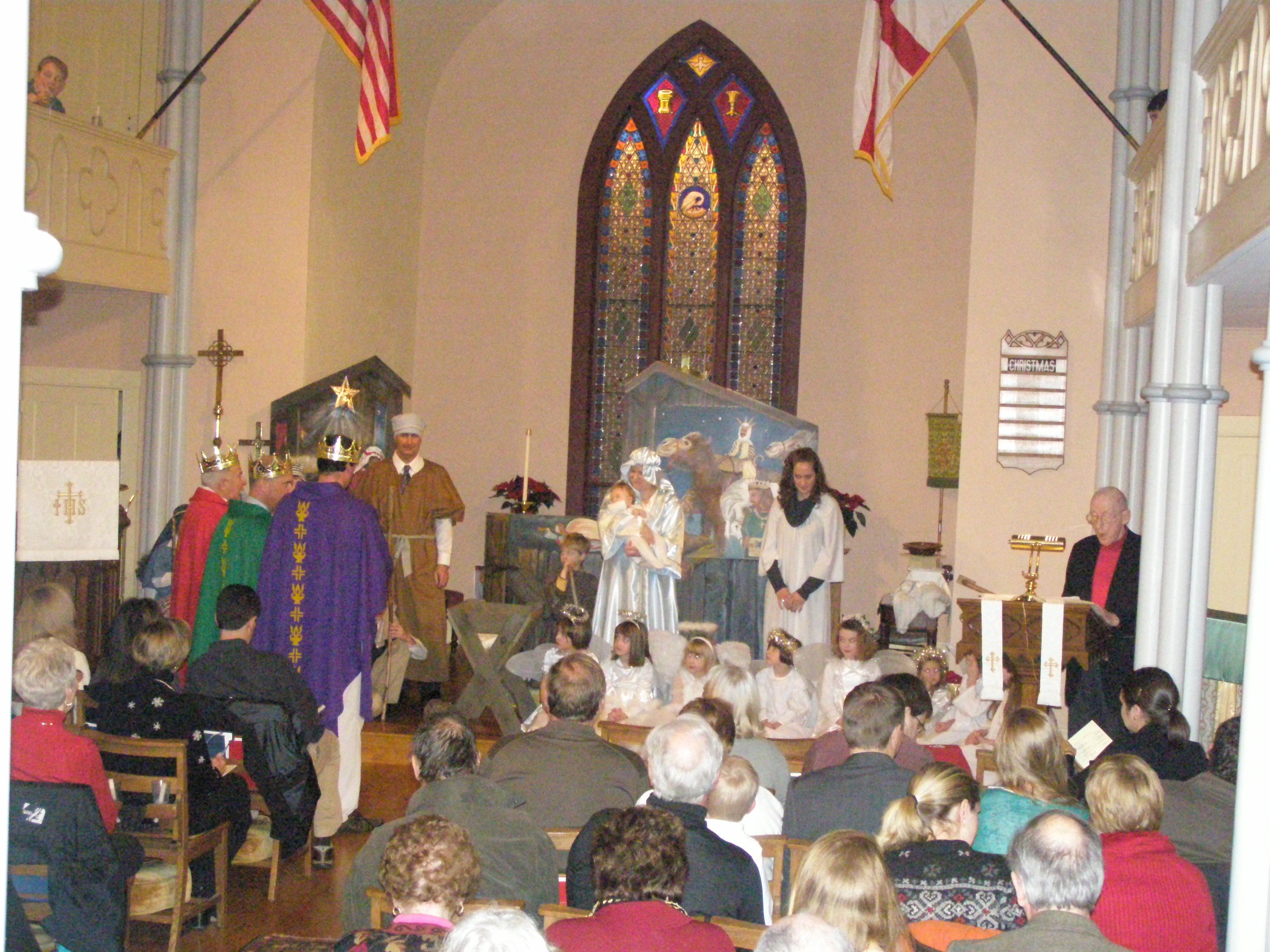 The guardian angel keeps an eye on the baby, attended by shepherds and angels.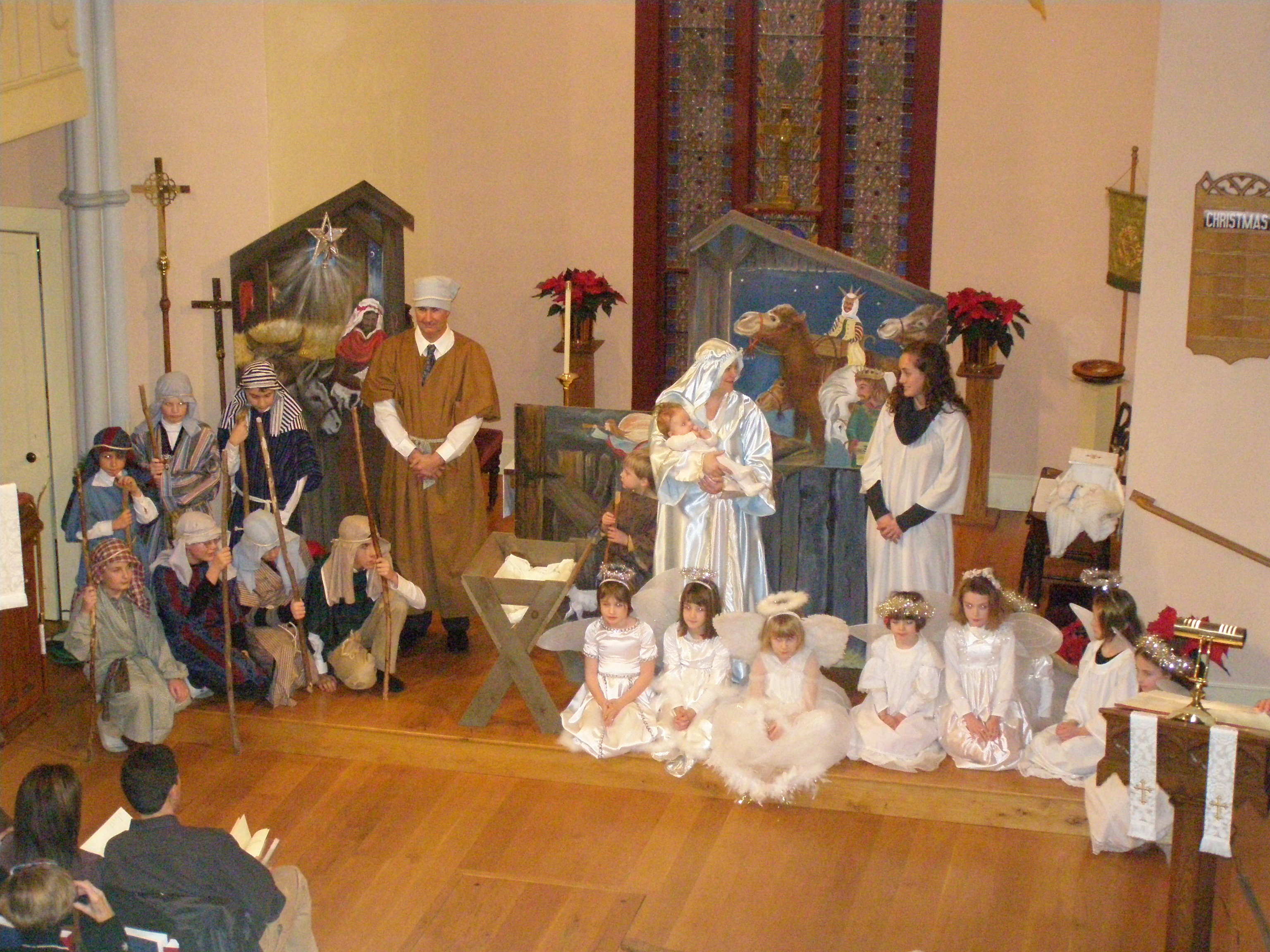 Angels help us to adore him.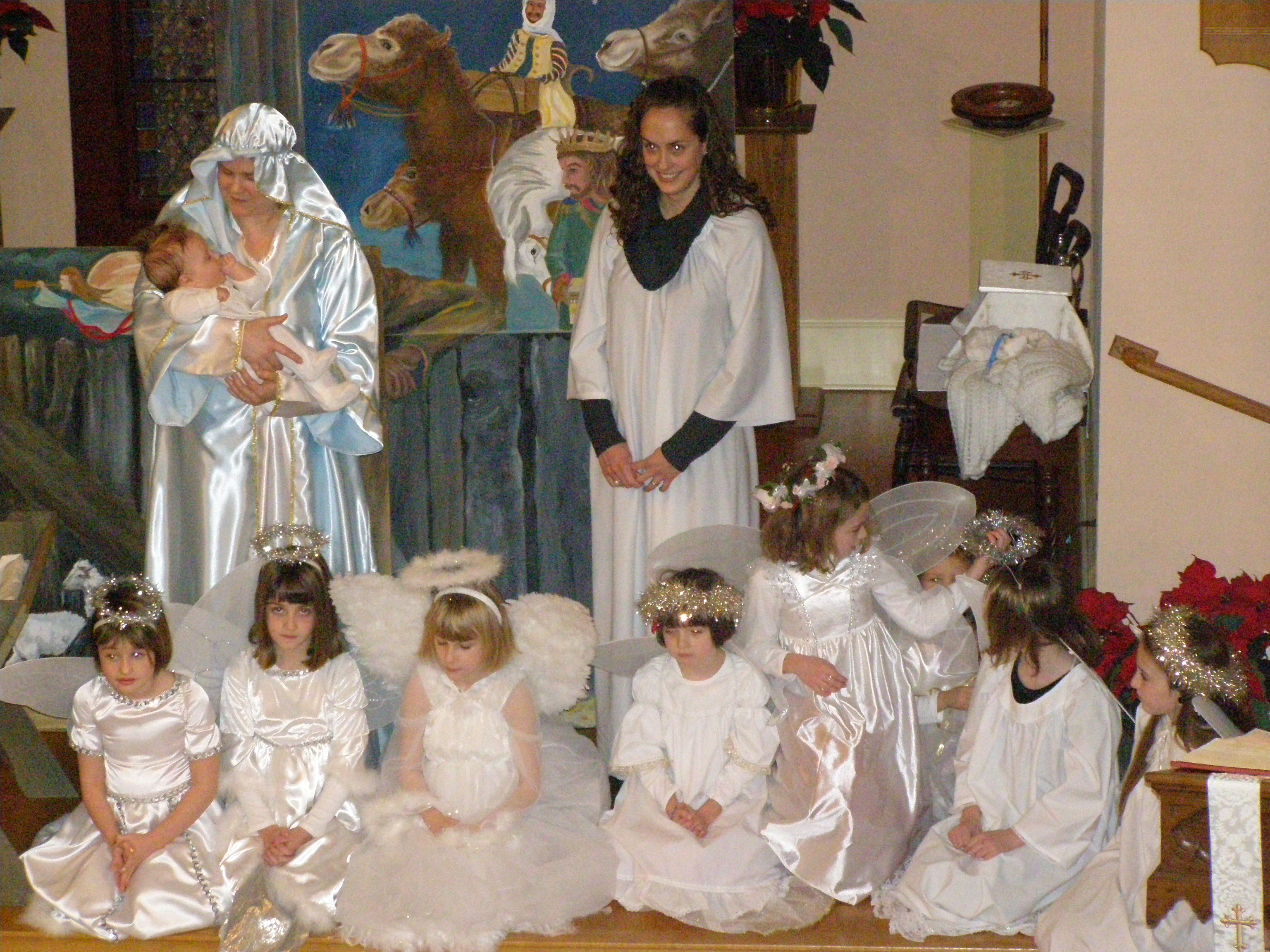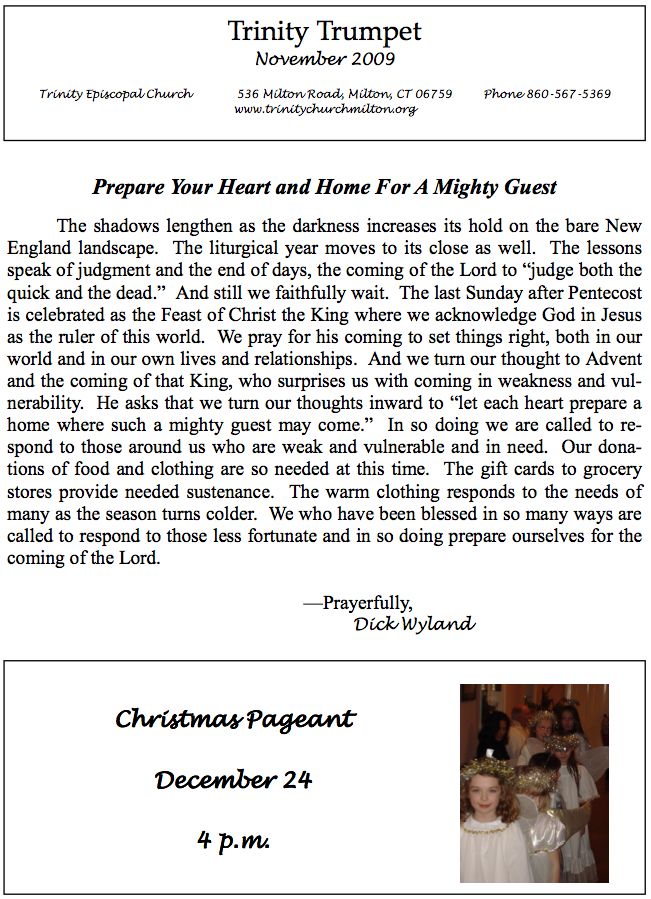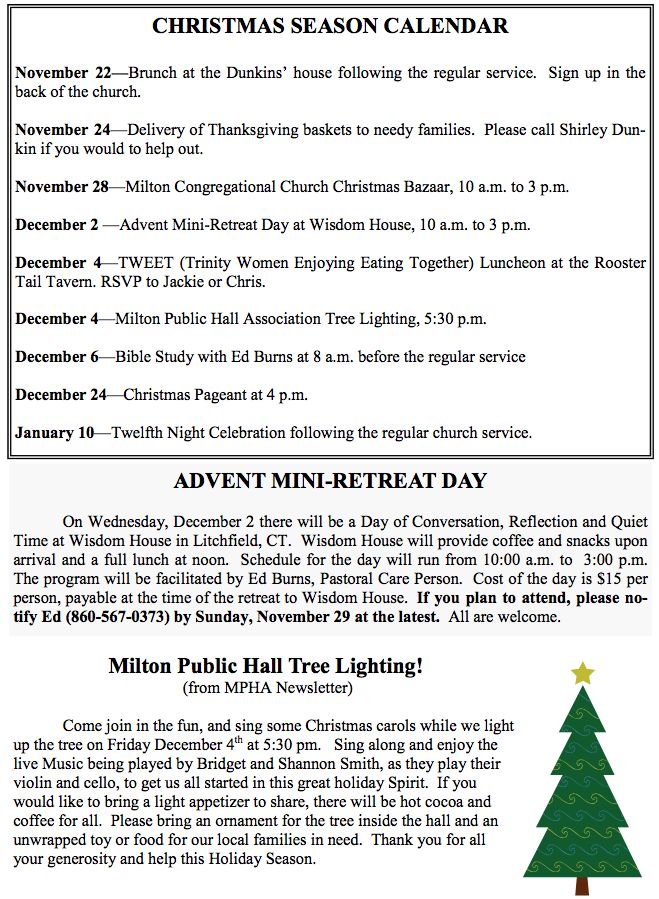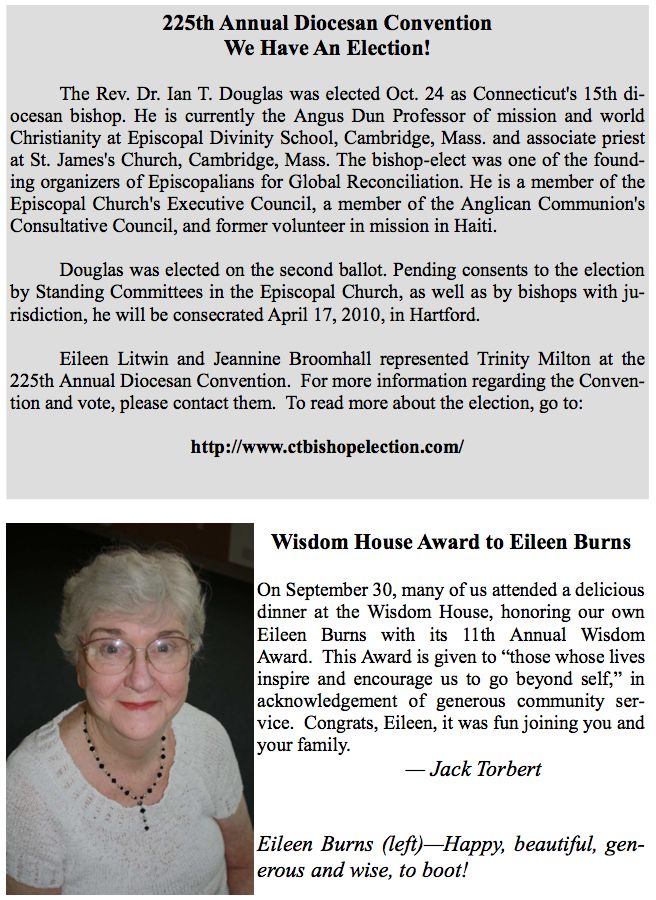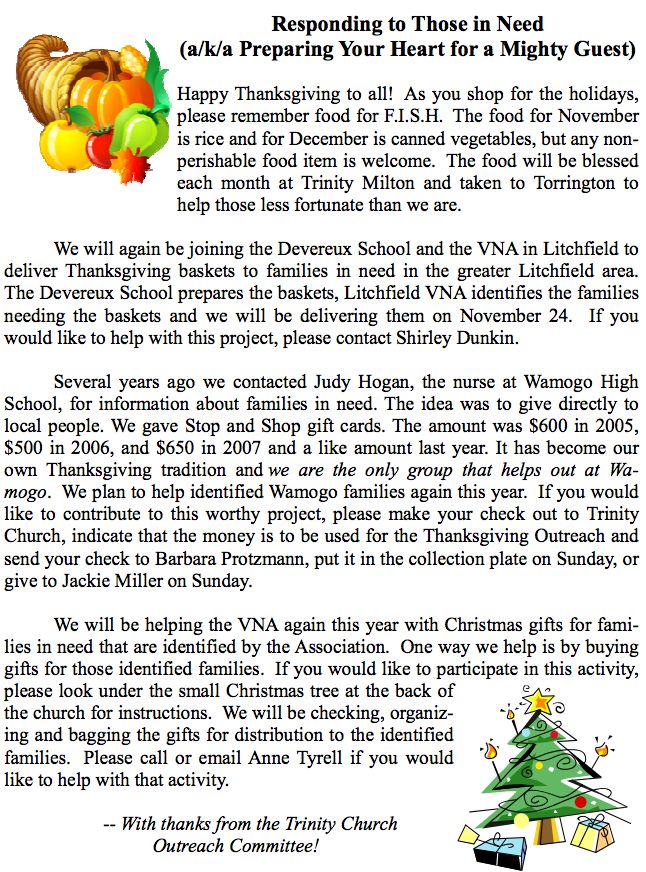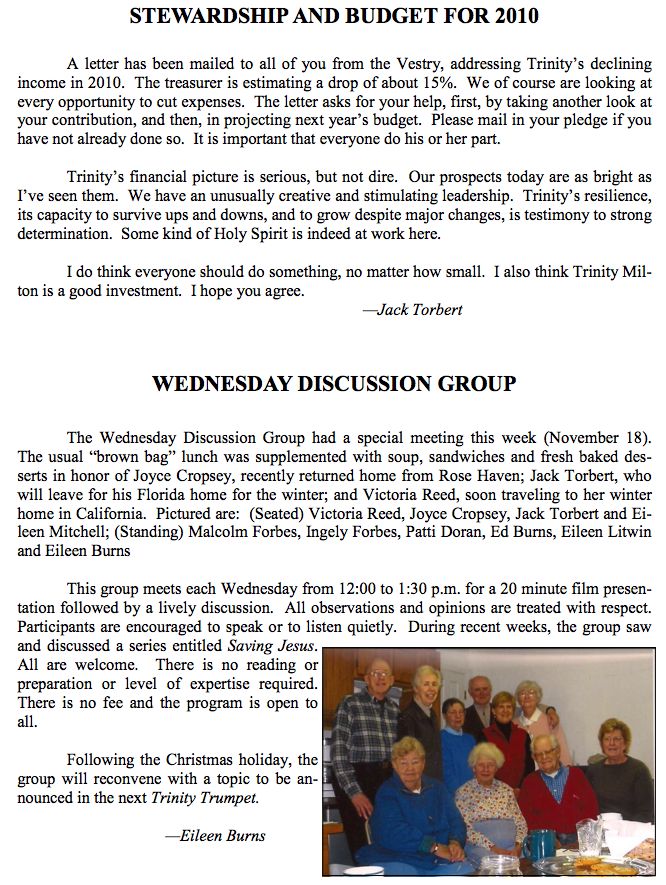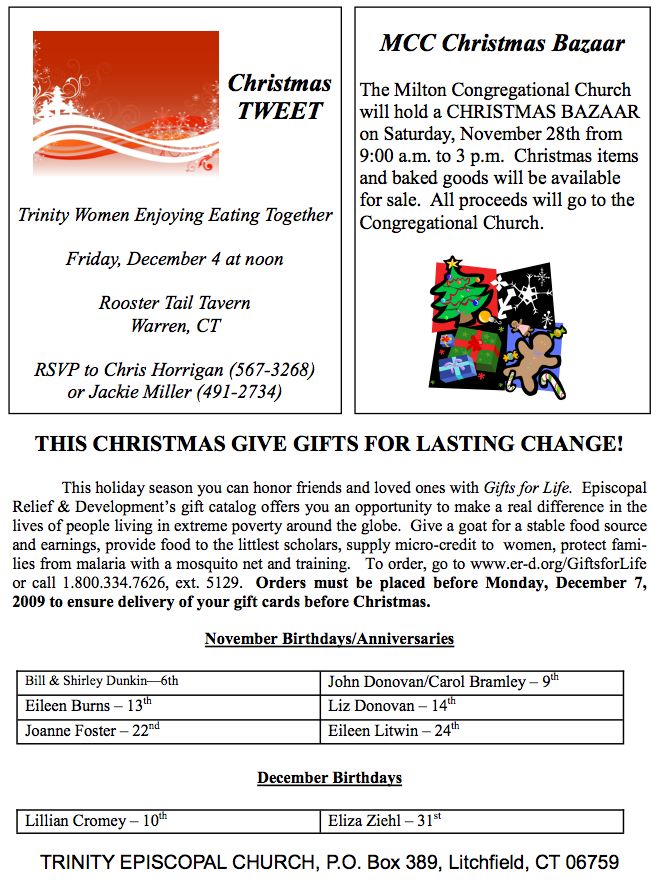 ——————————————————————————–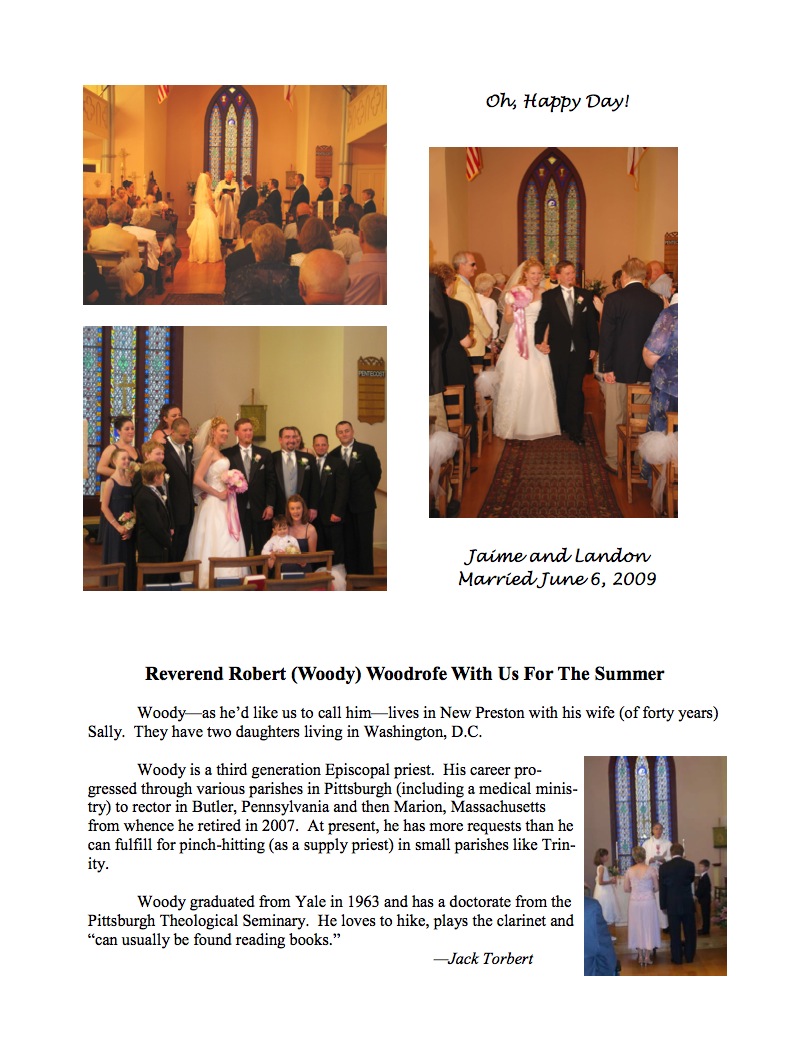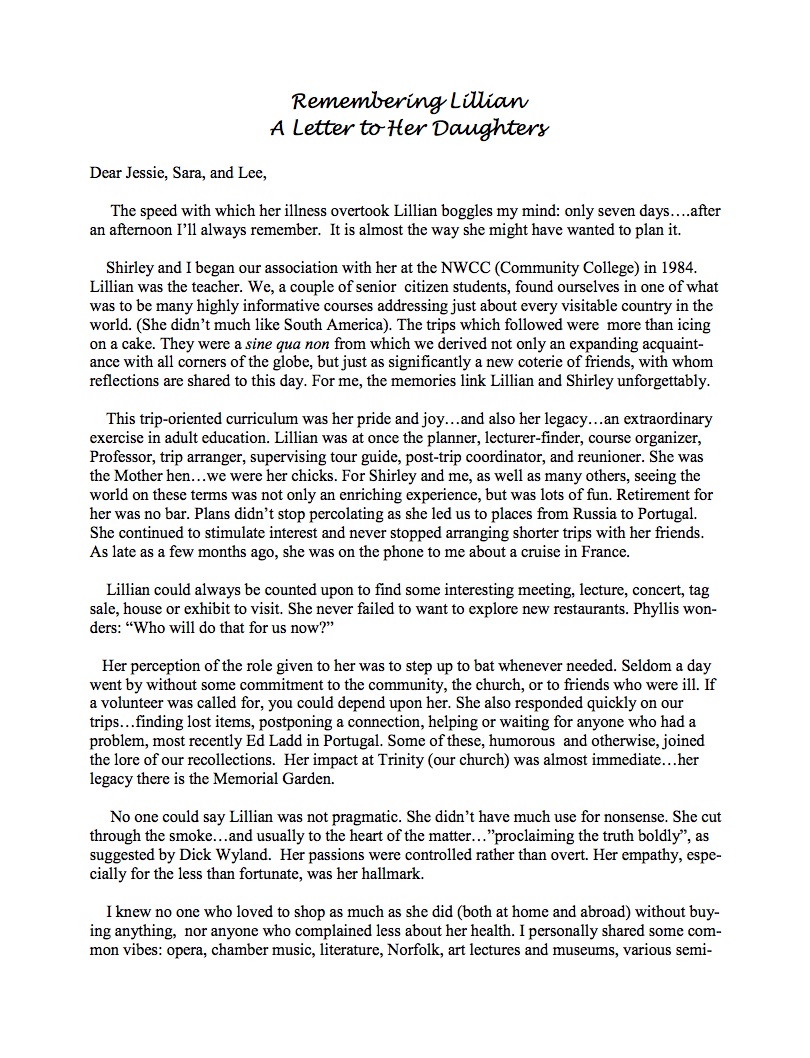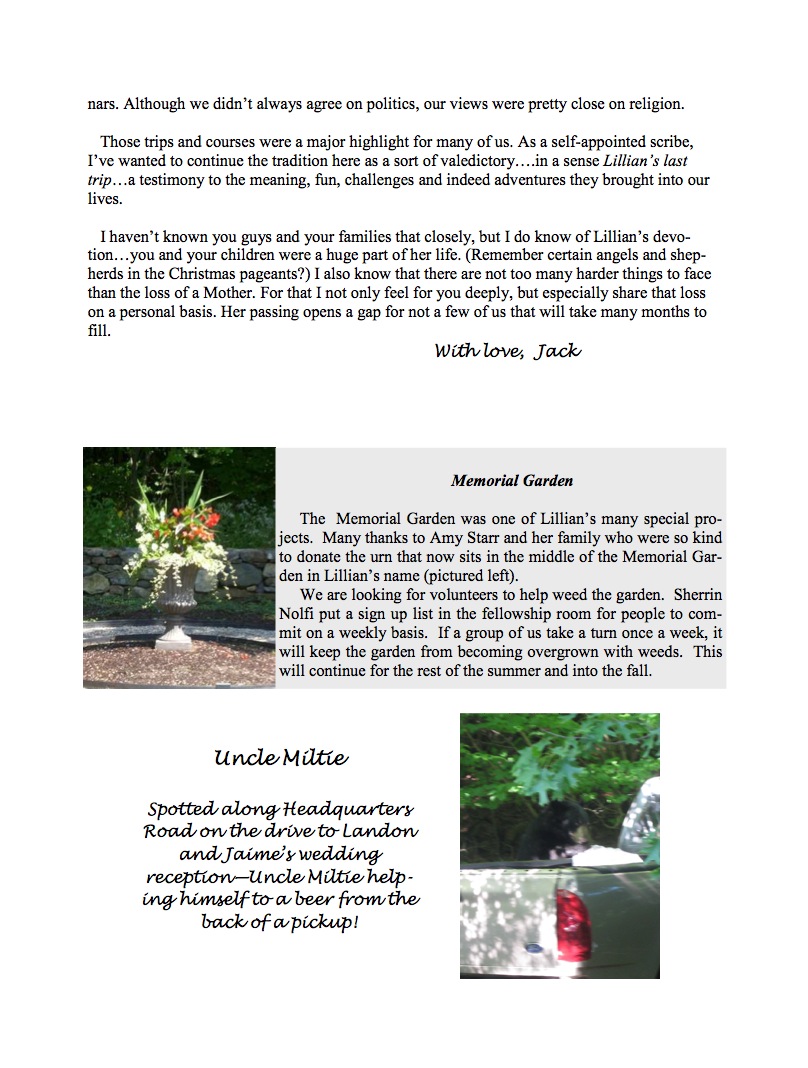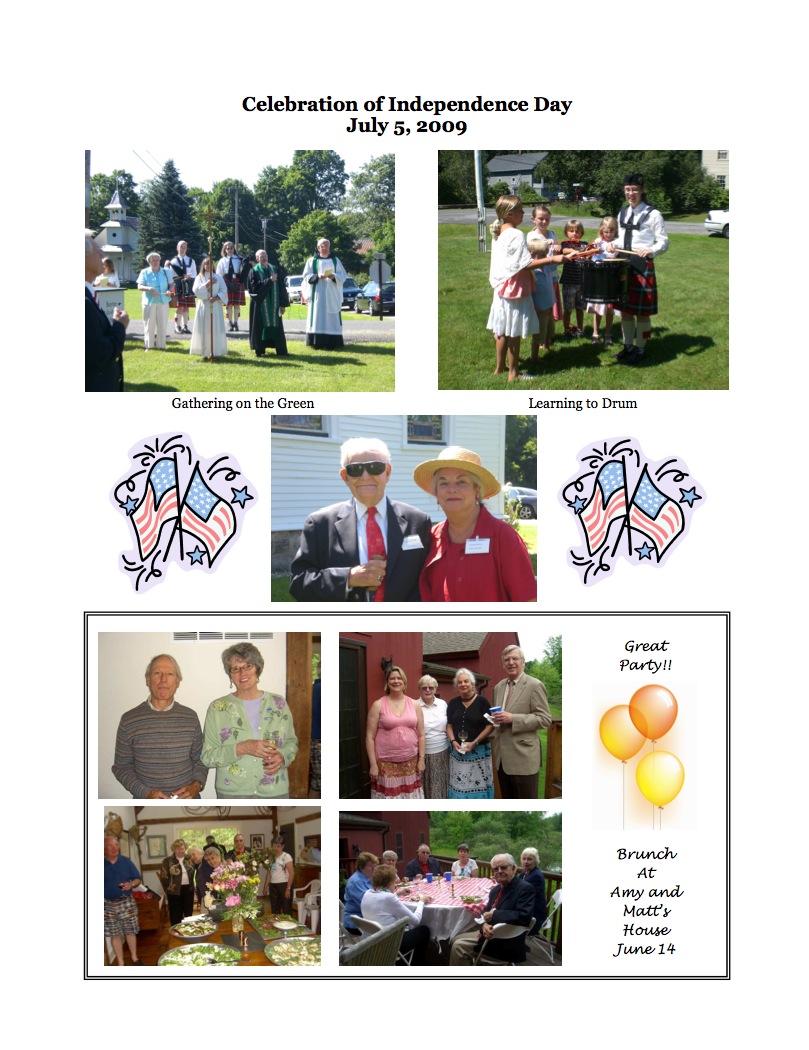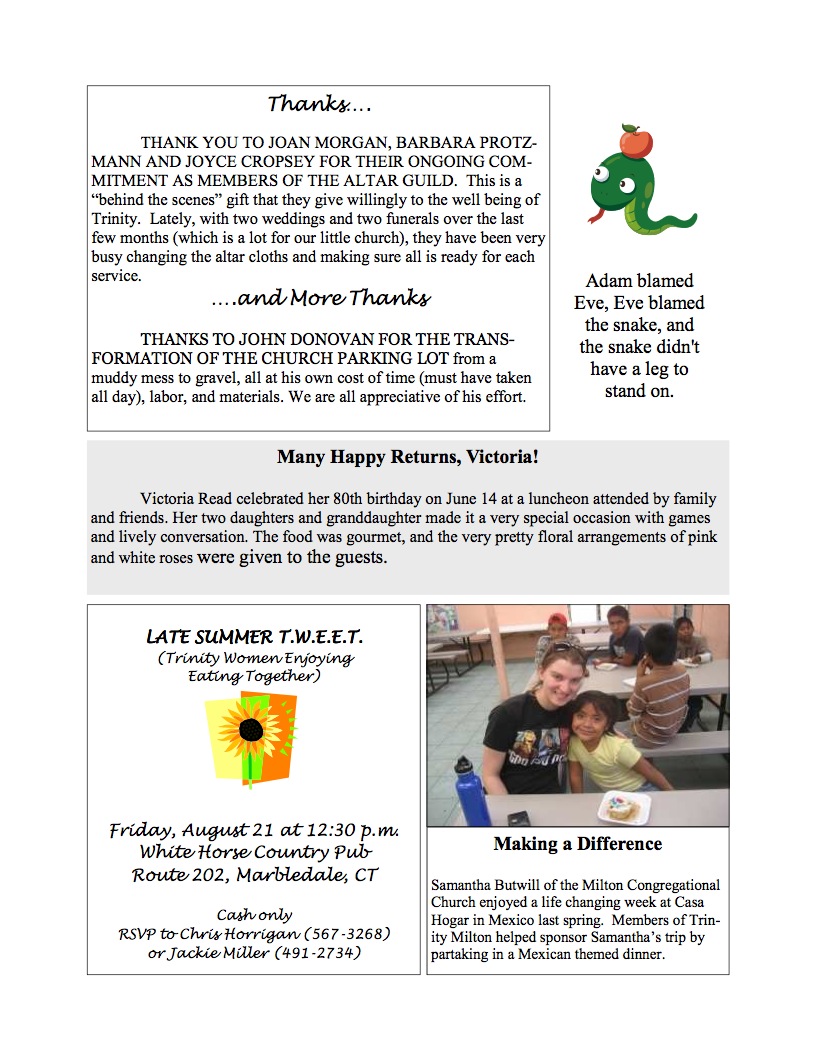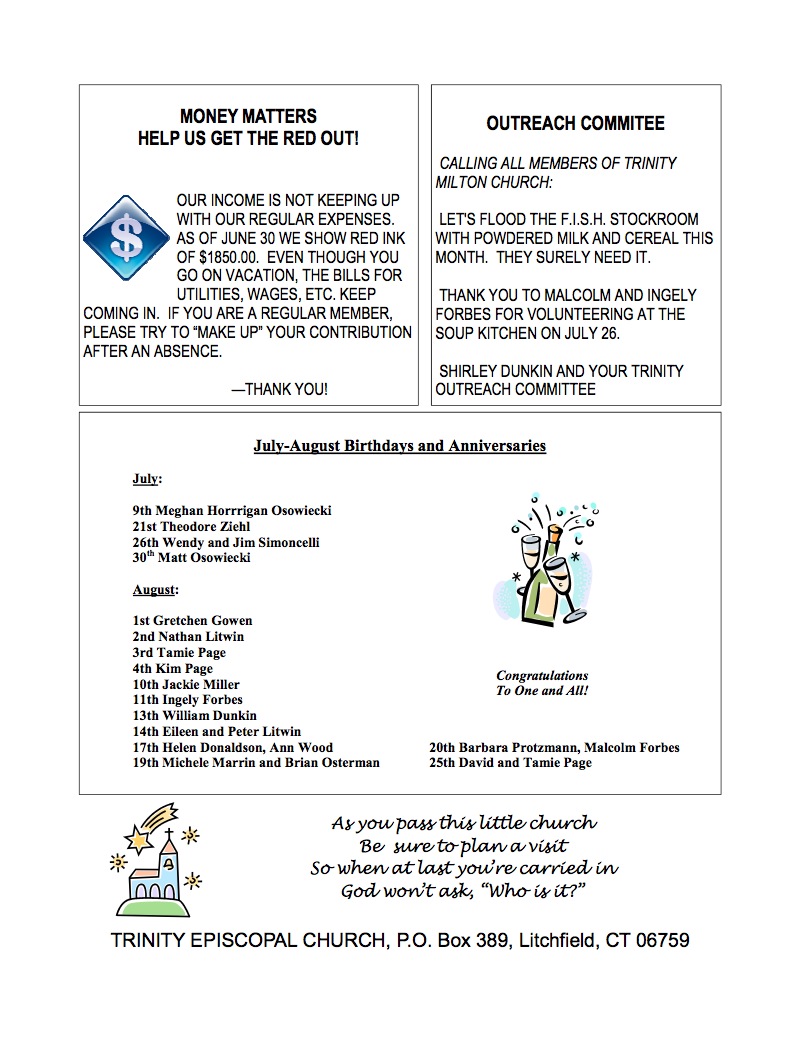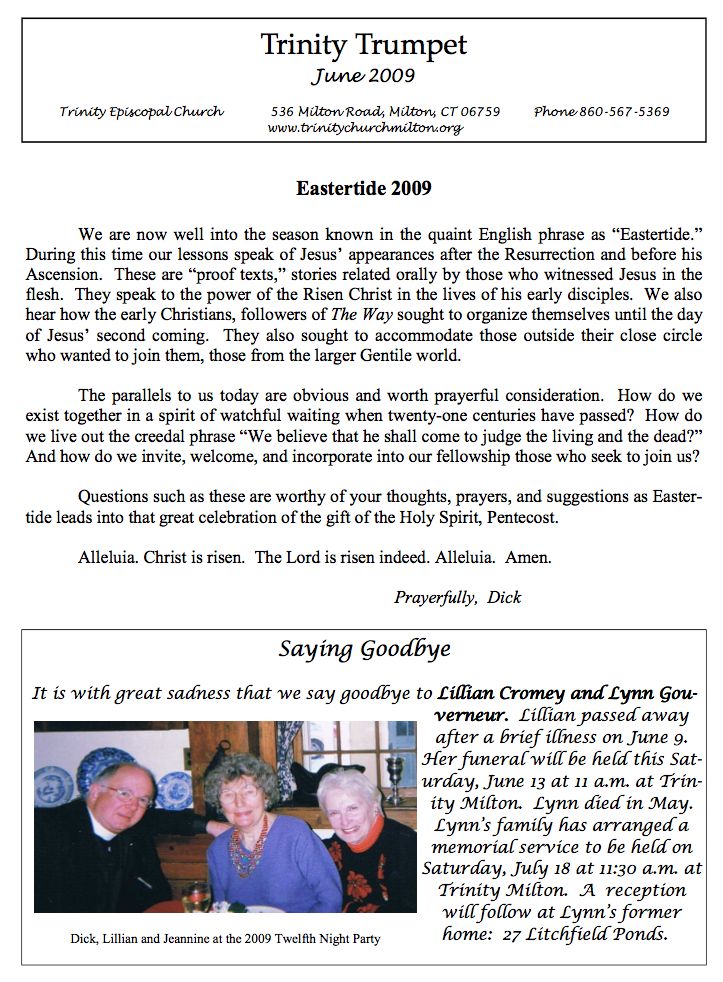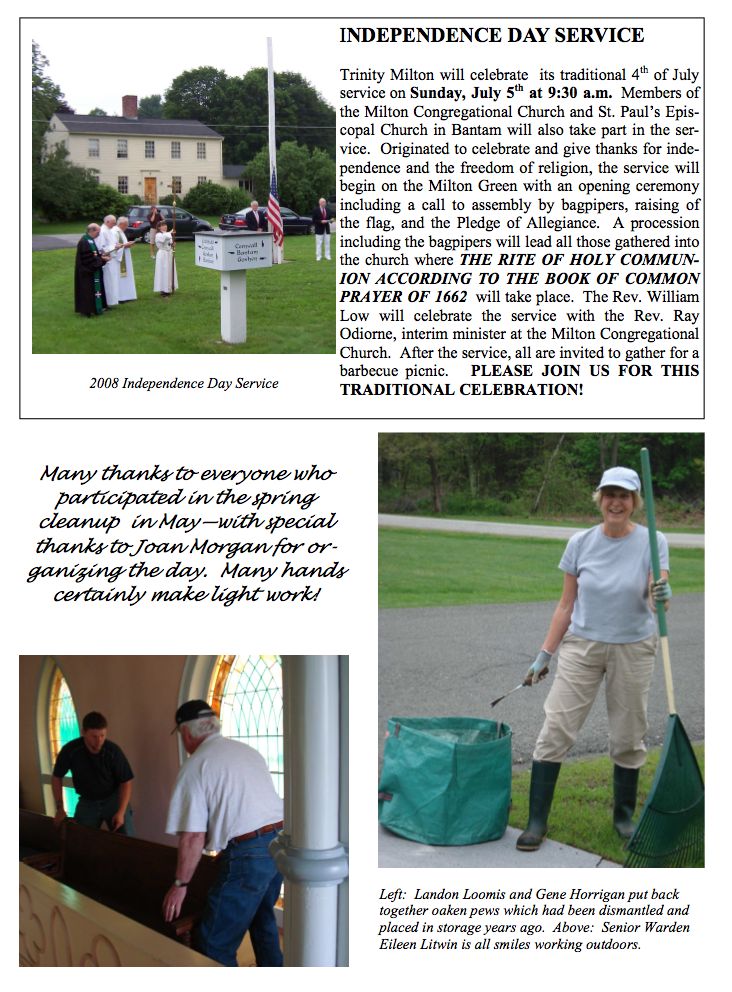 Easter 2009
Alleluia. Christ is Risen.
The Lord is risen indeed.  Alleluia.
With this exchange of the ancient Easter greeting, Trinity Church, Milton, joined with Christians throughout the world in announcing the mystery and the join of Jesus' resurrection.  Our Lenten discipline of prayer, denial, and self-examination led us to the powerful services of Holy Week.  With our neighbors from the Milton Congregational Church, we gathered on the green on Palm Sunday to begin our final walk with Jesus.  With branches of palm, shouts of "Hosanna," and a placid donkey, we sang and prayed together for the time when we "might all be one."  This was followed by the solemn reading of the Passion.  On Maundy Thursday we gathered to be true to the commandments of Christ.  "Love one another as I have loved you."  "Do this in remembrance of me."  Footwashing and the breaking of bread and sharing of the cup of blessing preceded the stripping of the altar.  Good Friday became God's Friday as we gathered in the darkened church to remember and mourn.
Easter morning dawned  bright and cold as we gathered at Arbutus Farm at 6:15 AM for the Sunrise Service.  We celebrated with the women who went to the tomb "very early on the first day of the week."  A Festival Eucharist marked the end of a busy week of services.  And yet it did not end the week so much as to usher us into a new season of the Church, a season of hope and joy, of renewed energy and vision as we seek to liive out our call as Christians in this corner of God's vineyard.  Please join us in that entyerprise.
Prayerfully, Rev. Dick Wyland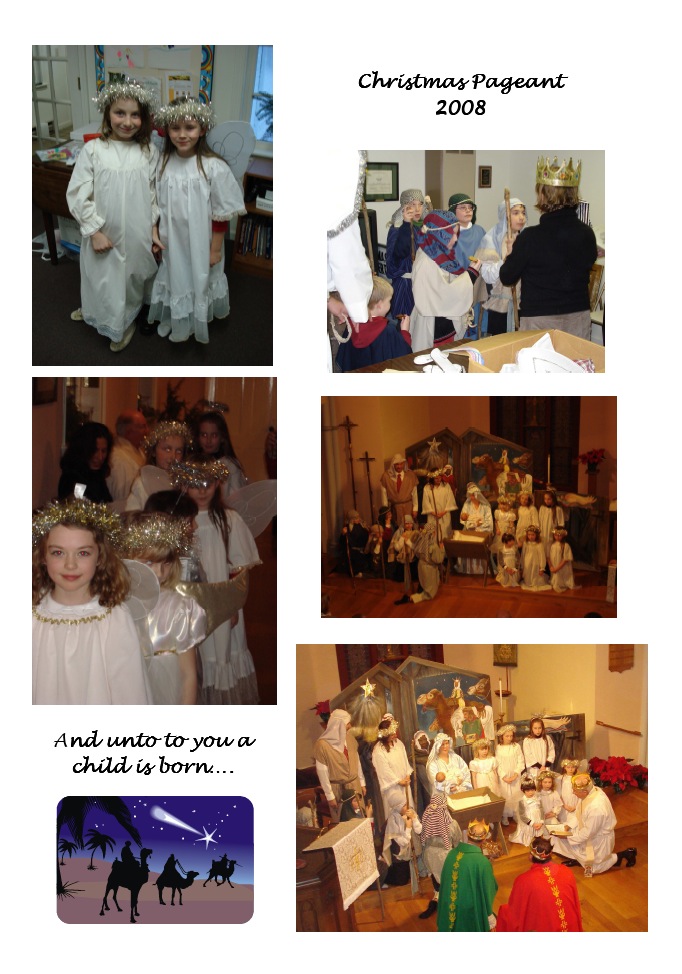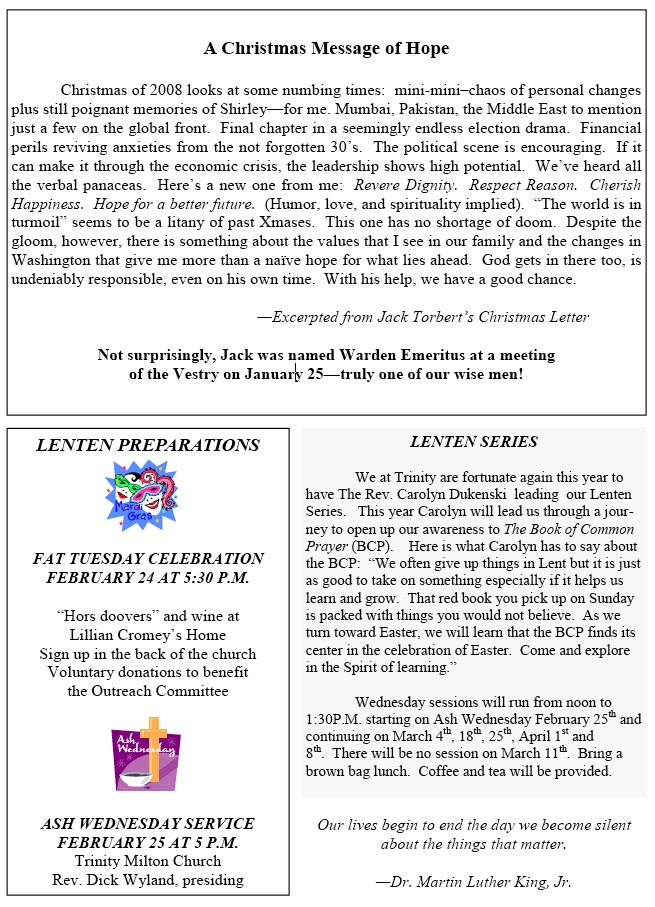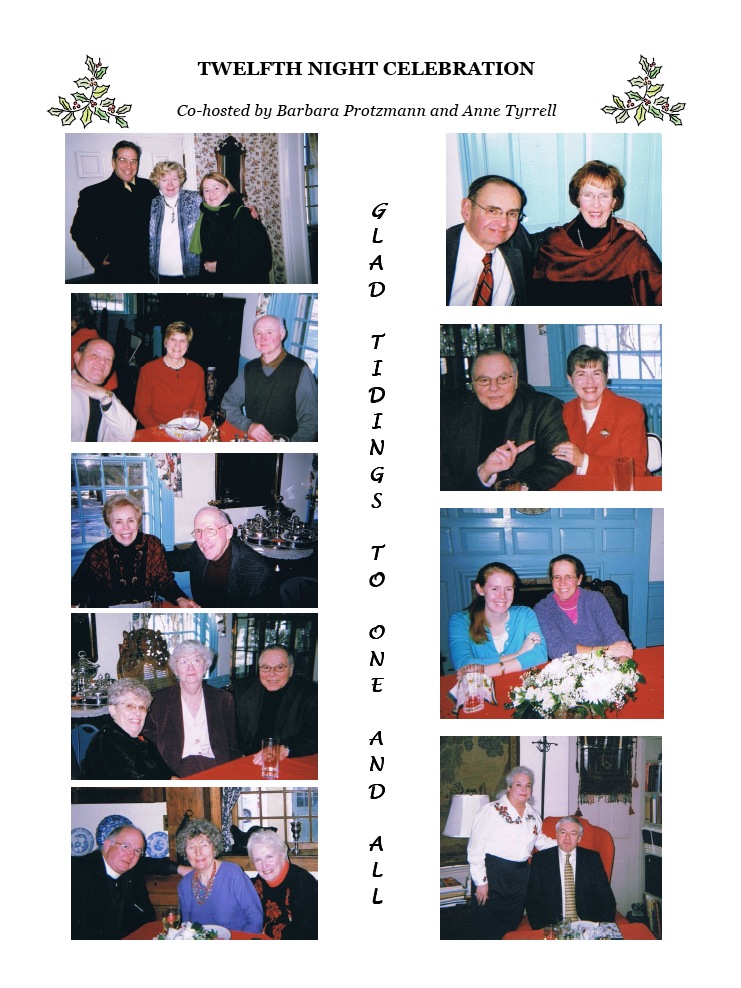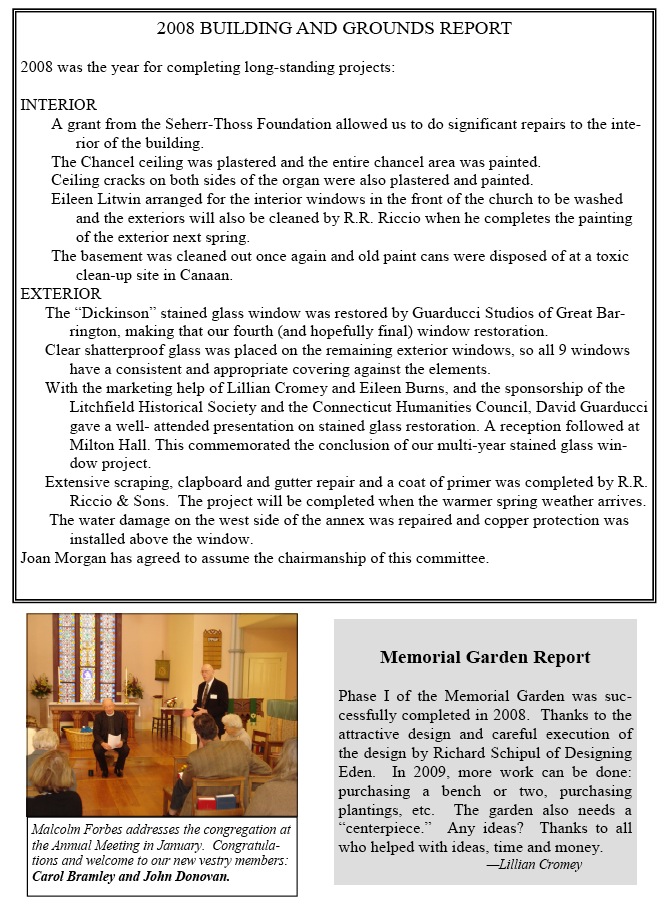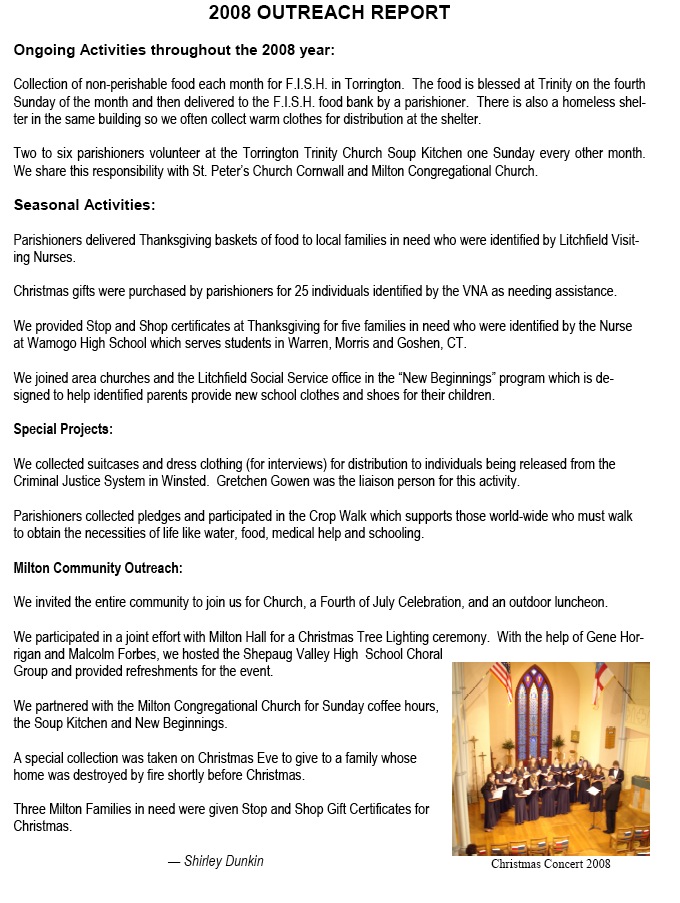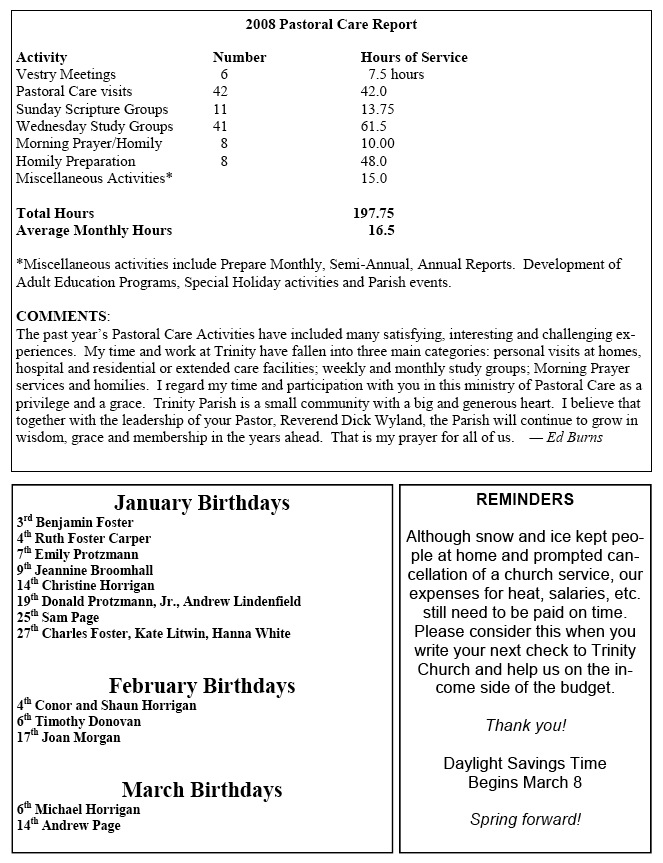 Bishop Andrew Smith Visits Trinity
November 9, 2008 will be remembered for a notable visit by our Diocesan Bishop, Andrew Smith, for which we are grateful.  It may have been his last to Milton—he plans to retire in 2010.
His sermon on service struck home.  Many of us seniors are seeking a balance between the "taking" of fun trips, etc. and the "giving" of our time to others.  Sometimes we make it.  This is what the Bishop was talking about.
Here was a man without pomp and circumstance, who communicates naturally, warmly, and effectively to everyone, including the children.  He shared his experiences in the Congo, in Israel, and at the Lambeth Conference (of Anglican/Episcopal Bishops) in England, the latter in some detail…welcoming our questions informally after the service.
To some of us, it seems only yesterday when we voted for his election as Bishop.  The Diocese of Connecticut has prospered under his leadership.    As usual, the ladies did us proud:   a coffee plus champagne hour second to none.
–Jack Torbert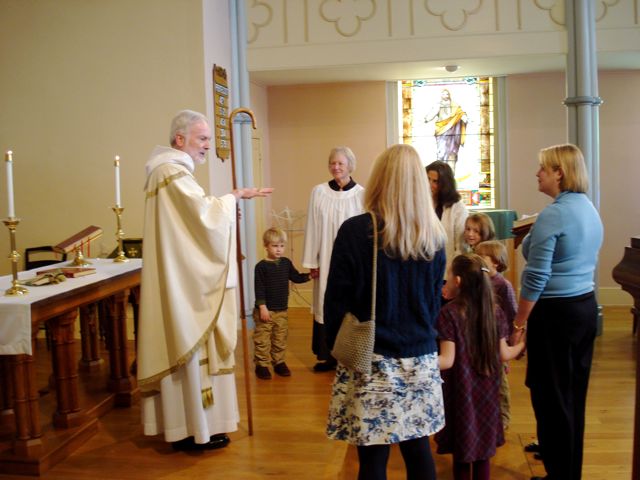 Bishop Smith explains the symbolism of the shepherd's crook to the Sunday School class.
Celebrate the Coming of the Magi
Please save January 4, 2008 for a Twelfth night (day) pot luck buffet at the home of Barbara Protzmann at 46 East Street. Time: Immediately after church.  A sign up sheet will be posted or call 567-5519 for a reservation.  Unlike the secular world, the church Christmas season begins on Christmas Day and ends on January 6, so we will have our party at the right time, right after everyone else has thrown out his or her Christmas tree.
Trinity Comes Through Again!
In August we realized that the Seherr-Thoss grant of $26,360.00 was not going to cover the cost of scraping and painting the entire exterior of the church plus the inside plaster repair. An appeal was made to cover the shortfall that was estimated at $4200. Our church people responded with $4,625. Many thanks to all. Keeping our historical building in good repair is important to us and to the community.  Now another appeal is being made…to help others at Thanksgiving. For details, please see below.
–Barbara Protzmann, Treasurer
Helping in a Time of Great Need
Happy Thanksgiving to all!  As you shop for the holidays, please remember food for F.I.S.H.  The food for November is rice and for December is canned vegetables, but any non-perishable food item is welcome.  The food will be blessed at Trinity Milton and taken to Torrington to help those less fortunate than we are.
Several years ago we contacted Judy Hogan, the nurse at Wamogo High School, for information about families in need. The idea was to give directly to local people. We gave Stop and Shop gift cards. The amount was $600 in 2005, $500 in 2006, and $650 in 2007. It has become our own Thanksgiving tradition and we are the only group that helps out at Wamogo. This year Nurse Hogan has identified 14 families and we are asked to help with 7 of them.
We will be helping the VNA again this year with Christmas gifts for families in need that are identified by the Association.  One way we help is by buying gifts for those identified families.  If you would like to participate in this activity, please look under the small Christmas tree at the back of the church for instructions.  We will be checking, organizing and bagging the gifts for distribution to the identified families.  Please call or email Shirley Dunkin if you would like to help with that activity.
— With thanks from the Trinity Church Outreach Committee!
Memorial Garden Virtually Completed
Lillian Cromey and her Committee are approaching the end of a great job.  Take a peak, if you haven't noticed.  They now want to know what we'd like to see in the very center…from a tree or bush to a small statute, etc.  Please call Lillian at 567-0331 with your suggestions.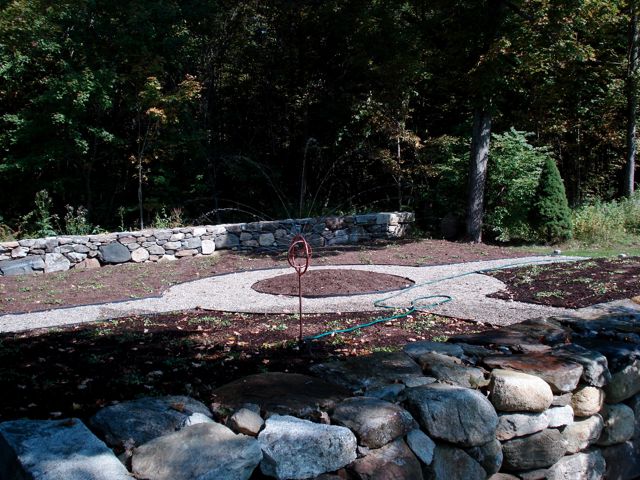 The Church is Getting a Facelift!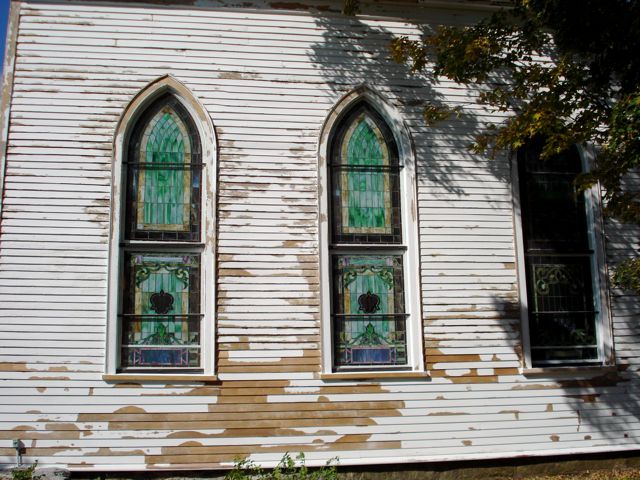 The painting of the church has been underway for many weeks now, starting with a power wash followed by sanding and scraping from top to bottom.  Prior to this, repairs were made to the west window on the parish house as well as to the fascia board under the gutter over the rear door.  Other cracked or broken clapboards will also be replaced.  All joints and holes will be caulked.  The last week of October was when the first coat of stain was applied and we are waiting for warmer weather for the second coat.  The building already looks better!
–Malcolm Forbes
A Closer Look at Our Windows
On September 6, some 60 people, including many of us from Trinity, enjoyed a lecture-trip through the process of restoring stained glass windows.  Dave Guarducci and Charles Woodard, craftsmen and partners from the Guarducci Stained Glass Studios, addressed the intricacies of window repair via a slide presentation.  They earlier had taken apart and reconstructed our windows.
Of interest, 34 responses to the survey you filled out were all positive.  Comments ranged from "fascinating….how complex, complicated, meticulous…." to "must be tedious"…and "the original window donors would be happy."  Jack Torbert had a problem with the acoustics, a remedy for which is already being looked at by Malcolm and Gene, with a portable PA system.
This lecture was co-sponsored by the Litchfield Historical Society, many of whose members attended.  We wound up with refreshments at Milton Hall.
–Jack Torbert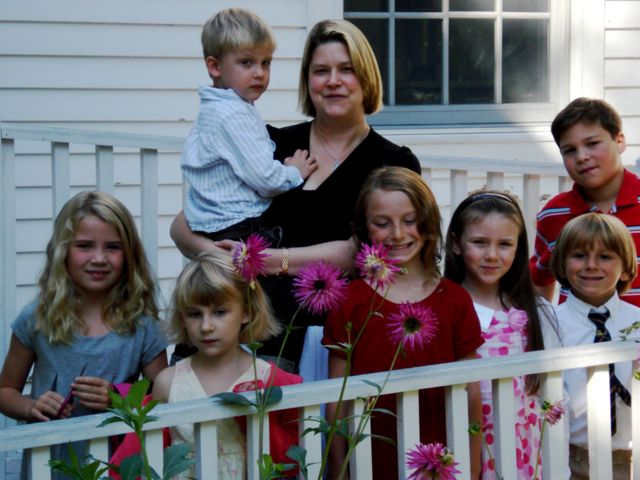 Amy Starr with her Sunday School students.  The children make Trinity a special place for all!
November Birthdays
Marvin Schwartz – 8th    John Donovan/Carol Bramley – 9th
Eileen Burns – 13th    Liz Donovan – 14th
Joanne Foster – 22nd    Eileen Litwin – 24th
December Birthdays
Lillian Cromey – 10th    Eliza Ziehl – 31st
TRINITY EPISCOPAL CHURCH, P.O. Box 389, Litchfield, CT 06759
Trinity Episcopal Church 536 Milton Road, Milton, CT 06759 Phone 860-567-5369
www.trinitychurchmilton.org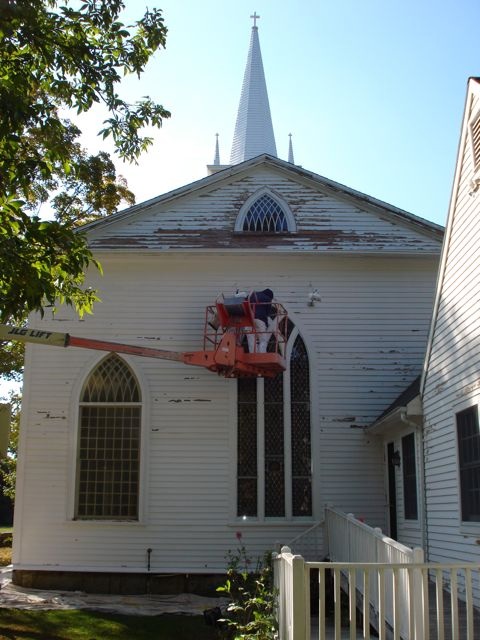 Face lift and faith lift!   Many thanks to the Scherr-Thoss Foundation for their support in this project of restoration.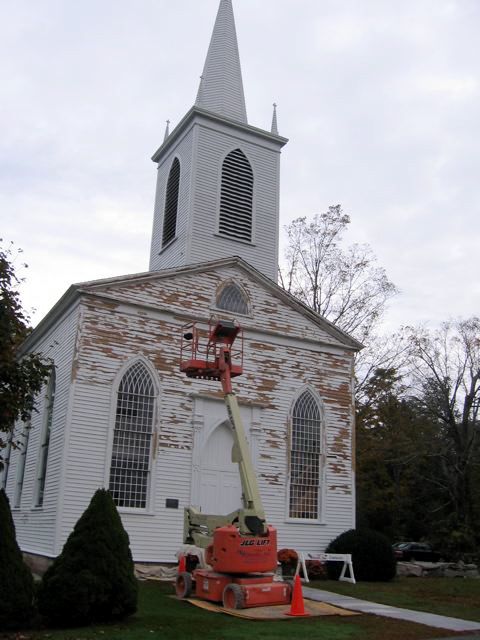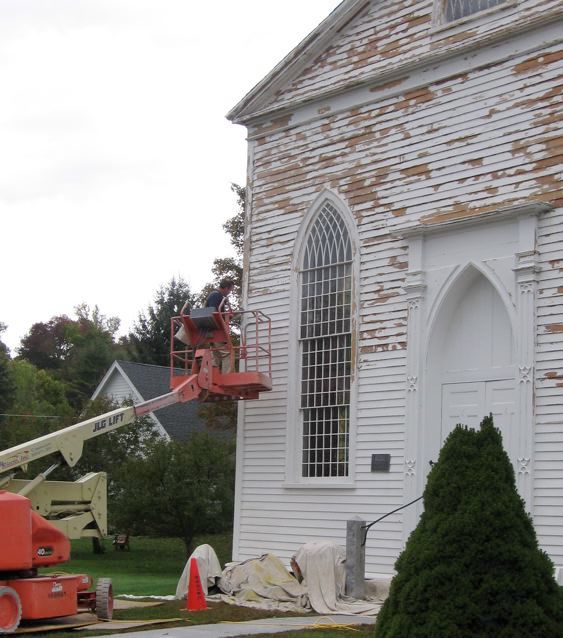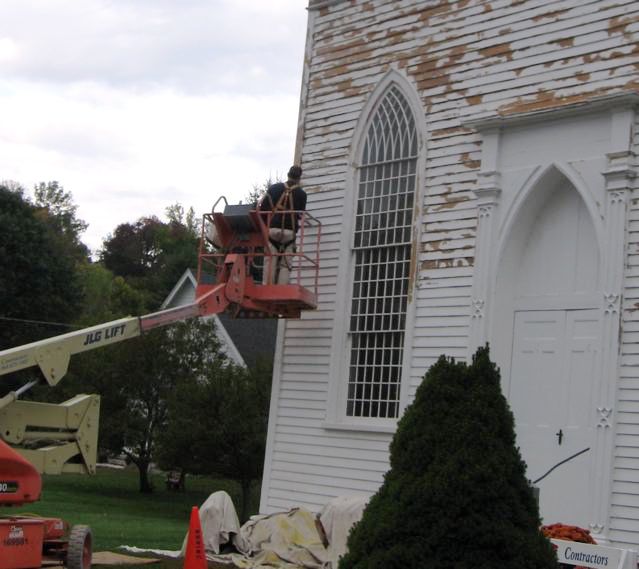 Saturday, September 6 marked a milestone in the long history of Trinity Parish.  A lecture, long in the planning, celebrated the completion of the restoration of the stained glass windows.  This project began in 2004 with the initiation and support of a grant from the Seherr-Thoss Foundation led to the restoration of the historic chancel window.  This window has been recognized as one of the earliest in this country and of singular importance.  Then followed the reconstruction of those nave windows which had deteriorated on the west side, and installing new exterior protective coverings.  Those on the east side received these coverings as well.  This was accomplished through the generous support of friends and members of Trinity Church.  The completion was acknowledged in a lecture given by Mr. David Guarducci and Mr. Charles Woodard, of Guarducci Studios, Great Barrington, MA, the restorer of these windows.  He described the lengthy and painstaking process that was involved from the removal of a window until its re-installation.  After a extended question-and-answer session, all adjourned to Milton Hall for a typically hearty Trinity spread.
Thanks to all who helped make this day a reality.  To the planning committee who both planned and publicized; Phil Milller, Lillian Croomey, Jeannine Broomhall, and Eileen Burns.  To Jackie Miller who chaired the reception with Anne Tyrell and Joan Morgan, and to all who contributed food for that reception.
We give special thanks to the Seherr-Thoss Foundation for their support throughout this entire project, and their most recent grant for painting and plaster restoration.  The lecture was co-sponsored by the Litchfield Historical Society and supported with a grant from the Connecticut Humanities Council, and we thank them.
As you wander about looking at the windows from the outside, stop by the Memorial Garden.  The first phase of the project is now complete, and it survived last Saturday's heavy storms.  Thanks go to Lillian Cromey for chairing this project and to Joan Morgan and Sherrin Nolfi for working with her.  Richard Schipul of designing eded, llc did both the design and the installation.  This project continues to develop the vision for the William and Helen Donaldson Memorial Garden allowing for scattering of ashes in a consecrated location at Trinity Church.
Richard R. Wyland
Parish Priest
–Edward R. Burns
BIBLE SEMINARS INDEED A CHALLENGE
Some sample queries: Is the Bible an act of "faithful imagination"? Does it reflect the biases of those who wrote it? Is it a response to experiences of profound mystery?
Our responses to these and other like questions have been thoughtful, varied, probing, interesting, humorous, even personal…but never dull. Join us at noon on Wednesdays for more of the Living Questions series.
INDEPENDENCE DAY CELEBRATION
8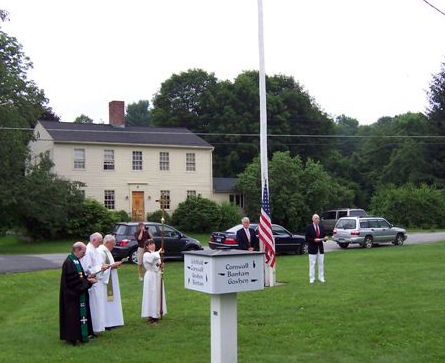 Over the years this has been a red letter day for Trinity…with bagpipes (even cannon), sometimes costumes, cook-outs, and flashbacks to 1776. For some years it was a personal project of Bill Donaldson.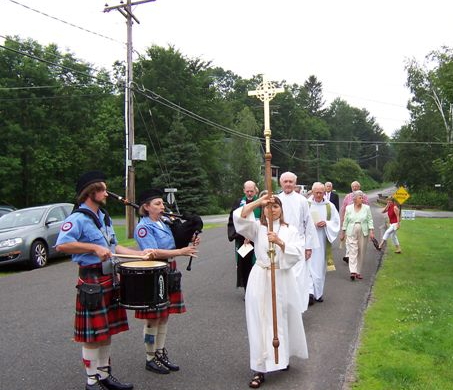 2008 was no exception. A feast in Milton hall was a weather dictated but worthy substitute for outdoors. Some of us recalled the 18th century liturgy from childhood-different order but essentially the same beautiful words. The Reverend Bill Low was assisted by Laura Turner from St. Paul's and the Reverend Ray Ordione from our neighboring Congregational Church. It was another memorable 4th (on July 6).
–Jack Torbert
GREAT NEWS!!!
The Seherr-Thoss Foundation has awarded Trinity a grant in the amount of $26,360 to plaster and paint parts of the interior of the church as well as to paint the exterior. Many thanks to the Seherr-Thoss Foundation for its generosity, Carol Bramley for putting together the grant application and Phil Miller, Malcolm Forbes and everyone else who has worked so hard to ensure that Trinity Church will continue to contribute to the grace and beauty of the Milton Green.
As with many projects, after consultation with various professionals, it has become clear that the job is more complicated and requires more work to do it properly than originally anticipated. Despite the generosity of the Seherr-Thoss Foundation, we are facing a modest shortfall. Please watch for our stewardship letter-coming shortly.
MILTON CONGREGATIONAL CHURCH
MAGIC SHOW
MEMORIAL GARDEN
Reverend Dick Wyland, Carol Bramley and Anne Tyrell smile for the camera at a party at Carol's house in June.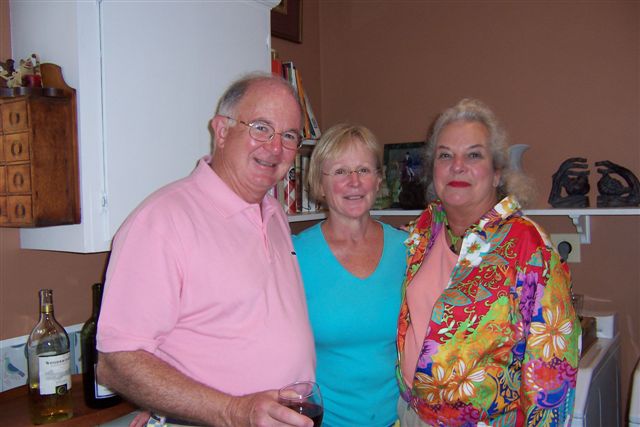 Brrr!! It's cold in there! Timothy, Caroline, William and Jack take a dip in the pool (below).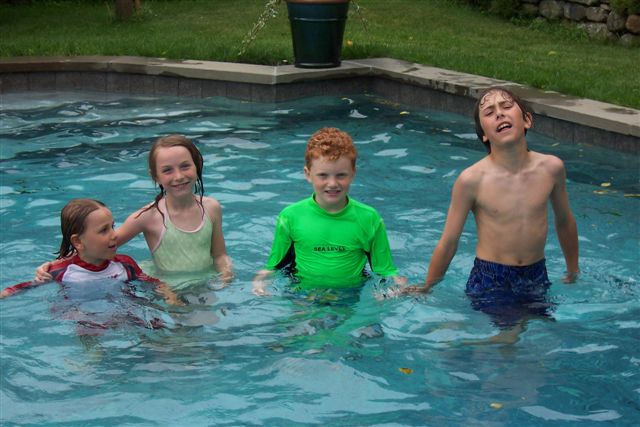 Stained Glass Window
.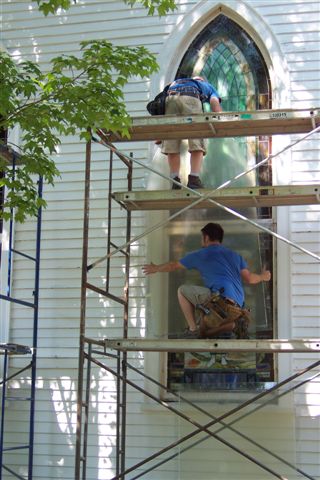 Workers fit new glass over a stained glass window on the east side of the church. The last stained glass window requiring restoration was removed from the west side of the church and was returned in late summer.
TRINITY EPISCOPAL CHURCH, P.O. Box 839, Litchfield, CT 06759
TRINITY EPISCOPAL CHURCH
P.O. Box 839
Litchfield, CT 06759
Trinity's Cross
The steeple of Trinity Episcopal Church in Milton had always been graced by a cross, that is until last April (2007). We know that we had some strong winds about then, but one Sunday morning we discovered the cross lying on the ground in front of the church. It was bruised but not broken. So we put it away until repairs could be made to the top of the steeple. After all, we still had four smaller crosses up there to denote Trinity as a Christian house of worship.
During the summer as we were scraping, sanding and painting other parts of the church, the cross was likewise treated to refurbishing. It was ready this fall to be put back up. The only trouble was that the steeple is close to 100 feet high and even tree services do not have equipment which could go up that high. So we waited until the lights on the Milton Christmas tree were to be replaced and asked if the lift could be used to put our cross back up as well. Unfortunately, the arm did not reach the top of the steeple.
But Bobby Fischer, who was in charge of "The Light Brigade" for the Milton Public Hall, was not willing to give up so quickly. He and Terry Phelan were working on the lights together; both are members of the Bantam Fire Department. So they called a friend, Don Stull, who is on the Litchfield Fire Department, to see whether their ladder truck was long enough to reach the top of the steeple. Sure enough, it reached the top without any problem. That was on Saturday, November 24 and while Bobby was able to get up to the steeple, he found that the base for the cross was rotted away. That's why the cross came down in the first place.
So the next job was to build a new base for the top of the steeple, which Bobby literally did overnight. Then he made sure the new brackets would hold the cross in place and built a molding around the base of the cross to give it even more stability and protection. When the Litchfield ladder truck returned the following Saturday, December 1, the cross and the new base had been repainted and were ready to go. Bobby and Don, however, were not ready for the winds and below freezing temperatures that greeted them that morning.
"Lift High the Cross, the Love of Christ Proclaim."
Rising to the challenge, the ladder was raised and Bobby went back up to the top of the steeple. He worked on getting the base put on until he couldn't feel anything with his hands. At least the first part was done. Then when circulation returned to his hands, he went up again with the cross and made sure it was screwed down securely. He and Don certainly wished that this restoration could have been done during the summer, but never once was a negative word said. Both men viewed this operation as part of their job as public servants, even under such adverse conditions.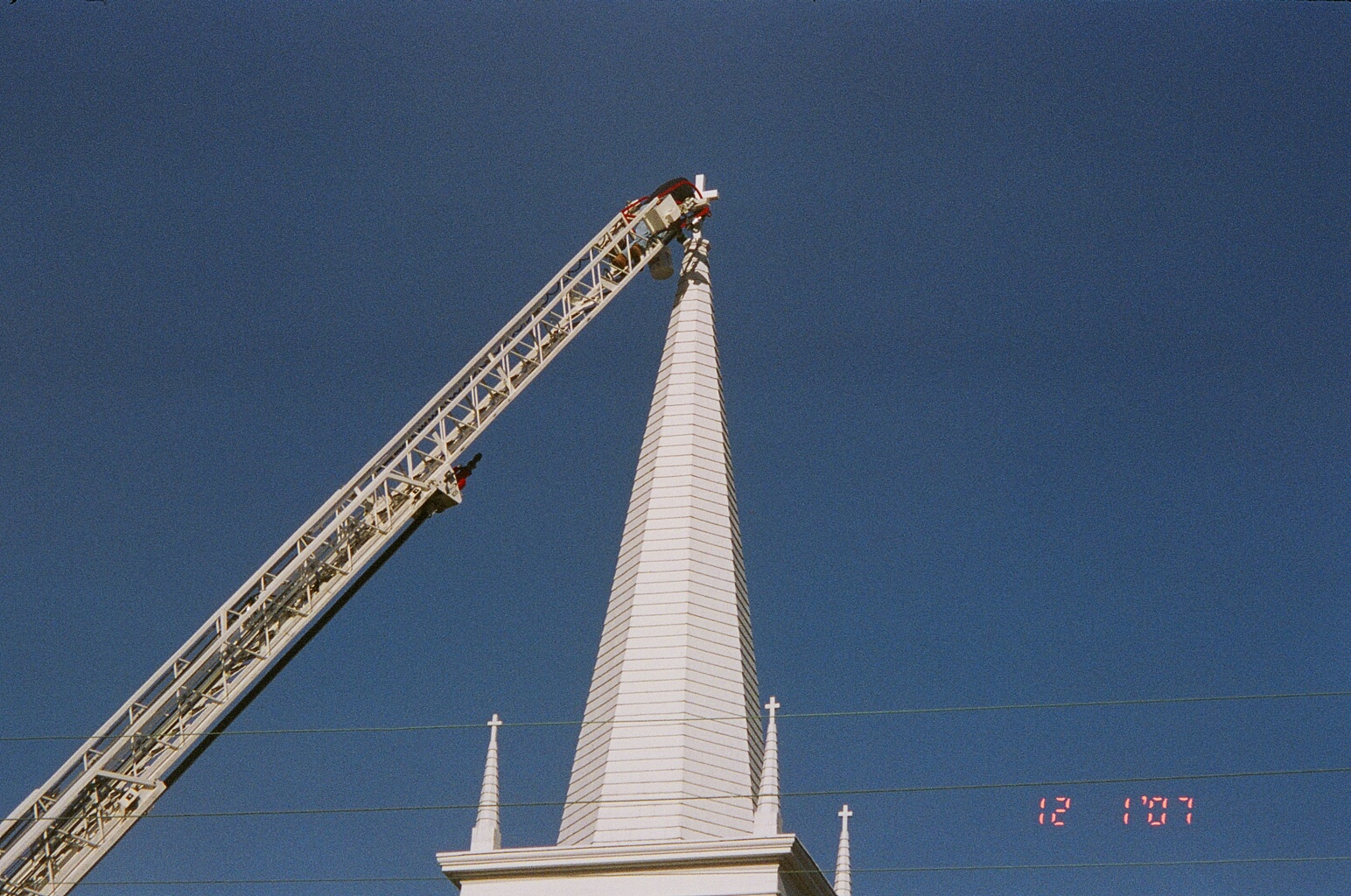 Trinity Church is proud to have the cross restored to its historic steeple. However, we are equally proud of the hard working men who made it happen. We want to thank them publicly and to let everyone know just how much we appreciate their dedication and cooperation.
–Malcolm Forbes, Junior Warden
Reaching Out to Others
One Layman's Thoughts about Stewardship
Stewardship! Ah, it must be that time of the year again when churches across the land are talking about "stewardship." I used to scoff at the term "stewardship" because it seemed to be a euphemism for what was really in mind – asking for money.
However, after thinking about it more carefully, I believe that there are at least three senses in which "stewardship" is descriptive of what the Church is asking for. An obvious one is stewardship of the church building. In the case of Trinity Milton, we are fortunate to be able to worship in a beautiful little church that was built and paid for long before any of us ever laid eyes upon it. It is up to us to be good stewards and provide the funds necessary to keep it in repair for use by future generations.
In a broader sense, there is stewardship of Trinity's overall mission. Obviously, the Church's ability to carry out its mission necessarily depends on its congregation's voluntary contributions to pay for the utilities, clerical salaries and the myriad of other costs incurred in running a church.
But the third aspect of stewardship that I have heard ministers, pastors and priests emphasize over the years is one I think we tend to overlook – you could call it "stewardship" of our own Christian faith. The concept is that instead of just trying to figure out what is my share of what the Church needs, I as a Christian should consider what I need to give as an expression of my faith.
There is no magic formula for determining how much we should give. Everyone's situation is different, and each should prayerfully consider what is right for him or her. In doing so, it is fair to consider not only our gifts of money but also our gifts of time and effort. Fortunately for Trinity, many in its congregation have been exceptionally generous with their time and effort. Also, it is fair to take into account what our faith inspires us to give to worthy causes outside the Church such as relief for hurricane victims, cancer research and numerous other causes that we are all asked to contribute to. When we pray "Give us our daily bread," we should be able to do so with a clear conscience knowing that we are doing our part in giving back to support the work of the Church and to help those less fortunate than ourselves.
–Bill Dunkin