Organ Restoration
Trinity's organ is one of the most historic in the nation.  A Thomas Hall New York organ built in 1823, a full description of this instrument can be found on the page labelled "Tour" on the home page of this website.  As stewards of this historic building and organ, the parish is working to restore it in keeping with its original character.
 In the fall of 2010, Trinity's organ tuner informed us that the organ had serious problems that required attention.  The problems included sticking notes, leaking seals that caused two notes to sound when only one key was depressed, and a keyboard that was warped and tended to bounce when the keys were played.  He recommended that Trinity contact Scot Huntington, organ restorer. Scot Huntington came to Trinity and made a thorough examination of the organ.  He submitted a proposal on November 10, 2010 outlining a ten-step restoration program for the organ that would cost an estimated $56,450.  The restoration would be done in his shop and would take approximately three months to complete.
 Trinity has also obtained competitive bids from two other organ repair companies.  Scot's proposal was judged to be the most thorough and the most in keeping with the objective of maintaining the historical integrity of the organ.  Also, we were advised by John Bishop of the Organ Clearing House that Scot was the best in the business. 
January 24, 2013- the organ is dismantled and moved to Stonington, CT for restoration.
After a year of work, the organ returned on Wednesday, January 22.  Praise God for the generosity of all donors and the skilled hands of those who did the work.  We look forward to having it with us again.
A re-dedicatory concert is scheduled for June 7, 2014.  More news to follow.
  "Be an organ donor." All donations for this project are welcomed.  Checks may be sent to Trinity Church, P.O. Box 839, Litchfield, CT 06759, with the notation of "organ fund."  Gifts are tax deductible.  Bless you in your generosity.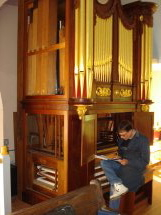 Scot making notes as he dismantles the organ.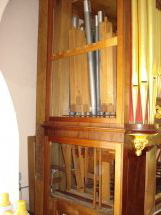 Sides of the case removed.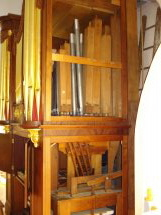 Organ pipes exposed.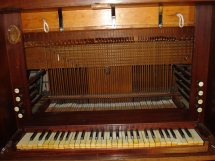 Keyboard opened.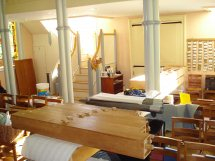 Pipes being packed for transportation.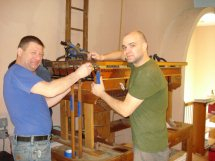 Still smiling after many trips up and down the stairs.
UPDATE (01/22/14):
Photos of the organ being returned: